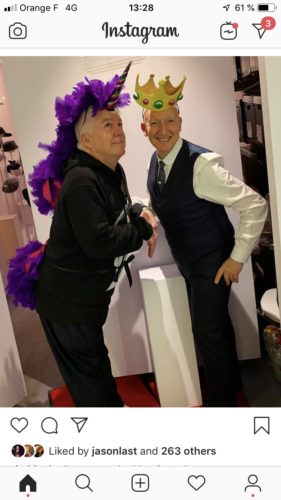 Dear Shaded Viewers,
I started my morning listening to the podcast on BOF with Tim Blanks interviewing Stephen Jones about the almost 40 years of his career. Jones started out in couture and since then has designed tens of thousands of hats. I loved how he said at the beginning he was working with the beautiful Sibylle de Saint Phalle, his press attachee and studio director, Jones used to make hats for her but they were just for her. He talks about moving to London in 1976 the beginning of punk and how the AIDS epidemic effected that world. It was the darkest moment and he is much happier now at 62. We all thought at that time it was the end of the world and in the middle of all that was fashion and Paris and Thierry Mugler and Comme des Garcons and how fashion was a period of escape. Stephen is so articulate and such an amazing man, do listen to him talking about the most visible thing on the body. At 21 the hats were the great unknown and now he runs his business inspiring people and being inspired himself and to having fun in designing. "I don't think about why I do it too much but it is my chosen profession." You can say something by anything you do "I choose to do it through hats."
I love that he shaved his head because his head was the perfect size to try hats on…he never grew his hair back.
https://www.businessoffashion.com/articles/podcasts/the-bof-podcast-stephen-jones-on-the-craft-of-millinery
Later,
Diane