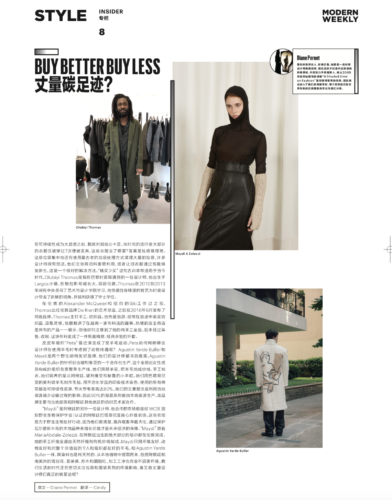 Dear Shaded Viewers,
I have believed in sustainability long before it became a trend. Did you know that thanks to fast fashion most people only wear their clothes seven times before they throw them away and where do they go? Landfill otherwise known as a dumping ground for the disposal of waste materials. This oldest form of waste treatment buries piles of refuse. Many designers take that in mind and what they do is re-purpose old materials or cut up old garments and put them back into circulation which is a positive approach to the problem. The old adage 'buy better buy less" never rang so true. One designer that I met during Paris Fashion Week was Largos born, Glasgow raised and London based designer Olubiyi 'B' Thomas.   Thomas attended Central Saint Martins from 2010-2013 and graduated from the BA program using his fine arts skills to bring a fresh perspective to his fashion designs.
After working at Alexander McQueen in London and Siki in New York, Thomas became creative director at a London label De Rien before launching his namesake label in June 2016. Thomas' approach is artisanal, and textile driven. He's a traveller and picks up textiles and inspiration along the way. He told me a funny story when he was in Viet Nam at a fabric shop. The owner showed him all that she had but what caught his eye was the cloth she was sitting on. It was quilted by hand. He dyed it and repurposed it into well cut coats that are as timeless as they are traditional.
The latest target for the anti-fur group Peta has now morphed into the anti-wool movement how will Peta decipher which designers using wool are already taking the treatment of animals in mind?  Two brands that are wildlife friendly are Agustin Yarde Buller and Maydi, both designers are from South America. The brand Agustin Yarde Buller develops their knitwear with a woman only co-operative in Bolivia. The organization is responsible for all the production chain, they take care of the camelids, they turn fleeces into yarn and then knit the pieces entirely by hand. They use Baby Alpaca from animals living in Northern Argentina, Bolivia and Peru. They make felt from Merino wool from Patagonia which they dye with low impact techniques using no chemicals. All their cottons are sustainable reducing water and electricity by 80%. Vital to their philosophy is to use local resources to reduce the impact of transportation. 90% of their collection is manufactured with regional resources. The brand collaborates with native tribes or textile artists from different regions of Argentina.
"Maydi" another designer from Argentina works with wildlife friendly certified fibres from ranchers that are part of the WCS Argentina Patagonian Fibres with a Conscience. The ranchers are committed to wildlife-friendly practices because they are convinced that their economic futures are better served by moving away from maximizing sheep stocking rates and adding value by conserving native species at Peninsula Valdes. MariaAbdale-Zolezzi aka 'Maydi' was born in Argentina but received her training in London. She only uses natural fibres and organic yarns in her hand-woven fabrics. Maydi uses only wools that take care of the environment and the well-being of the animals and the development of individuals and organizations involved in the entire value chain. The dyes, like Agustin Yarde Buller are completely natural and obtained from native plants such as: Tara, Palo Amarillo, Guayacan and Cochinilla from Argentina and South America through environmentally friendly processes. We are living a time when our waste and the environmental impact of producing a collection is firmly under the spotlight. All things considered who dares to calculate the designers actual carbon footprint?
Later,
Diane