Sarah Maple's New York Exhibition "Thoughts and Prayers" Extended until February 9th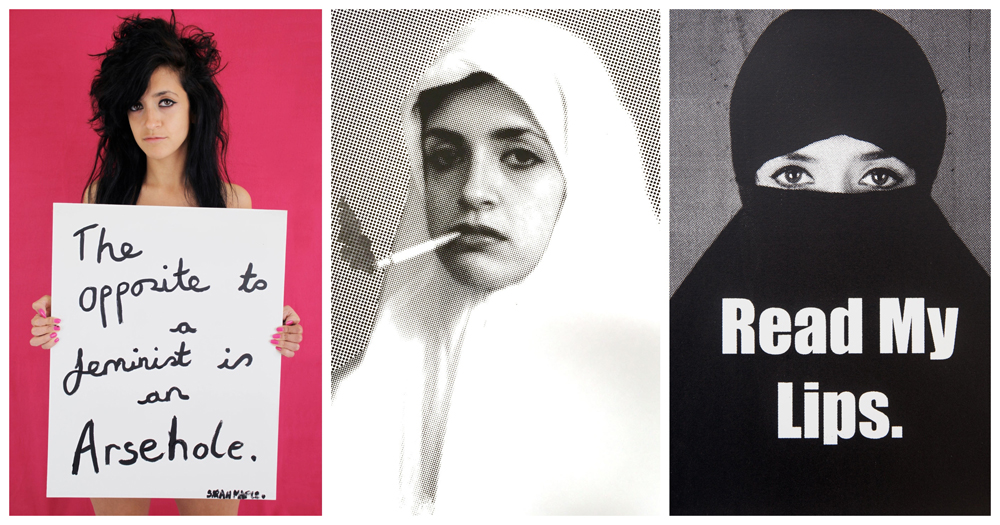 Studies report that an adult's perspective is shaped in the early stages of development and throughout childhood. From this place, Sarah Maple extracts a solo exhibition, "Thoughts and Prayers."
Raised Muslim in an environment of diverse religion and tradition — her mother from Africa and her father, the United Kingdom — Maple carries her experiences into her art, the spirit of her personal expression. Broadcast images envelop collages made with allusive feminist dialogue ranging in stylistic delivery. Newspaper clippings, block scripts, and painted writings narrate. A man and woman staged in a black and white television scene charade the statement "The less I know, The Better," a portrait of a woman in a full hijab communicates, "Read My Lips," and Marilyn Monroe's allure reads "Human Trapped in a Woman's Body." Whip-smart contrast established between image and text build a whole new meaning to culturally defined identities. The union of intrepid expression reveals the blossoming of Maple's artistic agency.
"Thoughts and Prayers" becomes more than a commentary on a critical, aggressive and media-hungry society. Rather the exhibition beseeches for more definition within the modern world. "Menstruate with Pride," the "Go Home" Globes and marble tablets reporting professed cultural news: "Kourtney Kardashian describes How to Eat Kit Kat," unite as a family of mix-media works created with hope, and presented as a public offering in a political climate that renders civil 'thoughts and prayers' as relief void of solitude or peace of mind.
In a world that hesitantly acknowledges menses, immigration, and gender roles, Sarah Maple fearlessly urges conversation. "Inaction is the weapon of Mass Destruction," reads on a rectangular glass mirror hanging near the door of the Untitled Space. A call to arms as one enters and exits the gallery, each visitor is induced with self-reflection. Such was the experience for me. How can we as individuals inspire the change we need on this planet?
Like an answer to a prayer, the artist casts herself to communicate this prerogative. Staged in the corner of the space a film records Maple shooting at a target of posters promoting this exhibition. Resistance to authority's thoughts and prayers, the pistoled banners hang loudly beside the film projection.
Peer females, Sarah Maple and Indira Cesarine, exhibition curator and founder of the United Space, birth notions on equality, safety and self-expression in the gallery. Together they create a space for guests to receive a spoon full of feminism: the thoughts, and prayers from Maple's childhood actualizing.