Dear Shaded Viewers,
Approximately fifty haute couture designs will be on exhibit through the entire exhibition space. The designs will explore two of Yves Saint Laurent's major creations: the Mondrian dresses (a/h 1965) and the gowns made in collaboration with the artist Claude Lalanne (a/h 1969).
"Revolutionary" was how Women's Wear Daily described the autumn-winter 1965 collection, which drew attention for its modern, avant-garde style. Its success was primarily due to a series of dresses inspired by the painters Serge Poliakoff (1900-1969) and especially Piet Mondrian (1872-1944). For its new display, the Musée Yves Saint Laurent Paris will devote a considerable part of its exhibition space to this collection and examine its legacy beyond the history of fashion.
Yves Saint Laurent's mother had given him the book Piet Mondrian, Sa vie, son oeuvre (Michel Seuphor, 1956) from which Saint Laurent took inspiration. 26 designs were inspired by the Dutch painter as part of the 106 designs in the fashion show. These designs laid the foundations for a refined aesthetic focused on simple cuts and geometric designs. "
These dresses would subsequently alter the connection between fashion and art by transforming a painting into an animate work of art. Switching from canvas to dress, the couturier went from blueprint to three-dimensional shape and, like an artist, created a series of variations on Mondrian's work. Wool jersey was inlaid with no visible seams, allowing Saint Laurent to offer textile renditions of paintings and channel the Dutch painter's sense of geometry. Mondrian himself perhaps felt this evolution coming in 1931, when he declared, "Not only does fashion accurately reflect an era, it is also one of the more direct forms of visual expression in human culture."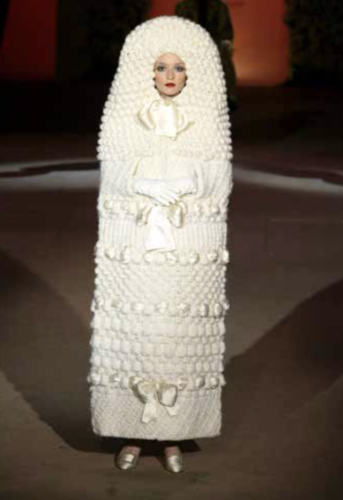 The Poliakoff Dresses and the "Babushka" Bride paid tribute to Serge Poliakoff and the hand crocheted wool wedding gown with alternating raised patterns and bows continues to inspire designers to this day. The nesting Russian matryoshka nesting dolls were the point of departure.
Yves Saint Laurent paid tribute to many artists in his collections but his only actual collaboration with an artist was with the sculptor Claude Lalanne. Their first collaboration was on two gowns for a/w 1969 and Lalanne went on to create sculpted jewelry for his collection.
Musée Yves Saint Laurent Paris 5 avenue Marceau
75116 Paris – France
+33 (0)1 44 31 64 00 contact@museeyslparis.com
Later,
Diane