Dear Shaded Viewers & Diane,
First, let's go back to where it all began in the Czech Republic. Just before the Spring-Summer 2019 designers' rejuvenation began in early September, Prague delivered their international soldiers with a handful of benefits under the Mercedes-Benz sponsorship.
Between the city's smokey weather, the filtered, gray sky and the monumental baroque venue– The Clam-Gallas Palace– the event provided a rather elitist occasion behind the hidden walls an 18th century terrace. The crowded city itself hardly noticed us at all.
Sex sells infamously in Prague, and its proximity to Milan, a shopping mecca for the wealthy, promotes the sleek designs so often seen in the front rows of most shows. I rarely saw Comme des Garçons replicas or Off-White wannabes, illustrating the freedom young platforms should supply. On the other hand, one or two guests head-to-toe in Gvasalia for Balenciaga felt very unrealistic in a country where pedestrians express facial intellectualism rather than the superficialism associated with this kind of trend. Eyes seem to light up faster for a literary chat, rather than reflecting the trend's current appetite. Prague Fashion Week was a huge, metropolitan clash, both within the city and between its own participants.
The notorious tendency towards accessories in the audience– from a stylish veteran wearing Gucci printed loafers to an adorable enfant terrible wearing them in baby size 16– forced me to question the dedication of native Czechs towards their own republican textile industry. How could there be room for local designers to grow in a market that so addictively praises global luxury? I am still wondering today if one of them will ever export with pride the DNA of Prague's best fashion.
Absent to this edition were Miro Sabo, Jakub Polanka, Monika Drápalová, and Petra Ptáčková, who might have filled the progressive gap in alternative fashion weeks, are supposed to mark well next to the few well-executed runway performances. Adam Kost's tangible designs for menswear were well made, though very much oriented to the tastes of Raf Simons trademarks. They still missed his own retouche. In regards to womenswear, Alter Era's sophisticated prints let go of the credits to sharpen out razor tailoring, which could have been the chiquest of Prague.
There was enough controversy to conclude that the event was given for a small, shiny circle of privilegiados quite possibly influencing through their social accounts on the very same day that Business of Fashion asked us all, Has Fashion Week's Influencer Bubble Finally Burst? I anticipate that their impact might have ended with their own fans, but not the designer ones.
And where were the political, underground youth manifesting? By the noisy ones: Dominika Kozáková, BLAŽEK, LA FORMELA and Jan Cerny. All centered around and represented by local stylist Daniela Pilna – @diligentmoments – the best ambassador and supporter of Czech fashion you could have, wearing not one, but two of Dior's carre scarfs, overdosing it all. Of course, in combination with the best collections from Prague!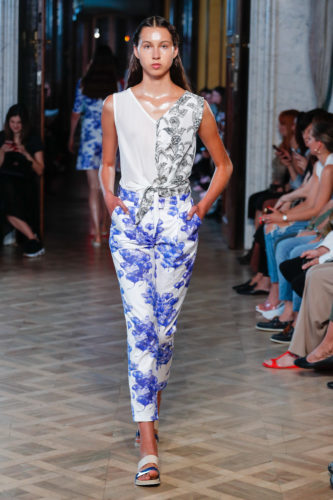 Best,
MHM.