Dear Shaded Viewers,
A balmy evening in Vienna and the ordinarily calm Windmühlgasse is alive with sounds of popping Champagne corks, rattling clothing racks and the sidewalk chatter of black-clad fans of KAYIKO, a Viennese fashion brand celebrating its 20th anniversary. "I need something to wear the next time we visit Danilo in LA," my friend Georg tells me as he slips into a slouchy black jacket with a silver metallic patina. He considers it in a full-length mirror as a silver-haired gentleman hovers around him, anxiously waiting for his go at it. "It's a shopping frenzy in here!" I observe as KAYIKO designer and founder Karin Oèbster drive-by air kisses me. She's moving around her boutique like a whirling dervish, attending to the enthusiastic crush of customers.
We're at the after-party and shopping event for the KAYIKO runway show that ended about thirty minutes ago in the MuseumsQuartier. Oèbster's devotees tend to be older, arty and intellectual, and they favor forgiving clothing with voluminous proportions. The scene in the store reminds me of the days, back in the early '90s, when the Soho art crowd descended like a flock of ravens on Yohji Yamamoto's boutique during new-arrivals day.
This is not to say that Oèbster's designs are derivative or dated. On the contrary, she's invented a new way of dressing for a certain type of clientele: haute bohemians who do not feel the need to goose step to fashion's fascistic drumbeat of "sex appeal." And because her limited-edition clothes are only available at her boutique in Vienna, where everything is handmade, her fashion sect has all the trappings of a secret society.
The KAYIKO show at MQVFW was, like ever year, one of the highlights of the week. On display were the brand's signature gorgeous fabrics, exquisite draping and crowd-pleasing dramatic flourishes: the mask-clad models sauntered out to an extended version of New Order's gorgeously solemn "Elegia."
I had a total Leigh Bowery epiphany when I saw some of the masks the models were wearing. But it must have been a moment of collective unconscious for Karin because she was not aware of Bowery. "One of them was my mother's wedding veil," she told me backstage after the show.
Like sorbet after a rich meal, the models returned in Starburst-colored smocks, running and skipping to Patrick Hernandez's disco classic "Born to Be Alive."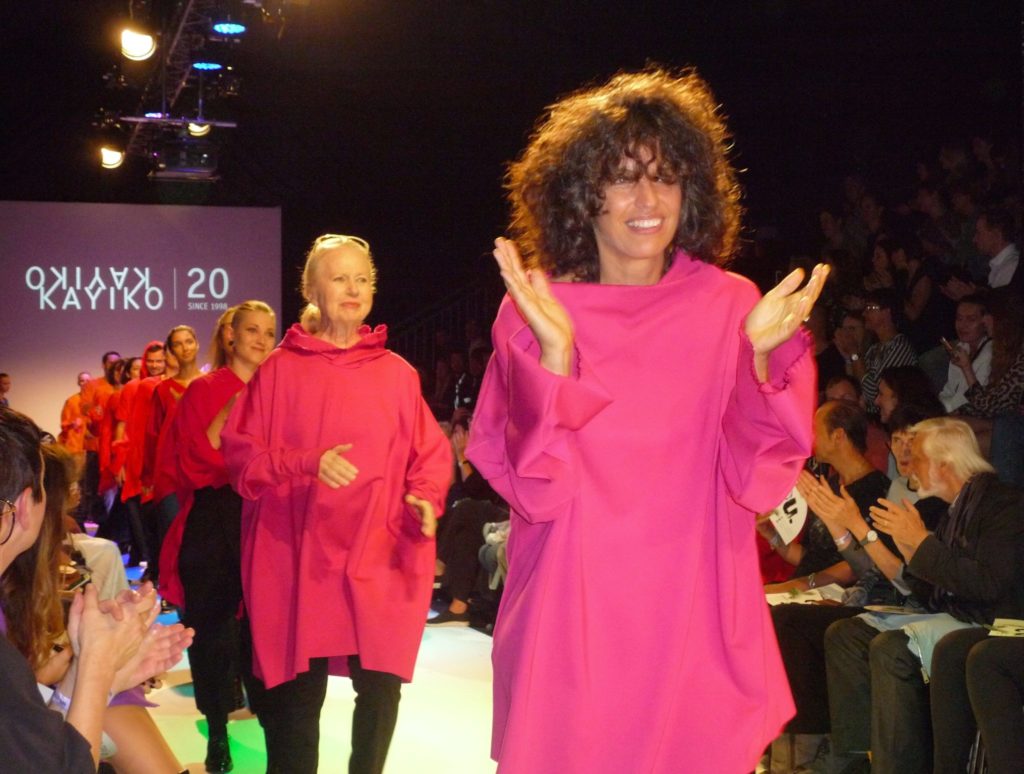 Karin and the rainbow.
Thank you for reading.
Küsse,
Glenn Belverio