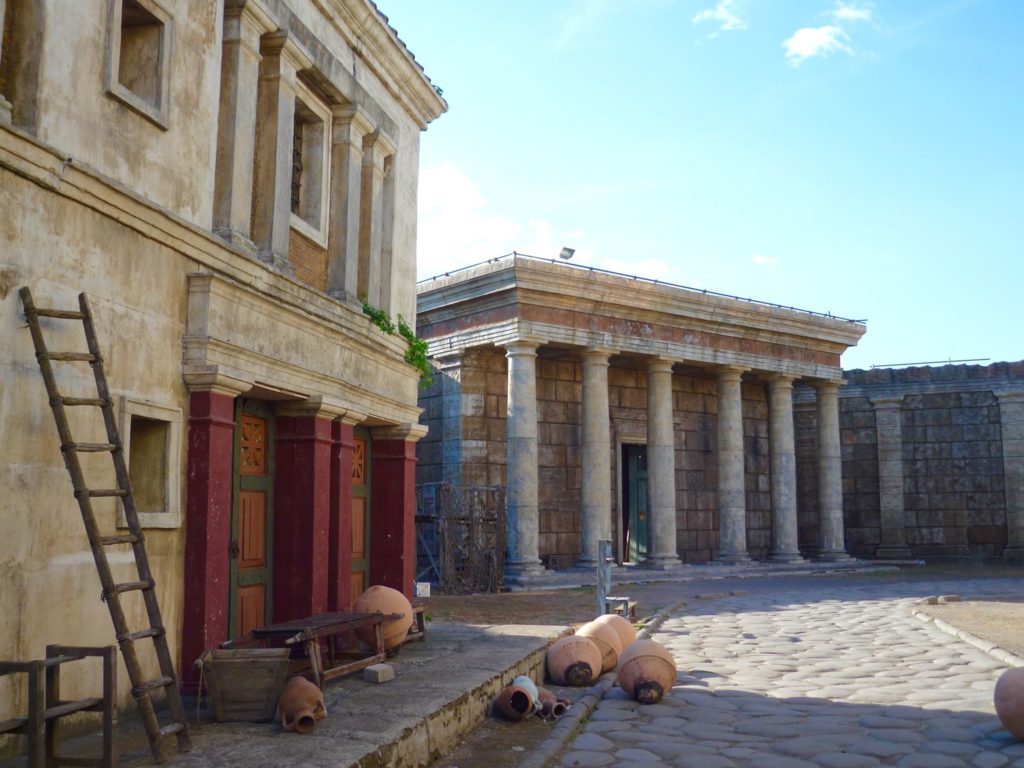 Above: The Temple of Jupiter and a street near the Roman Forum—sets from HBO's Rome.
Dear Shaded Viewers,
When I found out this past June that the latest edition of AltaRoma was being staged at Cinecittà Studios—famously known as "Hollywood on the Tiber" in the 1950s and '60s—I wasted no time packing my bags and heading straight to the airport. Finally I would be able to tread the sacred ground where Elizabeth Taylor met Richard Burton, during the filming of Cleopatra (1963), and first made love. (Reportedly in Burton's dressing room, before moving on to the nearby Villa Pappa, a sprawling residence on the ancient Via Appia where Taylor was ensconced during the very-long production of one of the most expensive films in history.)
And even though the set of Ancient Rome, constructed by Cinecittà's master artisans, was taken down right after the film wrapped, I wanted to imagine that I was one of the thousands of toga-clad extras witnessing Taylor making her sensational entrance into Rome through the Arch of Constantine, imperiously perched before a gargantuan black sphinx. (In truth, she was terrified that she would be stoned by an angry mob for cheating on her husband, Eddie Fisher, with Burton. Instead the crowd of Roman extras cheered, "Leez, Leez! Baci, baci!")
"The pièce de résistance of a VIP visit to Rome was no longer an audience with the Pope—it was an invitation to visit our set," remarked Cleopatra's producer, Walter Wanger. "Our company on location was like an invading army. We disturbed the Roman economy by hiring so many artisans and extras. We were lionized by sophisticated and blasé Roman society because we had the glamour of Hollywood and big money."

Above: Not Liz's arch
AltaRoma invited us on a private tour of some of the off-limits sets that have been used over the years. Just about everything, including the arch from HBO's Rome, is made of fiberglass but the resemblance to real stone is astounding.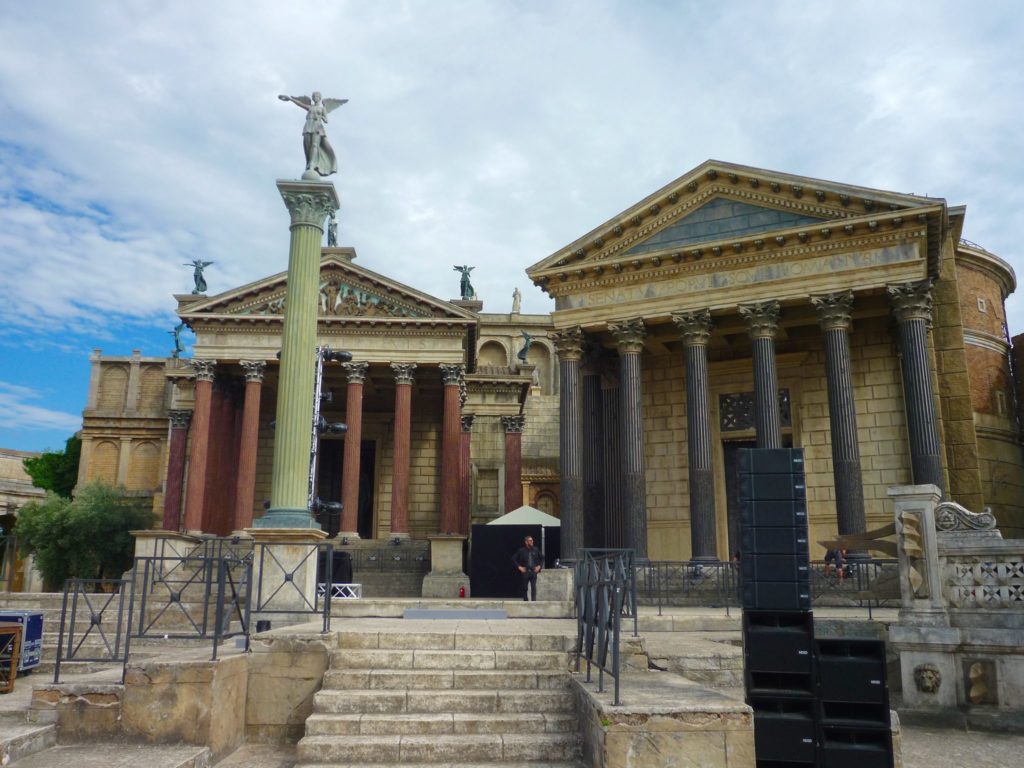 A week after I left Rome, there was a fire at Cinecittà in the middle of the night and this structure from the set of HBO's Rome burnt completely to the ground. This was the second time the Rome set caught on fire (the first time was in 2007, right after the production wrapped) and there was also a fire in 2012 which damaged part of Fellini's legendary Studio 5.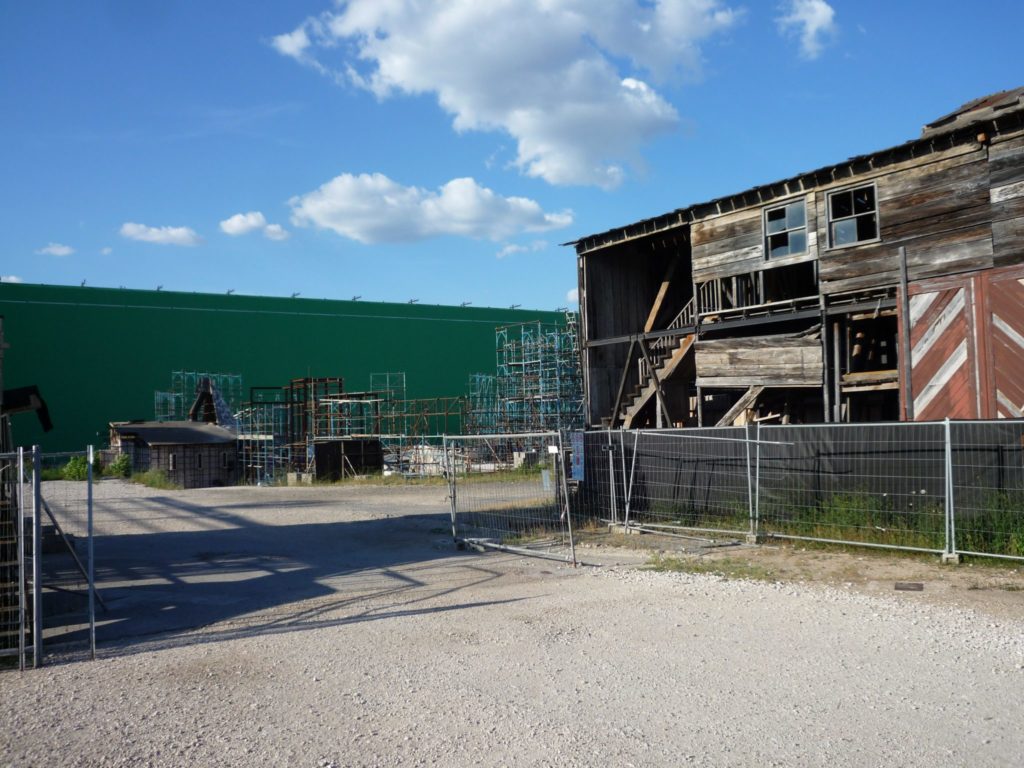 To the left is the Tank (more on that later) and on the right is one of the leftover sets from Martin Scorsese's 2002 film Gangs of New York. Set designer Dante Ferretti and his crew built the one-mile-square Five Points neighborhood and other sections of 1860s' Manhattan from scratch on the studio's 99-acre lot.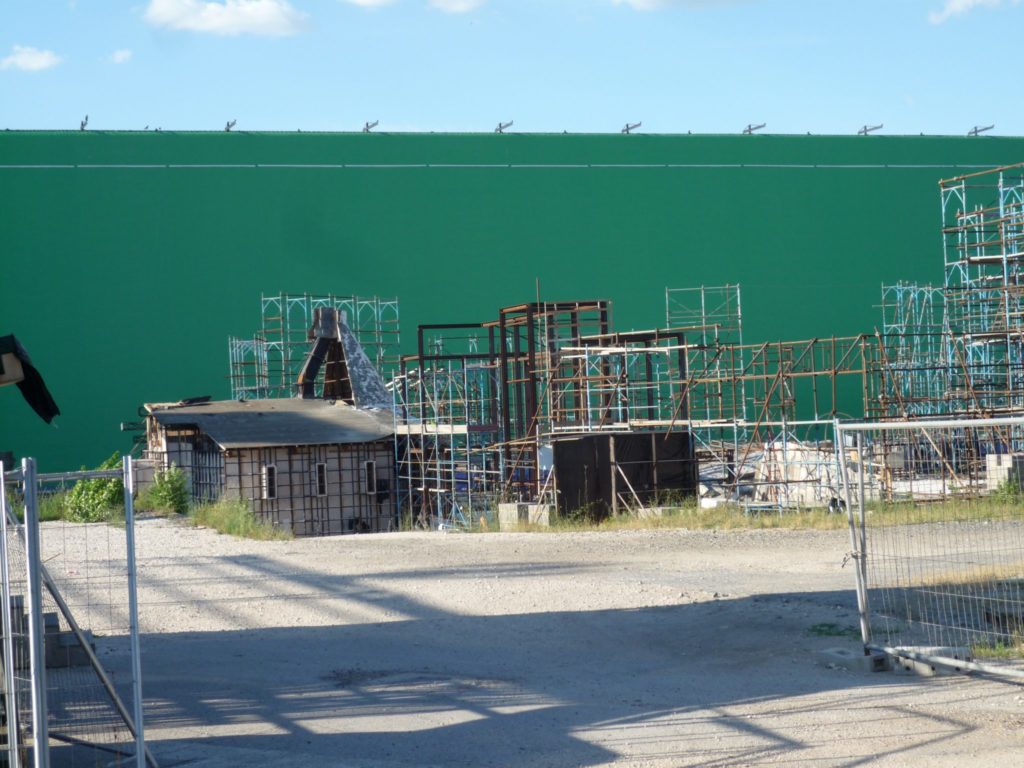 We weren't allowed to get too close but here's another shot of Tank, which measures 112,000 square feet. The Tank can be filled with water and also sets are built inside it. Part of the famous naval battle scene from 1959's Ben-Hur was shot in the Tank using two life-size seaworthy Roman galleys and a lushly painted background, which was the tradition before digital technology. (The main parts of the battle were filmed using twenty-foot long miniatures in a large tank at MGM Studios in Los Angeles.) The green screen you see behind the Tank is used for creating digital backdrops, from mountains to cities to vast armies artificially created without the task of hiring thousands of extras. I am sure you're not wondering which technique I prefer.
Here's one of my favorite scenes from Ben-Hur which starred one of the sexiest men in the history of masculinity, Charlton Heston. I've had a crush on him ever since I saw him on TV in Planet of the Apes and The Ten Commandments when I was five years old. (Every year, on the night before Easter, I could—and still can—be heard parroting Anne Baxter's campy line, "Oh, Moses, Moses, you stubborn, splendid, adorable fool!")
The equally sexy Paul Newman was MGM's first choice for the part of Ben-Hur. "He passed because of the critical drubbing suffered by his first feature, The Silver Chalice, a stylized biblical epic with a plot not unlike that of Ben-Hur. Had Newman said yes, the part of his nemesis would've been offered to Heston." —from Shawn Levy's book Dolce Vita Confidential.
The 2016 remake of Ben-Hur was also shot at Cinecittà, but I didn't see it. I do not approve of remakes (even though the 1959 version is a remake of the 1925 silent film, but nevermind), with the exceptions of The Roman Spring of Mrs. Stone starring Helen Mirren (shot in Rome), and Invasion of the Body Snatchers starring Donald Sutherland (who also played the title role in Federico Fellini's Casanova).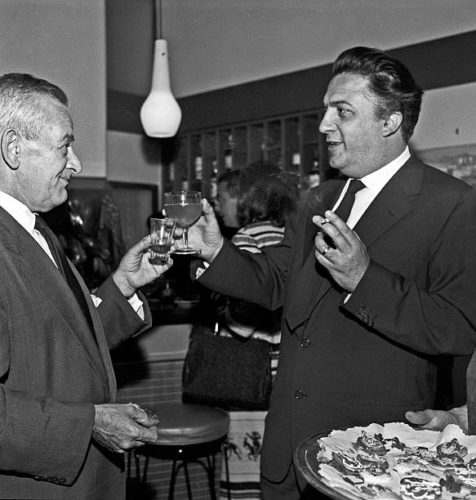 Directors William Wyler and Federico Fellini toast their simultaneously 1959 productions of Ben-Hur and La Dolce Vita, both shot at Cinecittà.
In 1961, Heston starred in El Cid with Sophia Loren. Perhaps a little-known fact: Heston was a Democrat back in those days and because El Cid had such a long shooting schedule, he was unable to campaign for John F. Kennedy. Loren, who was famously married to film producer Carlo Ponti, rose to fame through the films she made at Cinecittà Studios.
Shawn Levy documents the juicy feud between Loren and Gina Lollobrigida in Dolce Vita Confidential: "Lollobrigida and Loren were part of a cohort of movie people visiting London to promote Italian cinema, and Lollo left a cocktail party at the Savoy Hotel in a huff rather than endure, as the event's promoters asked her to, a chest-measuring contest alongside Loren. (Loren, still only twenty, wondered aloud to the press disingenuously, 'Why is Gina mad at me? I want to be friendly with her, why not? It's true that my measurements excel hers, but is that a reason to be furious with me?')" Me-ow!
I took this photo of Gina Lollobrigida outside the Fausto Sarli haute couture show at Santo Spirito, during my first-ever attendance at AltaRoma, in July 2009. Lollo turned 90 last year, and amidst the festivities she proclaimed of the feud between her and Loren, "I was the number one!" I am sure Loren was sitting at home, watching this on the news, giggling through her Negroni….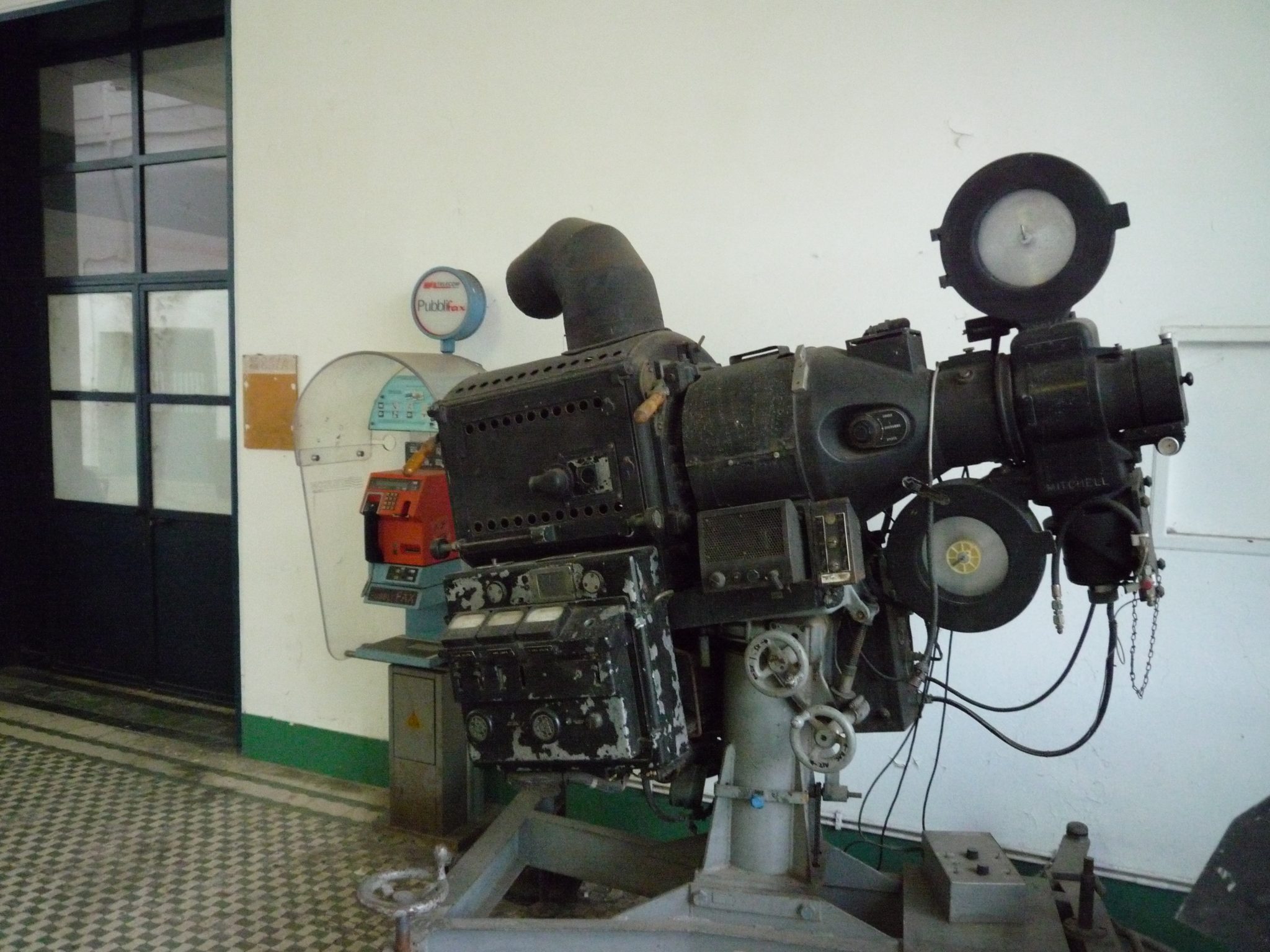 "The only place where you can be a dictator and still be loved is on the movie set." —Federico Fellini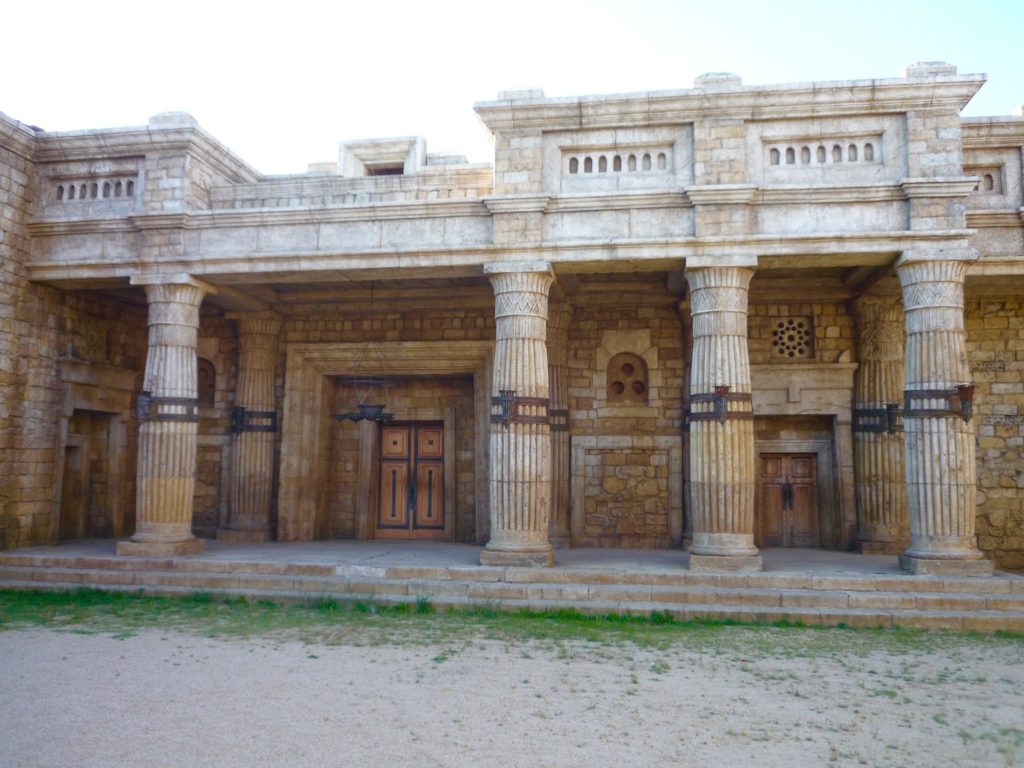 Our tour included a visit to the sets for a film about Christ in his youth: 2016's The Young Messiah. Above is the Temple of Jerusalem.  From Cinecittà's website:
"To create the Temple, the designer did not adhere to a strictly philological approach, in fact he opted for broad creative freedom, combining different styles, influences and architectures, and drawing inspiration from Babylonian, Assyrian and Northern Yemenite edifices.
The fiberglass structure presents materials, decorations and shapes which provide an extremely realistic effect; designers and sculptors strived to achieve the closest resemblance to the original buildings, through stone casts and molds."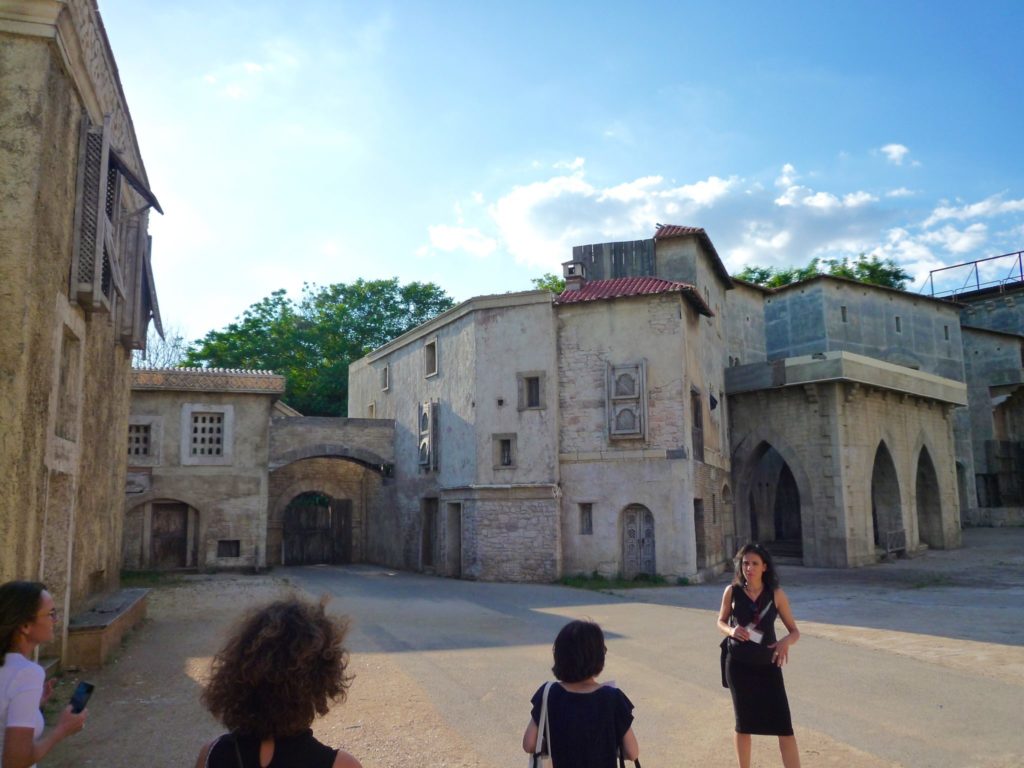 We followed our tour guide through sets that spanned centuries, sometimes all on one building…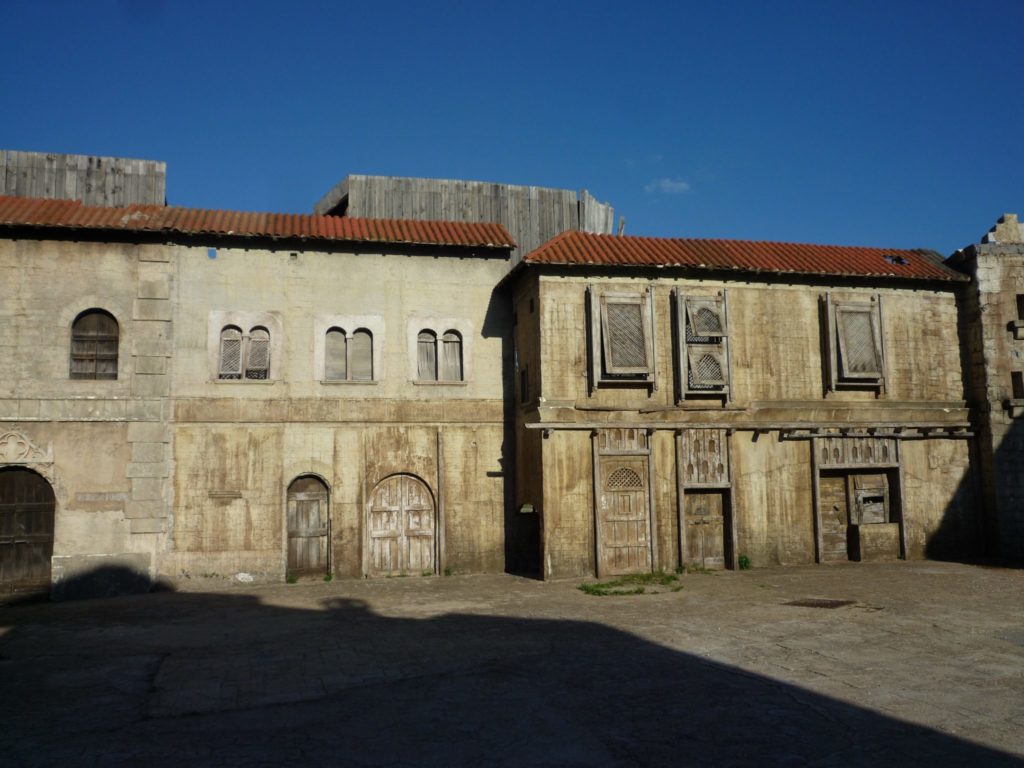 These sets were built for the 2002 Italian TV series Florence 1400, and then altered for other shoots. In  2010 the church façade was modified to match the typical Tuscan architectural style of the 15th century, for the filming of Neri Parenti's Amici Miei – Come Tutto ebbe Inizio, the prequel of the cult-movie Amici Miei directed by Mario Monicelli.
In 2012, the set was partially re-adapted to recreate the city of Verona for Carlo Carlei's Romeo and Juliet, with Damian Lewis, Paul Giamatti, and Hailee Steinfeld.
The set underwent another change in 2015 for the aforementioned The Young Messiah, with a portion transformed into a landscape of the time of Jesus.
Looking into the Temple of Venus from HBO's Rome series.
During my first evening at Cinecittà Studios for this edition of AltaRoma, we were invited to the premiere of La Moda Proibita, a documentary about couturier Roberto Capucci, at Sala Fellini. During the cocktail I was thrilled to meet costume designer Milena Canonero, resplendent in stylish knots of ethereal white. Canonero was born in Turin and grew up in Genoa, and designed the costumes for three of my favorite Stanley Kubrick films: Clockwork Orange, The Shining and Barry Lyndon (clip below for the scene that was naturally lit only with candles). She won an Academy Award for her work on Barry Lyndon, and also picked up Oscars for Chariots of Fire, Marie Antoinette and The Grand Budapest Hotel.
A couple of years ago, while I was having drinks with costume designer Alessandra Carta (who took the above photo) during one of my stays at the Hotel Locarno, I spotted Canonero sitting on the other side of the garden but I was too intimidated to approach her. The Locarno, by the way, is where Wes Anderson stayed for a few months when he was researching Grand Budapest Hotel. It was delightful meeting Canonero, however briefly, at Sala Fellini, and when my friend Susan Sabet (above left) from Pashion magazine in Cairo said to the designer, "I want to interview you for my magazine," Canonero replied, "No, no…I want to interview YOU!"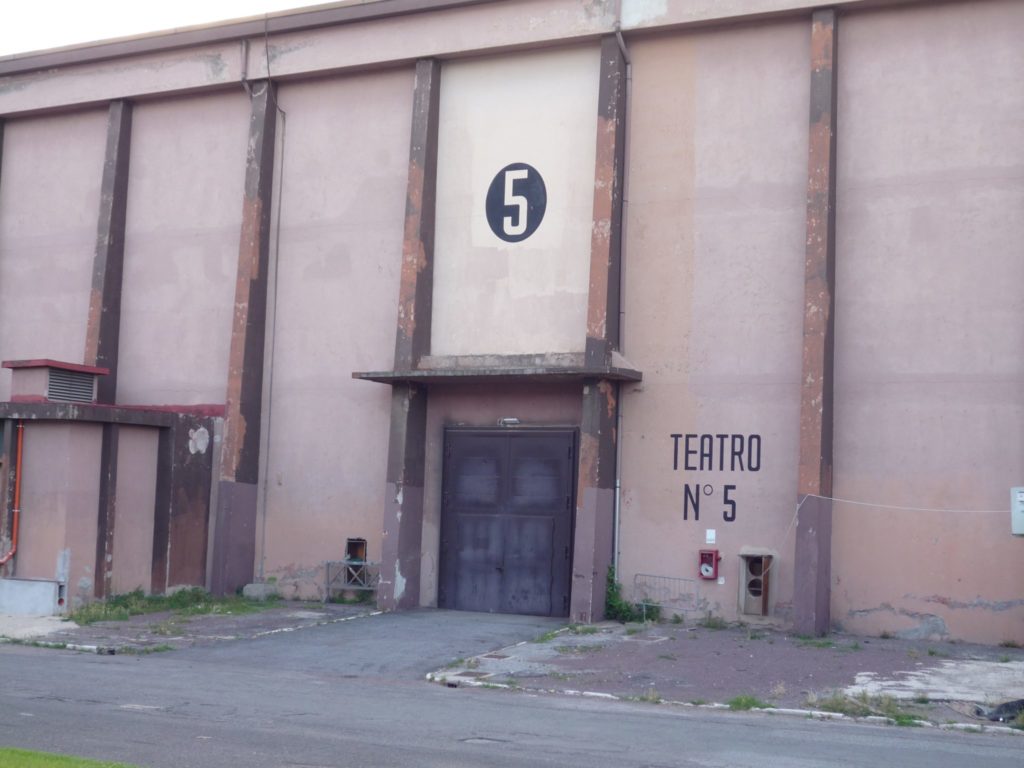 I hear you knocking but you can't come in: Fellini's Studio 5 was locked during our visit, so we couldn't peek inside. Among the many sets the great auteur had built inside this building was the one for Venice, in his 1976 film Casanova. For the film's opening Carnival scenes, he filled the studio with water. The crowned head that emerges menacingly from the canal (still below) is now on display at the entrance of Cinecittà World, which features a series of museums and an amusement park, a short drive from the backlots.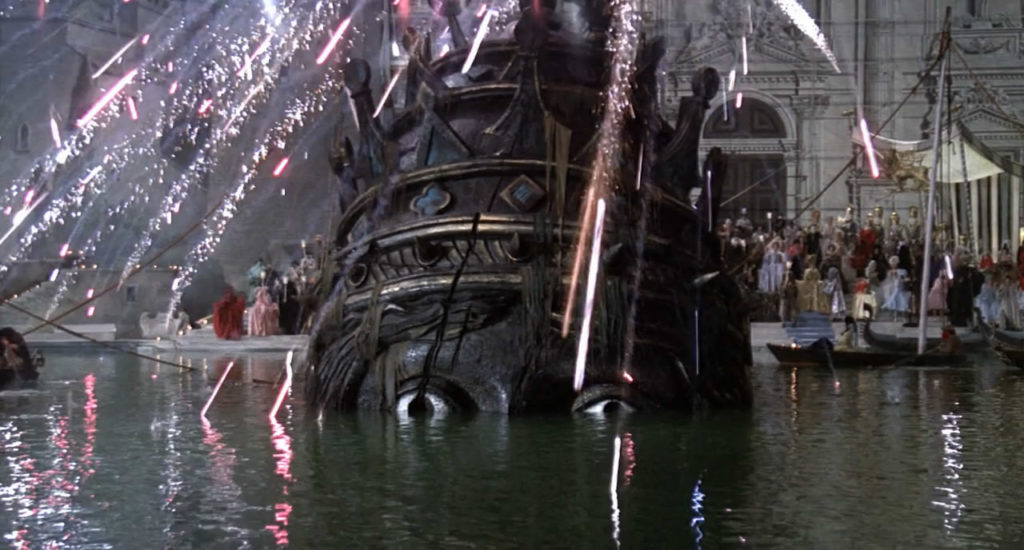 One of my favorite scenes from Casanova.
Here, Mary Ellen Mark talks about her experiences working as a documentary photographer on Fellini's film sets. I knew Mary through my dear friend Kelly Cutrone (she attended a birthday dinner Kelly gave for me at her apartment and also Mary was the godmother of Kelly's daughter, Ava). Sadly, Mary passed away three years ago.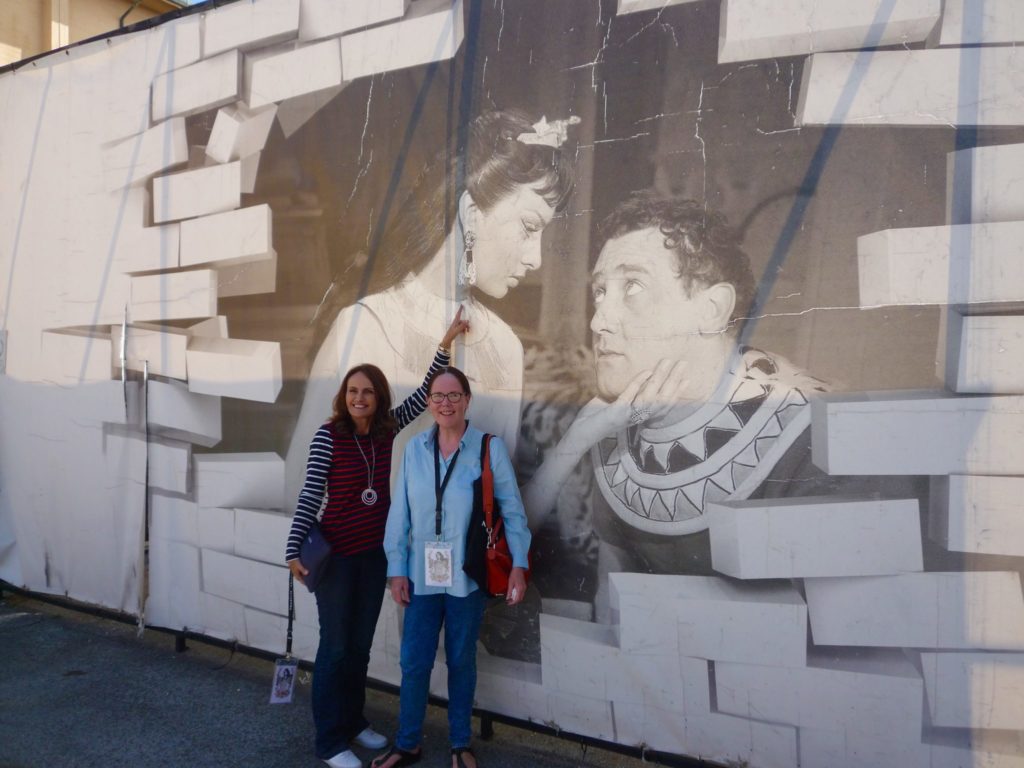 Susan Sabet of Pashion magazine and fashion journalist Rebecca Voight.
Thanks for reading.
Baci, baci,
Glenn Belverio