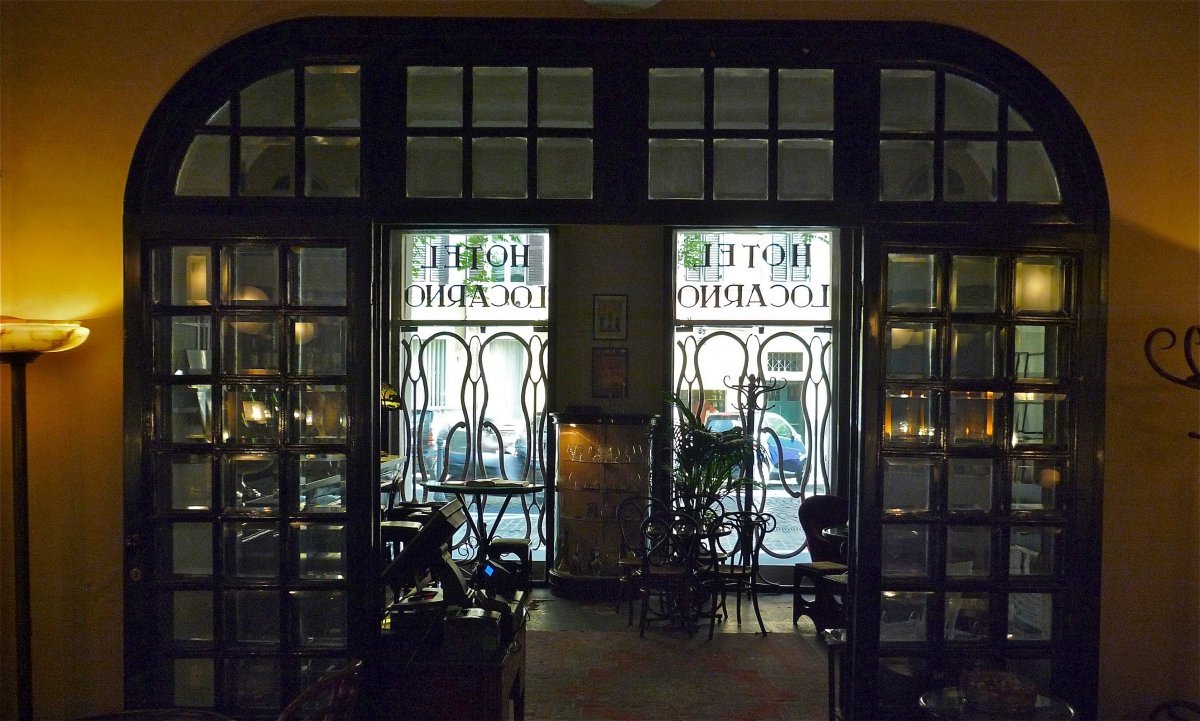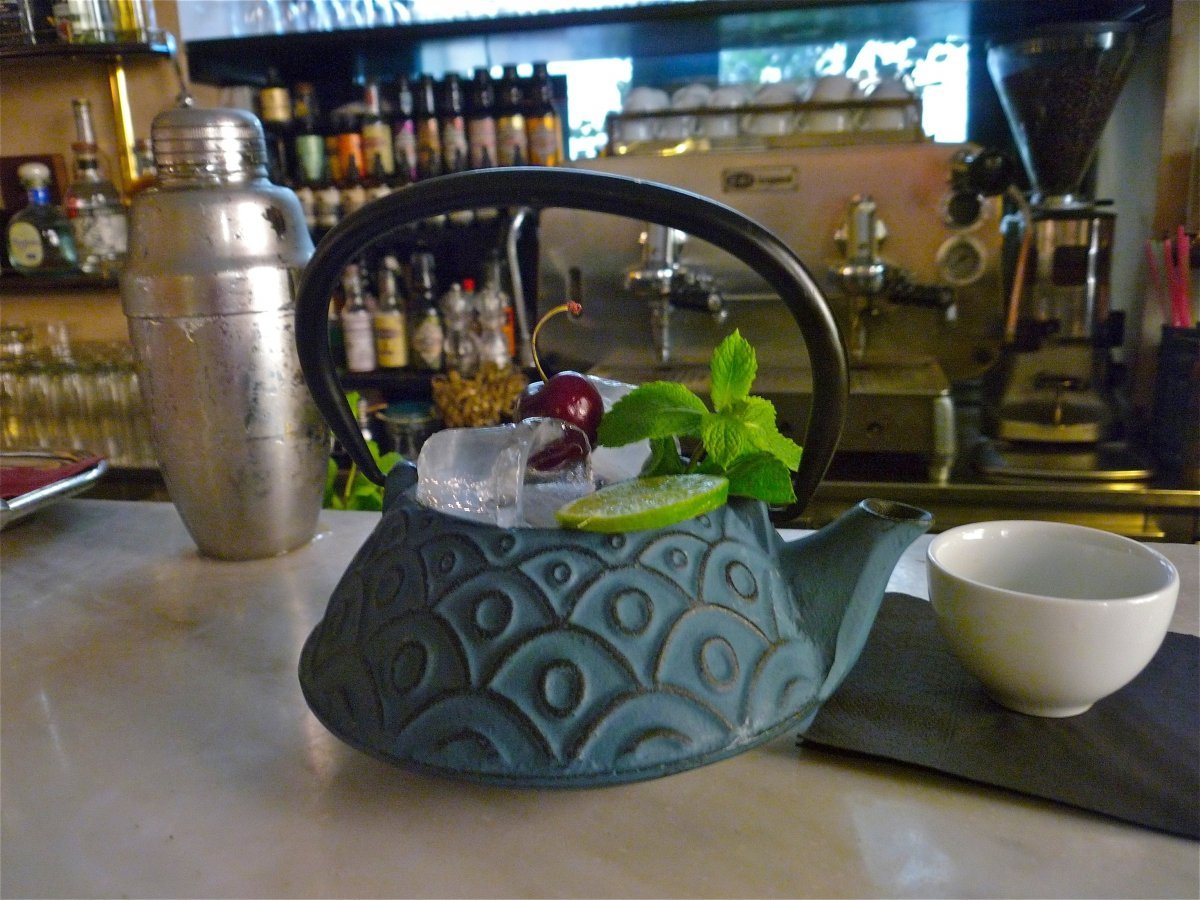 Dear Shaded Viewers,
I don't mean to be one of those summer-is-almost-over Debbie Downers but, let's face it: Fall beckons. The good news is that it's a lovely time to be in Rome. Have you booked your stay at Hotel Locarno yet? Even if you don't stay at Locarno (the Rome Times Hotel is another fine choice), a cocktail or three at the Locarno Bar is mandatory.
Their potent potions are imaginative yet unpretentious, the complimentary snacks are toothsome, and the ambiance of the lush garden and dimly lit lounge is at once lively and soothing. For me, it is always the perfect antidote to the newer bars and restaurants of New York City. Those places are rude hellholes, jam-packed with millennial narcissists screaming inanities at each other over a droning buzz of spring-break standards.
At Locarno, you might be sitting near an Oscar-winning costume designer or Italian film legend (or a Hollywood producer who might cast you in their next film), while listening to an eclectic mix that runs the gamut from 1920s jazz to the Rolling Stones to bossa nova. Yes, dolls, this is where the adults drink.
After AltaRoma, I always spend a few days of leisure at Locarno—and this time I wanted to get the real lowdown on the highballs. So I planted my tuchas on a stool in the front barroom (where Art Nouveau windows look out on the placid via Della Penna) and chatted with the Locarno's head bartender, Nicholas Pinna.
Glenn Belverio: So how did you get involved in this whole bartending business?
Nicholas Pinna: It started when I was 6 years old. At my house, we had an old-style bar that I was forbidden to enter. When my father went out, I would sneak in there and play bartender—even though I couldn't open the bottles.
Then, when I was 17, I got an after-school job working as a bar back at a beach bar on the lake in Bracciano, where I grew up and still live. I loved working behind the bar and I met people from all over the world there. One year later I graduated to bartender and started working in bars all over the world: Bali, London, Barcelona, Paris, India, Malaysia….I did this for 6 years before I arrived at the Hotel Locarno in 2009. This is where I really belong. The Locarno is my home.
I love both the old school and new school of cocktail making. I like to be creative. While nothing can compare to a classic Old-Fashioned or a Daiquiri, I love to dream up new cocktails. Creating a new cocktail is like writing a song. I think of new cocktail ideas during my hour-long drive from Bracciano to Rome every day.
GB: Oh, one of my favorite inventions of yours here is the Roma Bracciano! For me, it's the perfect aperitivo. [Bitter Campari, Vermouth Carpano Antica Formula, rhubarb juice and R & B Bitter.]
NP: Yes, that's one of the Locarno classics. We have a few classics that we keep on the menu and then we also switch it up from season to season with new drinks. We change the menu every 6 months.
GB: There are a lot of hipsters running around in various cities who are trying to "invent" new "handcrafted" cocktails. There's one particularly obnoxious "farm-to-table" restaurant in Soho, in New York, which serves the most pretentious (and disgusting) cocktails. The place is lousy with C-list celebrities and flash-in-the pan models who don't know any better. Even though everything is supposed to be made with "fresh" ingredients, I caught the generically bearded bartender pouring Minute Maid grapefruit juice into a drink he was making for me. And then the glass was rimmed with "black lava salt" and it literally tasted like wet asphalt that they had scooped up out of a pothole on Grand Street. It was the most undrinkable thing I've ever tasted (luckily it was a press event and free) so I sent it back and ordered a glass of wine instead.
NP: Yeah, some young guy watches a few YouTube videos and they pretend they've "invented" a cocktail. I've worked at places where a kid "mixologist" walks in and says, "I've invented a twist on the Daiquiri." That's bullshit! I don't want to hear about that. They think it's easy.
GB: What was the best celebrity encounter you've had here?
NP: Harvey Keitel! He was staying at the hotel last summer and came into the bar and ordered some scotch. While he was drinking, he started looking through the menu and saw the name of a cocktail I invented called "Wolf, I Solve Problems" and he shouted, "THAT'S ME!"—because it's based on his character in Pulp Fiction, Winston Wolf. So I made one for him and he enjoyed it. He autographed the menu for me. John Malkovich was here one time also, but I think he only drinks Coca-Cola.
GB: Oh my god, I was staying here at the same time Harvey Keitel was! I saw him in the lobby. I guess he found out about this place from Wes Anderson, when Anderson was doing research for The Grand Budapest Hotel.
NP: Yes, Wes Anderson stayed here for a few months.
GB: So cool. I am going to try the Harvey Keitel cocktail. Last night, my friend Alessandra and I were drinking your tiki cocktails. I'm a big tiki aficionado so I was eager to try those. The first one I tried was the Violet Tiki and I was intrigued by your addition of crème de violette to a traditional rum and pineapple drink. It really elevated it!
NP: I love aloha style and all the accouterments of tiki culture. Yes, I didn't want to make just a typical tiki drink so I experimented with the crème de violette. Aviations have become very popular, so I wanted to add an element of those to a tiki drink. My drinks definitely have a stiff kick to them. When someone is paying 15 euros, they are expecting a strong cocktail.
GB: They are strong but I didn't have a hangover. Unlike the tiki drinks I have at my favorite Polynesian joints in New Jersey. One time I had two Zombies at Lee's Hawaiian Islander and when I got home I felt like Martin Sheen during the hallucinatory nervous breakdown scene in Apocalypse Now! They use gut-rot rum at those places.
NP: I use Sailor Jerry Spiced Rum, it's a very good rum. I love a classic rum cocktail on a summer day. The sugar gives you power! Rum is one of my favorite spirits. For summer, I like it more than Campari.
During the interview, Nicholas serves me an Earl Drunk. "I really enjoy incorporating teas into cocktails. This is Earl Grey tea infused in Stoli for three days." Other ingredients include lime, sugar and fresh mint. It was very refreshing and the English tea pot is divoon!
My new favorite drink at Locarno is Wolf, I Solve Problems. It's made with Citadelle Gin (a French gin full of spices), Orange Dry Curacao Pierre Ferrand, absinthe, lemon and sugar, and R & B Bitter.
Inspired by Pulp Fiction, the drink uses a drop of the Orange Dry Curacao in frothy egg whites to invoke the splotch of blood on John Travolta's white dress shirt.
You never know who's going to drop by the Locarno Bar. Here's my friend Alessandra Carta, the Roman fashion designer. Her quirky cabbage dress can be seen at the "Tales About Fashion & Food" exhibit at the Mercati di Traiano – Museo dei Fori Imperiali. We indulged in the larger-than-life tiki cocktails, Ti Punch and Violet Tiki.
Oh, and that woman in the background in the fedora? That's Milena Canonero, the Academy Award-winning costume designer who picked up Oscars for her work on Stanley Kubrick's Barry Lyndon, Chariots of Fire, Sofia Coppola's Marie Antoinette and The Grand Budapest Hotel. She also did costumes for two of my favorite films of all time: A Clockwork Orange and The Shining!
Tiki madness with me, Alessandra and fashion designer Paola Balzano, wearing one of her own designs. Born and raised in Rome, Paola is now based in London.
The Holy Trinity: Consuelo Aranyi of AltaRoma, Italian olives and the Locarno's Earl Drunk.
Paola and I were mad for this drink: the Ray & Elvis, made with fresh mint leaves and raspberries with St. Germain Elderflower liquor added to a classic vodka sour. Dangerous, as it was so refreshing and delicious, I wanted to drink five of them in one sitting.
Locarno's charming lobby, with the famed tiled floor and cage elevator from 1925. One expects Delphine Seyrig, resplendent in blood-red chiffon, to come sweeping down the staircase at any moment.
One of the reasons the Locarno feels like a second home to me: books, books and more books. "There's more to life than books, you know, but not much more." —Morrissey
My cozy room on the 2nd floor which I nicknamed the "Creme de Violette Room."
Thanks for reading.
Love,
Glenn Belverio