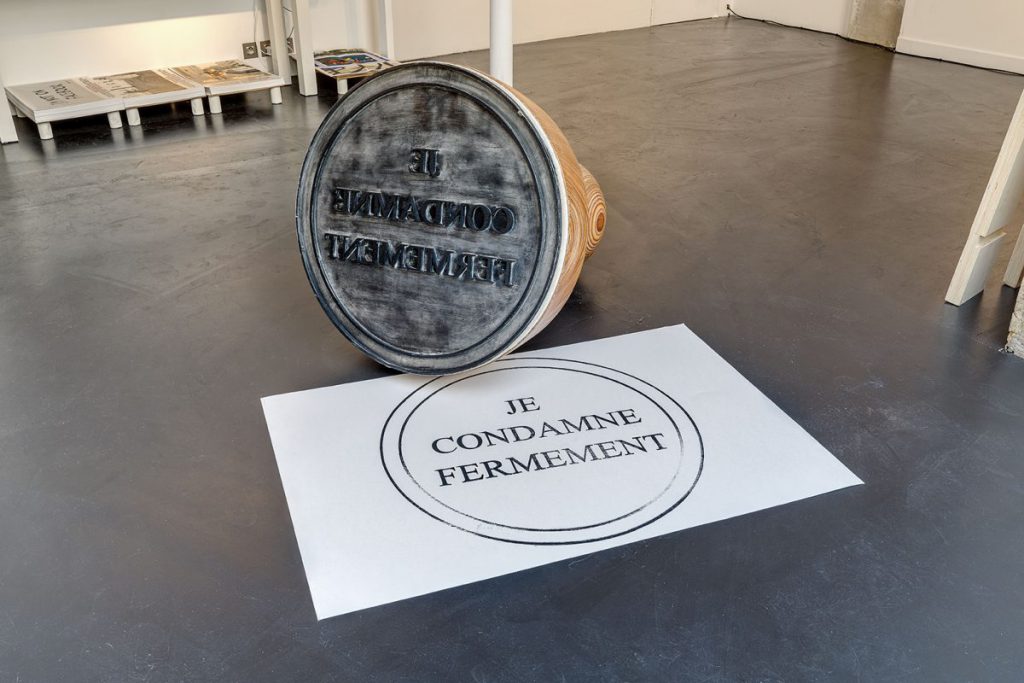 Jean Claude Jolet 2018 
The exhibition "Talking About A Revolution", borrows its title from a famous song by Tracy Chapman. Exactly fifty years after May '68, and to quote the curator and art critic Paul Ardenne, the artists invited here are not so much revolutionaries or activists; they rather stand as "unreconciled".
Half a century later, our habits have changed, people used to pay cash, spent time outdoors instead of being glued to their computer devices,  they arranged to meet without Ical, they ignored Big Data, Monsanto was not created, traveling across continents and oceans was still a real adventure before the process of globalization took over… People fought for equal rights and had hopes to see freedom evolve, they fought for positive change, or to maintain what little, (or much) they had left to win or preserve.
Most artists in this show have no illusions about the unrelenting sustainability of capitalism and its planetary exploitation system, yet they express the hope of a better political and social outcome while remaining vigilant witnesses. Talking About a Revolution is not about making it, but being aware of it and opens to discussions.
Though we can still applaud and admire the last remaining heroes of the true revolution for Liberty : Greenpeace, Wikileakers, Human Rights Watch, among many others… In the May issue of Crash Magazine, led by Armelle Leturcq and Frank Perrin, a large dossier is dedicated to this exhibition, and Paul Ardenne in an eloquent interview, gives you a chance to further explore the subject.
Having known May 68 or not, the artists in this exhibition care to avoid veteran or hero postures of the cherished freedom and privilege, instead the creation shows that they are "concerned"… The 22 artists of different ages list is long but to name a few Gérard Fromanger, whom was at the epicenter of May 68 at Les Beaux Arts de Paris, where he led the atelier where was produced a quantity of emblematic posters that illustrated the movement.  Artists like Bruno Serralongue known for an extensive work around the world of people's meetings, movements, demonstrations … to younger artists like Oksana Schatchko founder of Femen, a feminist movement in 2008 in Ukraine, known for its labeled and naked breast performances… But if you need more popular artists to be convinced it's worth to take a peek, Gianni Motti, Adel Abdessemed, Andrei Molodkin, Jimmie Durham, to name a few are part of it too…With this exhibition curated by Paul Ardenne with an explosive list of  artists and scenography, Talking About A Revolution is more than a whisper, at 22Visconti …
It is open until June 17th 2018,  you can also note that :  Shadi Alzaqzouq will give a Performance MAY 31st at 7pm at @ 22 rue Visconti along with Parcours Saint-Germain.
Paris, May 2018
Geraldine Postel
Left: Gerard Fromanger, Rouge 1968 – Center:  Adel Abdessemed , Right : Arnaud Cohen
 Andrei Molodkin , Wall Sculpture 2011 
Left : Frank Perrin, Center : Adel Abdessemed, top neon sign : Arnaud Cohen , top icons : Oksana Shatchko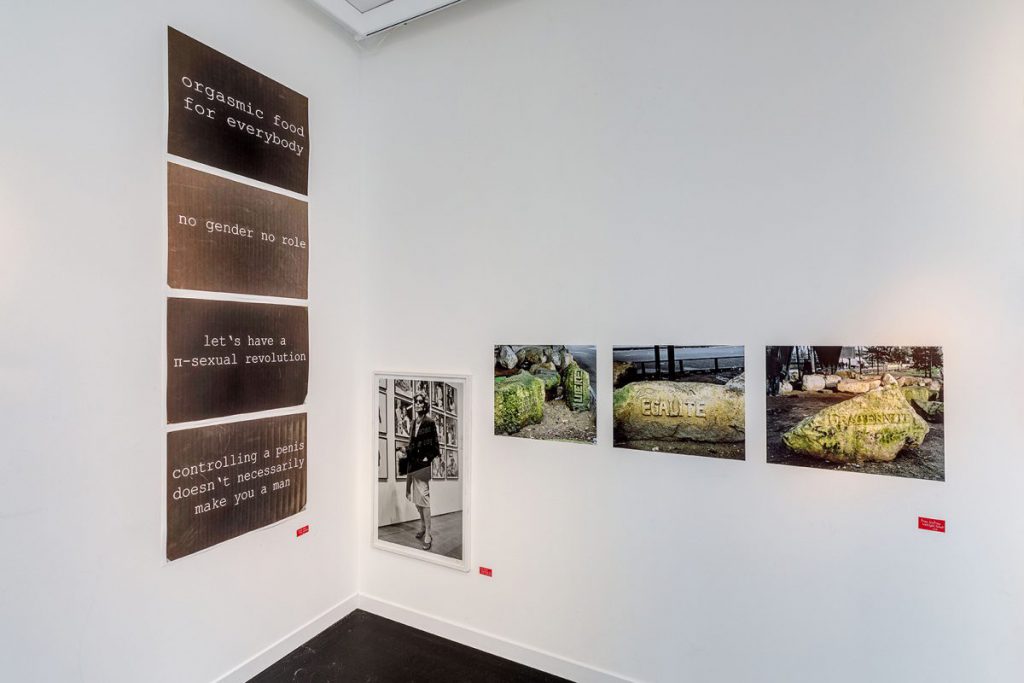 Left: Michaela Spiegel 2018 – Center : Michel Journiac 1994 , Right: Bruno Serralongue 2017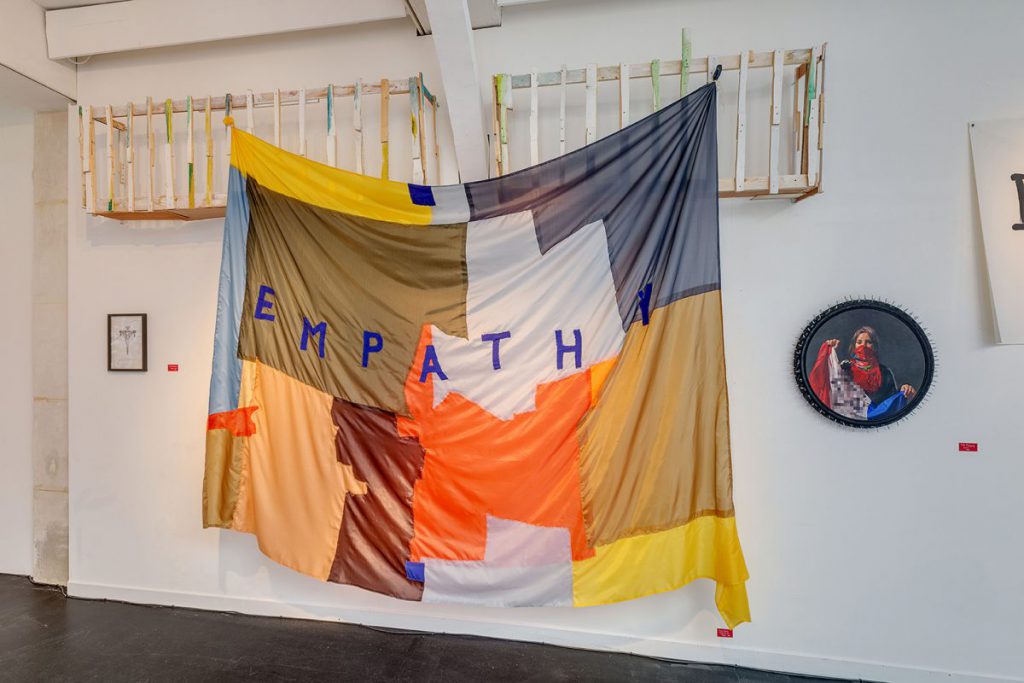 Left: Filep Markiewicz 2016 , center : Diana Righini,  Right: Shadi Alzaqzouq 2015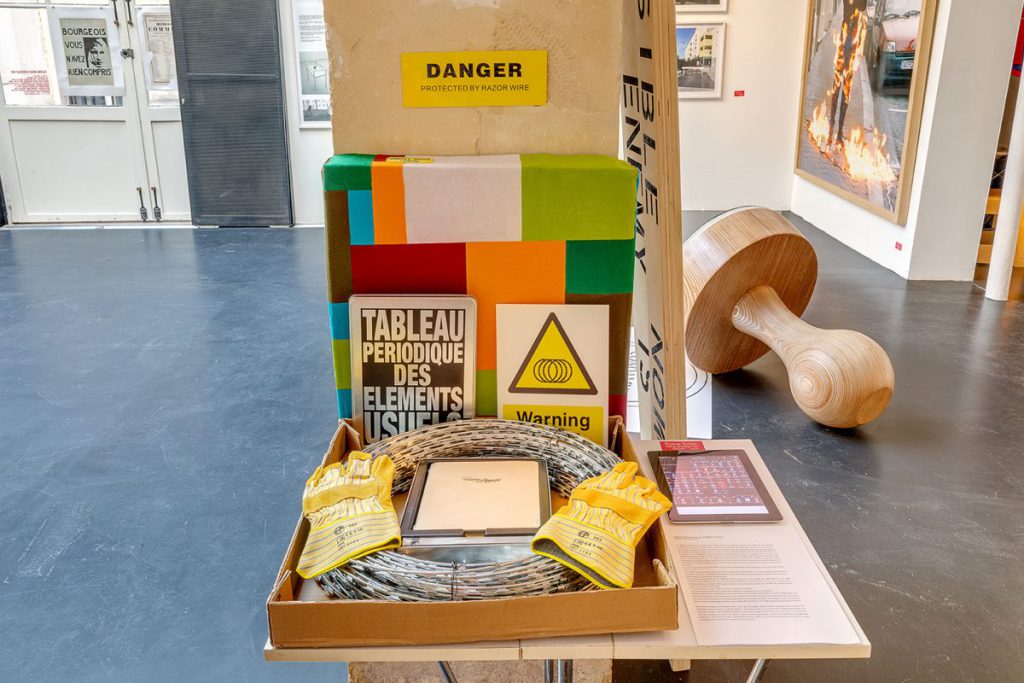 Veronique Bourgoin , 2015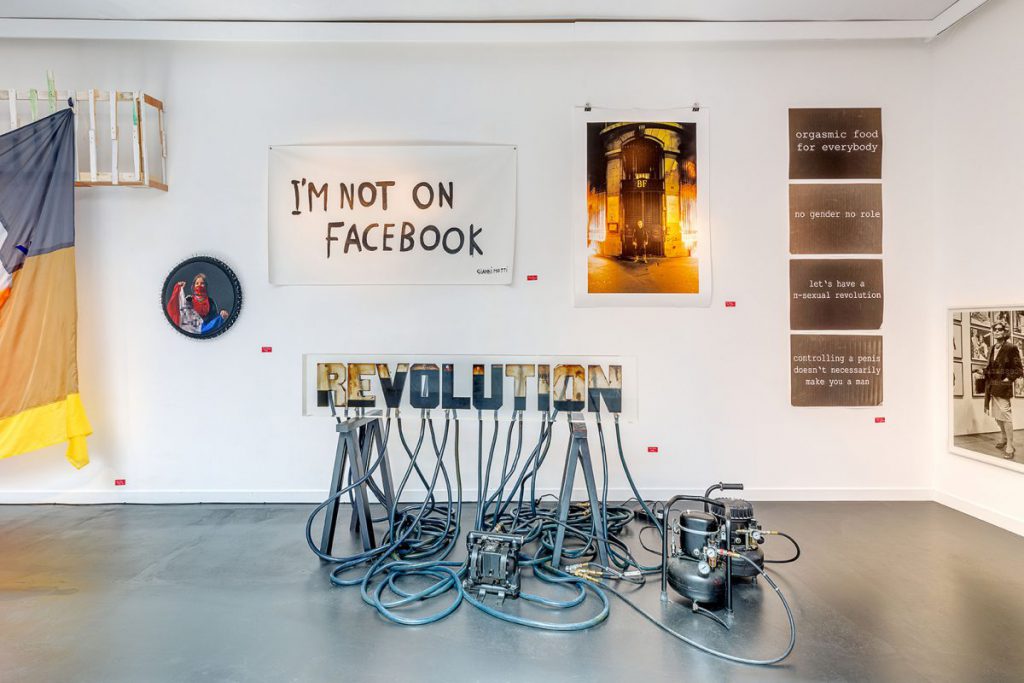 Wall Center : Gianni Motti 2009 , Right Pietr Pavlenski 2017 , Front Andrei Molodkin 2011