Each season The Blonds share their musical influence. Aside from outfitting fan girl favorites in the music industry – Rhianna, Miley and Katy Perry— musical talent also appears on their runway. Last September Teyana Taylor opened their show just a month after the release of her feature in Kanye West's "Faded" music video. This season, as guests settled into their seats, anticipation, comparable to the restless wait before a concert, grew among the crowd eager for the show to start.
And then the runway flooded with red lights. Phillipe Blond walked into the inferno wearing devil horns to match a gold studded red body suit. For Fall/Winter 2018 fishnets and a pillbox hat outfitted a sequenced corset, a red fringe jacket layered over a uniform colored cat suit.  Flame-animated sunglasses and Elvira-bondage suits materialized as the brand discovered themes of good versus evil in influential works of art including "Lucifer Rising", Dante's Inferno and Daphne Guinness' music.
Fear not, we weren't left in the dark for too long. Once the light appeared with glimmers of gold and silver, celestial references descended upon a bodice. This piece illustrated angels abiding in heavenly clouds. A silver corset lighted the mood like a disco ball and a shimmering gold jumpsuit allied support.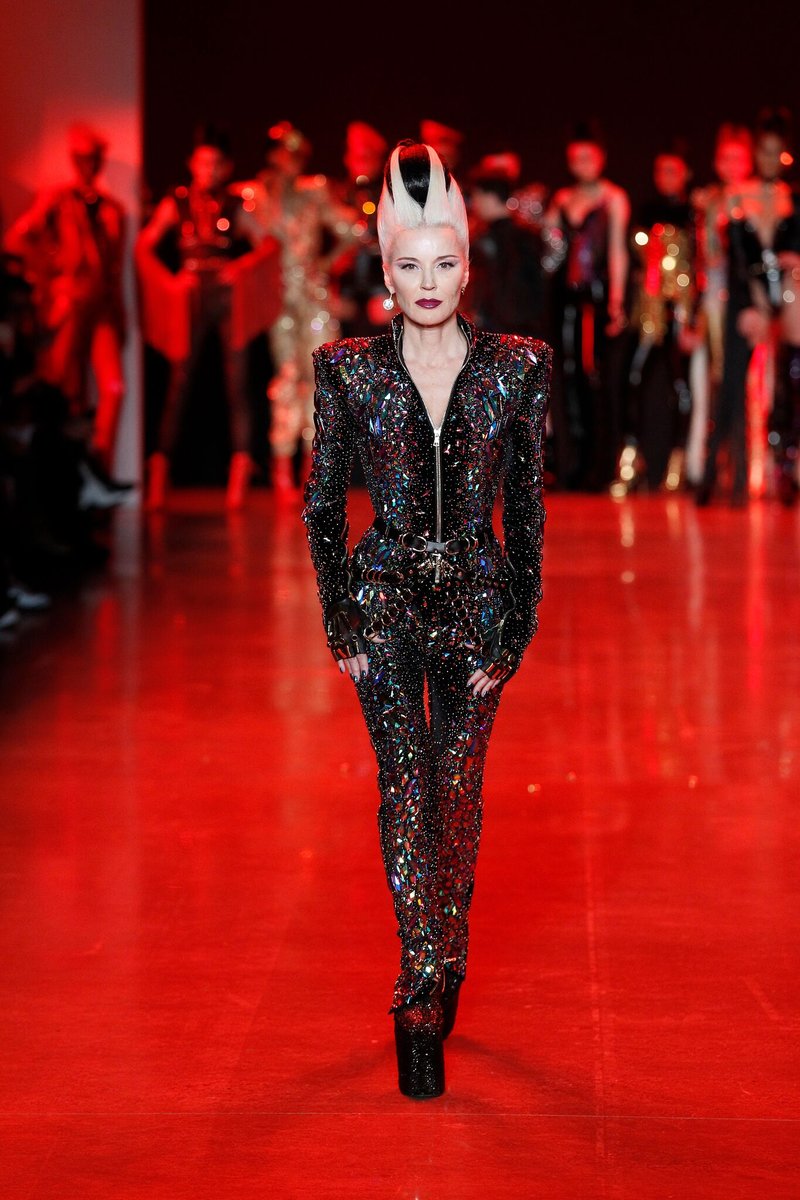 The musical muse Daphne Guinness closed the show in a black body suit ornamented with rainbow jewels. Performing her hell-raising song "Riot," as a preview of her album "Daphne and the Golden Chord," the icon united a collection of fierce fashion. In a cultural climate of feminine rally, here is a statement that celebrates the feminine heart with glamour and honors it as gold.