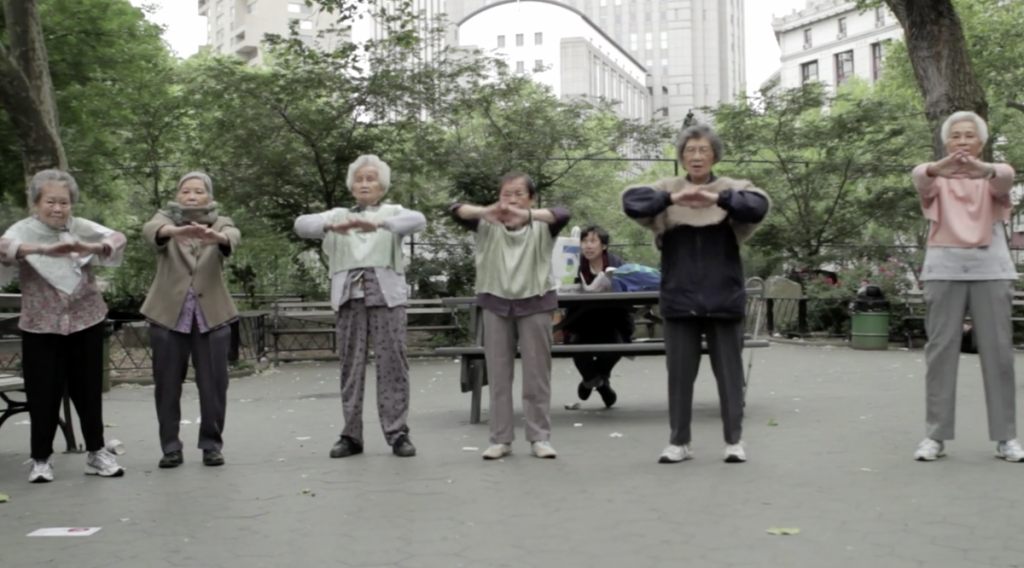 Dear Shaded Viewers,
Back in 2013 when Michele Lamy was the  President of ASVOFF 5, Eckhaus Latta won the Best Styling Award. Thought you might enjoy a little trip backwards in time.
DIRECTOR'S NAME: ALEXA KAROLINSKA / DURATION: 2″30″ / STARRING: NG, SZE TAO, YUEN, LEUNG, MEI, YUEN, LEE, AU / EDITOR: ALEXA KAROLINSKI / CLOTHING AND STAYLING: ECKHAUS LATTA / CINEMATOGRAPHY: CALEB HELLER / GRAPHIC DESIGN: ERIC WRENN OFFICE
SHORT FILM SYNOPSIS:
For the past 30 years the ladies of Columbus Park have gathered daily to practice luk tung kuen, a specialist Chinese form of exercise. Alexa Karolinski and the design duo Zoe Latta and Mike Eckhaus were initially looking for tai chi talent to star in a fashion film for Latta and Eckhaus's burgeoning fashion label—Eckhaus Latta—when they stumbled upon the band of Chinese seniors and became mesmerized by their elegant routine. For these beautiful old ladies who meet every morning it's a routine in their daily lives, it's part of their identities.
SHORT DIRECTOR BIO:
Alexa Karolinski is a Berlin-born New York based filmmaker who has made videos for outlets including ARTE, VICE, V Magazine or Carine Roitfeld's upcoming magazine CR0. Her first feature documentary film "Oma & Bella" had it's World Premiere at this year's Berlin Film Festival and was recently picked up for distribution by Oscilloscope. Recently she has teamed up with the label Eckhaus Latta to produce a series of fashion videos in
which they are looking at the way people wear clothes and define style in their daily lives outside the fashion industry. She has previously shown her film for Haans Nicolas Mott's Label at ASOVFF Barcelona.
Later,
Diane