Dear Shaded Viewers & Diane,
In July this year, we sadly and too soon said good-bye to Jenny Meirens (RIP), the genius confederate next to the Belgian designer Martin Margiela. The four stitches will remain as the duo's signature trimming, but her loss and role within Margiela's legacy will be eternally irreparable.
Antwerp and Rotterdam are both harbor cities, though their cultural affaires go beyond similarities. Exactly two decades ago, Rotterdam's Boijmans Van Beuningen Museum had the privilege to open the doors to Martin Margiela's first exhibition worldwide. It's now Rotterdam based director Menna Laura Meijer (Mint Film Office) who talked to Jenny Meirens and the original team in various occasions, digging into the creative energy they all got involved in before heading global success; now documented in – WE MARGIELA.
But the duo was not alone at the Maison. With the presence of Madeleine Berkheimer (atelier and showroom assistant), Grace Fisher (model and showroom assistant), Sophie Pay (commercial manager and daughter of Jenny Meirens) and my fabulous type of celebrities: Axel Keller & Stanislas Maryshev (sales department) – a love story was written. Absolut plural for the entire family who focused on the way devotion was involved while developing a new aesthetic form: the Belgian school in Paris. Chasing the system, conceptualizing ideas, wearing laboratory gowns (blouses blanches) while sculpting splendid tailored silhouettes. Or the transformations on how some absurdist experiments turned into desirable understated luxury. It all worked out as the film shows.
Director's Menna Laura Meijer does only one camera entry on retail, her only chance to have gone deep into the product but she remains distant. Alda Farinella, the owner of Jana Store in Torino as one of Margiela's first distributors makes 'totale' ovation to Margiela himself, though defines the women buying it as someone not necessarily beautiful; but a female who felt prettier once wearing Margiela. Something I do not agree with: Margiela was per definition a product for everybody; you just had to understand it leaving behind the entire aesthetic canon.
I guess that was the real clientele's deal: special creative women came to her store for the creations of this special man.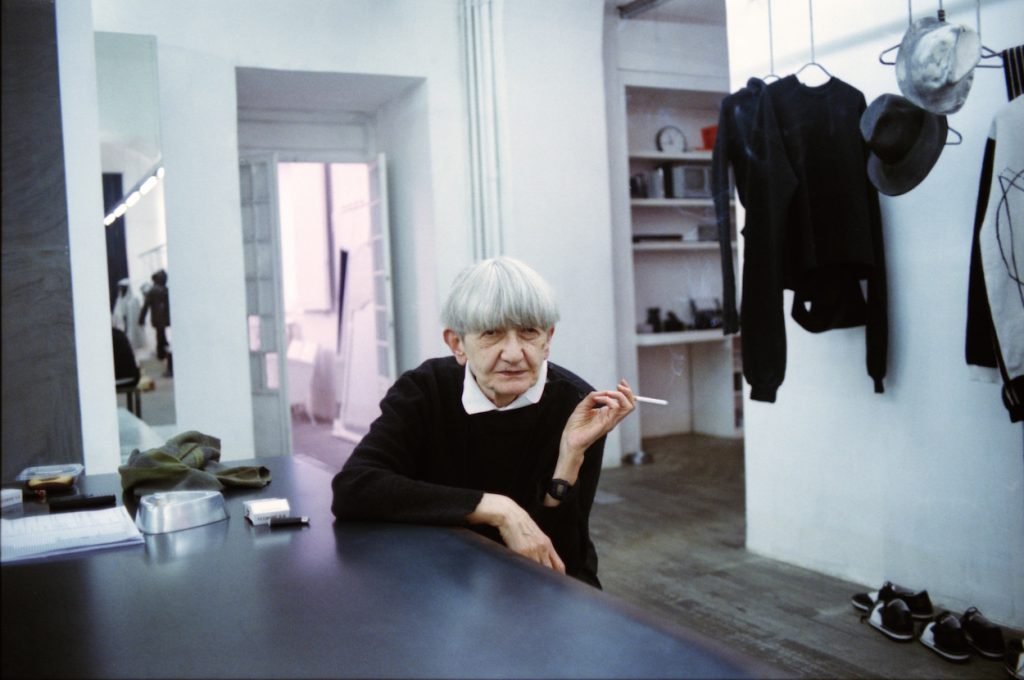 Margiela's first arrival in Paris wasn't that easy for the later respected Maison Martin Margiela. The French press initially discredited that awkward beauty coming from the Flemish city of Antwerp. On the opposite, the confident Margiela's and Meirens's generated an energy that not only surprised fashion's establishment, but also themselves. Contrasting the hermetical that from day one has been the house's DNA, backstage, they shared their happy tears and multiple conquers.
With all of them having used anarchy as seduction, their stories succeeded. A family that not only connected Antwerp-Paris-The World non-stop, but a movement that inspired all free minds to never sleep when it comes to dreaming. To see the day pass by, let the night arrive and try to delay sunrise for the pure seek of creation.
WE MARGIELA is a timeless love story on creating in the dark.
Don't miss it!
Best,
MHM.
WE MARGIELA – DOCUMENTARY by mint film office
documentary | 2017 | 99 minutes
Dutch, English and Italian spoken
Dutch and English subtitled
Screenings:
THE NETHERLANDS
Amsterdam – De Balie Amsterdam – Rialto Amsterdam – FC Hyena
Den Bosch – Verkadefabriek
Den Haag – Filmhuis Den Haag
Eindhoven – NatLab
Hilversum – Filmhuis Hilversum
Maastricht – Lumiere
Rotterdam – LantarenVenster
Tilburg – Cinecitta
Utrecht – 't Hoogt
BELGIUM
Antwerp – Cartoon's Cinema Antwerp
Brugge – Cinema Lumière
Brussels – BOZAR
Genk – C-Mine
Gent – Sphinx Cinema
Leuven – Cinema ZED-STUK
ITALY
Milan – 10 Corso Como
CHINA
Shanghai – 10 Corso Como
RUSSIA
St. Petersburg – Sreda
ESTLAND
Tallinn – Tallinn Fashion Film Festival
ISRAEL
Tel Aviv – DocAviv 2018