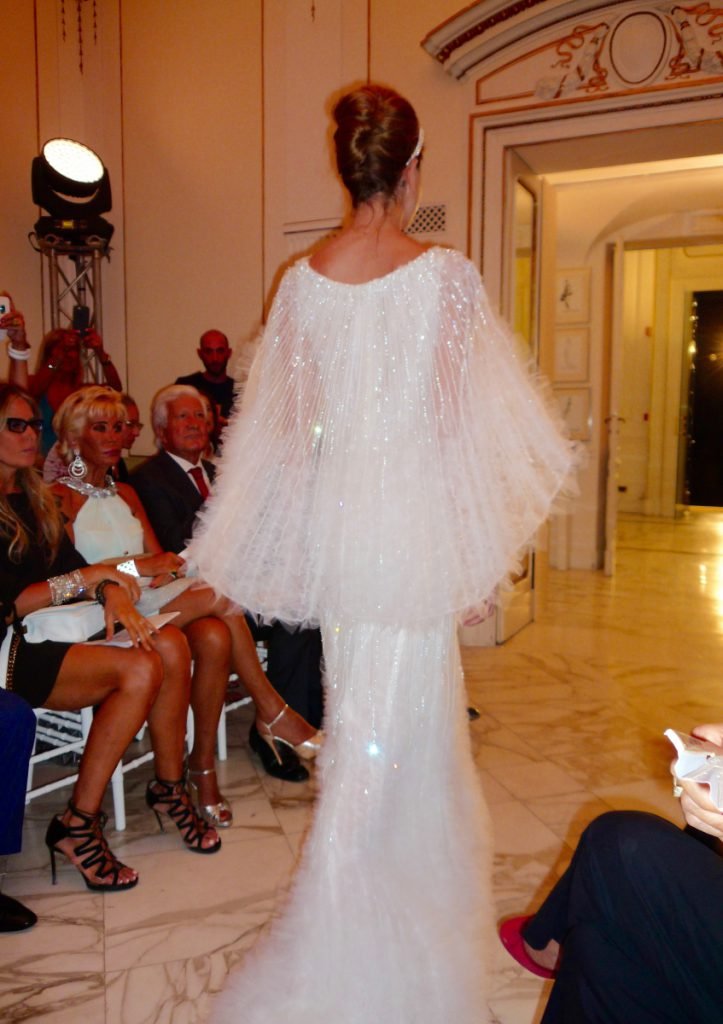 Dear Shaded Viewers,
It's a quasi-yearly summer tradition: Roman couturier Renato Balestra, now 93, invites the press, his clients and the curious to his atelier on Via Cola di Rienzo for an intimate viewing of his latest collection. Guests are either seated outside in the garden (near the frenzy of the photographers' mosh pit) or within the sedate sanctum of the salon, where the maestro's inner coterie perch and gossip about their recent adventures at the Paris couture and their upcoming yacht idylls.
For some reason, I am always blessed with the honor of being seated inside the salon with this mesmerizing menagerie: a dizzying display of brightly dyed hair, distressingly deep burnt umber tans, sharpened stilettos, preternaturally pulled faces—avoirdupois aristocrats arranged cheek by jowl with whip-thin widows.
After thirty or so minutes of this boutique theater, the runway show feels like Act Two. And since I was here to see the clothes after all, that's what I took pictures of. (These are private women who generally do not like to be photographed by the likes of me.) It's a pity that the show's printed inspiration notes are not read aloud by a honey-voiced narrator (we do miss couturier Lorenzo Riva's catwalk banter) because they certainly lend themselves to that:
"Black is the collection's soul, lightened by sheerness and unexpected flashes of sun yellow. Particularly effective are the pomegranate models, mainly of soft satin and enriched with tiny details to emphasise the line. The bride has wreathes of tulle over a cascade of aqua embroidery, lending her a regal air as light as a cloud."
And, of course, it just wouldn't be a Renato Balestra show without the finale's bombastic Broadway-musical rendition of "Sgt. Pepper's Lonely Hearts Club Band" on the soundtrack—"It's wonderful to be here, it's certainly a thrill!"
I see London, I see France…
Witchy Woman glamour.
The Maestro himself.
Moi in the mirror before the  show; a glimpse of the audience.
Thank you for reading.
Baci, baci,
Glenn Belverio