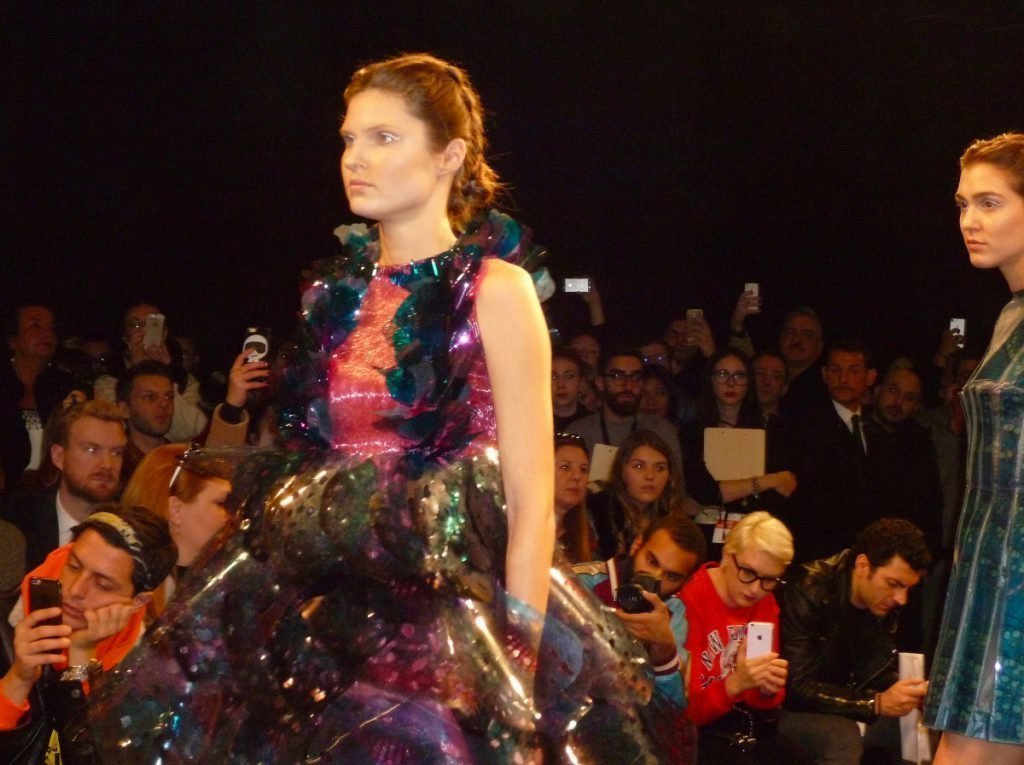 Above: A look from Ilaria De Felice
Dear Shaded Viewers,
It's always a delight to discover fresh, young ideas in Rome and this edition of the Accademia's Talents competition, held in the Guido Reni District, delivered.
Diana Aparo, of the label Laide, was the winner in the fashion category of the Talents 2017 competition. The vivid geometric grids, raspberry-jam woolens and plastic fantastic shift dresses were inspired by a passage from Dino Buzzati's 1963 novel A Love Affair:
"Within her, Laide, wonderfully living the city, tough, determined, haughty, cheeky, proud, insolent. In the abjection of souls and things, in between ambiguous sounds and lights, under the building's gloomy shadow, among city walls made out of chalk and concrete, in the chaotic bleakness, some kind of a flower."
Flavia Cavasino hails from Palermo, Sicily and was inspired by "a world magnified by a childish vision." I like the re-imagined black vinyl go-go dress.
Time to get fur real, dolls. Rossella Coppola channeled memories from her childhood of the 1990s, which may or a may not have involved a rave on a mink farm.
Roman designer Ilaria De Felice was inspired by the multifaceted realm of the sea. The transparencies of  her fabrics bring to mind the lightness of the ripples of the sea. Tulle and organza show in transparency the prints inspired by the cells of the living organisms studied in their inner essence. Embellishments mimic the ethereal inhabitants of the sea.
Colors recall to mind the seabed shadows and the crystals suggesting the game of light and transparency of water. I personally am thinking of the evanescent foam that sensuously washes over Deborah Kerr and and Burt Lancaster in From Here to Eternity.
Roman designer Valeria Grussu played with proportions, volume, layering, ruffles, pleating and a juxtaposition of textures.
Cascading ruffles and delicate pleating from Valeria Grussu.
For her accessories line Malia, Serena Iavarone mixed military influences with a sorbet color palette.
Another designer influenced by the shimmering beauty of the sea, Monia Romano conjured much-needed glamour and enchantment for a re-imagining of impoverished menswear.
For her Fruit Leather clothing and accessories line, Francesca Nori uses biodegradable materials inside of animal skins.
Who says apocalyptic survivalist wear can't be sexy? Alessio Rossi was the winner of the Accessories competition in this edition of Talents 2017 who combined leather with the latest tech fabrics.
Another look from Alessio Rossi.
Silvia Perrucci, of the label Durch, had a rather intriguing concept for her collection: "The figure of my mother, as a primary influence of my aesthetic idea. A woman of severe and rigorous femininity. I tried to imagine her in a previous life, in another era. I saw her again in Annemarie Schwarzenbach, an eccentric Swiss journalist who lived between the two world wars."
After a quick google image search, I think I am about to become obsessed with Annemarie Schwarzenbach:
From Wikipedia:
Throughout much of the final decade of her life she was addicted to morphine and was intermittently under psychiatric treatment. She suffered from depression, which she felt resulted from a disturbed relationship with her domineering mother.[3] "She brought me up as a boy and as a child prodigy", Annemarie recalled later of her mother. "She deliberately kept me alone, to keep me with her […]. But I could never escape her, because I was always weaker than her, but, because I could argue my case, felt stronger and that I was right. And while I love her."[1] Her family problems were exacerbated by family members supporting right-wing politicians, while Annemarie hated the Nazis. Despite her problems, Annemarie was extraordinarily prolific: besides her books, between 1933 and 1942 she produced approximately 170 articles and 50 photo-reports for Swiss, German and some American newspapers and magazines.
Fun fact: The Unknown Comic from "The Gong Show" has several grandchildren—and they all grew up to be models! For Tea Righini's Untitled Denim line, Robert Rauschenberg's work is the key for a contemporary reinvention of denim. This was mine and Diane's favorite collection.
For her line Essenza, Elena Materia was in a zen mood. Looking at the formal and spiritual harmony in the structural essence of nature, she translated it into a fusion of functional details.
Designer Ludovica Serra was influenced by porcelain dolls, Oriental ceramics and Russian tattoos.
Even designer Tea Righini, right, seems to be a descendant of the Unknown Comic!
Accademia director Lupo Lanzara gave his customary remarks before the prizes were announced.
Baci, baci,
Glenn Belverio