Tatsuro HORIKAWA is following a steady path inspired by cult & pop culture often relevant of noir countercultural narratives. With JULIUS, he is perpetuating his urban heritage with timely aspects that are linked to a futuristic approach. This season the Tokyo brand reclaims a romantic statement emerging from this perception of our society's evolution and decay.
The new collection and presentation entitled NEU ROMANTIKA, is greatly influenced by Neuromancer, the William Gibson book from 1984 which has also later inspired the film The Matrix. Embracing current states of overpopulation, mixed races, synthetic drugs, combined with the story of Neuromancer, which is considered as "the archetypal cyberpunk work", the new JULIUS collection is unfolding before us with a reminiscence of arcade games, a fusion of the romantic impulse mixed with science and technology. It is narrating a contemporary edge of urban lifestyle. Tatsuro Horikawa states : « I feel that the cultures fuse like a helix of DNA sequence…Neuromancer is perceived as a written prophecy of culture and technology, linking the present and the near future in real time. As a direct inspiration from this early 1980s book, the result in NEU ROMANTIKA collection uses the future as a propellant. »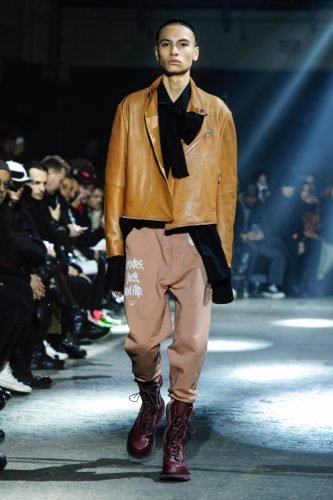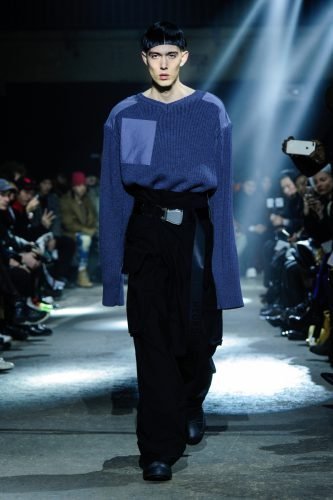 With technology and nostalgia combined, JULIUS is presenting this season a collection of silhouettes open to colors. Graffiti and New Wave are mixed, revealing an atmosphere of a post punk era meeting dub. From the « multikulti »  casting to the streetstyle oversized pants, suede and leather jackets, heavy cotton sweatshirts, 10 holes and zippers leather boots, Tatsuro Horikawa brings together with shades of dark red, pale blue prints, beige, navy blue, dark green and skin pink, an unconventional mix of colors making unique silhouettes.
For him the world is moving greatly towards singularity and a new form of global culture is now reachable with influences gathered from around the world, with this he states that « a new input is flowing like a flood in myself. A Positive evolution has already begun ».
Paris 2017 – Géraldine Postel
More to see :