The fluid silhouettes of DROMe always charm and appease the eye almost as a waterfall could hold you hypnotized. There is a soothing touch in the noble materials and it makes so much sense when it is well finished and handled with care! Here the evidence of sartorial skills and a thoughtful collection makes the thread disappear and the silhouette floating through the air. Marianna Rosati's dark romanticism translates with DROMe into a collection on deconstruction.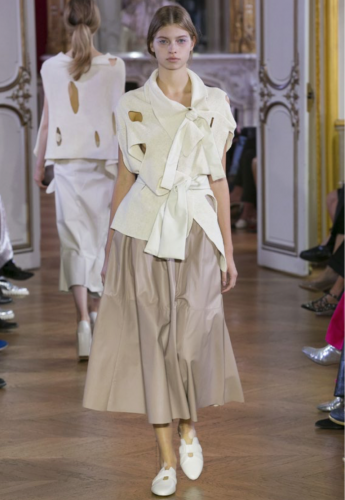 The soft leathers feel as silk and it flows down the silhouette in a sole harmonious way. The color palette is romantic, starting from natural shades and white, underscoring the minimalist line of the silhouette. Some of them relevant of the energy of a bright blue sky; the long coats and capes give us multiple ways of tying things together. It carries together both the ambivalence and accuracy where we can face the elements and situations with a silhouette we can tie-up together with our moods in so many ways that it can satisfy the largest contradictions and different dimensions that are offered to us on a daily basis. The theme of the bow is recurrent as a decoration on tops: it marks necklines and closes jackets to fit to your chosen silhouette…
Tailored jackets with pointed shoulders, almost like an origami, like the panel skirts tied with bows. Always cinched by belts, slim obi. Metallic textures, reinterpreted in different shapes for original plays of the light each time. New proportions for fitted and tops worn with wide trousers. Blouses with asymmetrical collars alternate with mini-dresses that feature openings on the shoulders and arms.
The accessories are also minimalist: acetate glasses with leather inserts and a pair of shoes with the exclusive sculpture-heel and aerodynamic plateau sole.
Putting the collection into the limelight is a leather with a shiny and iridescent paper effect. It is challenging the eye, the leather treatment carries a contemporary vision and it is a beautiful piece of clothing with a timeless quality. Let's get ready for Spring Summer !
Géraldine Postel