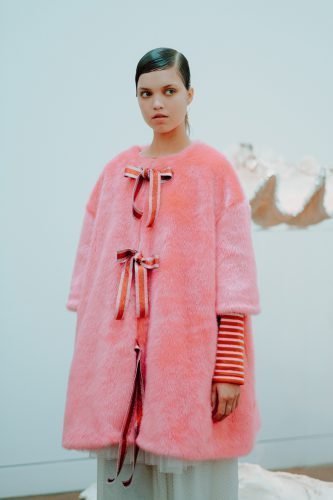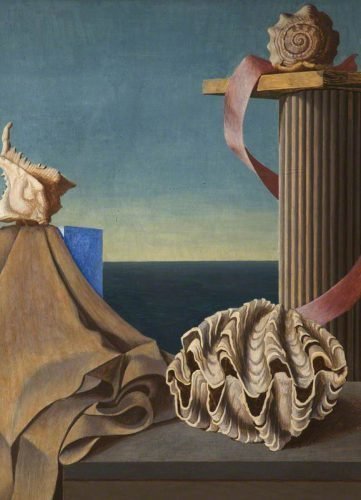 Dear Shaded Viewers and Diane,
There's no shortage of sugar at London Fashion Week this season, but in Shrimps' case, it's more ice lolly than candyfloss. There was something ever so slightly chilly about Hannah Weiland's pastel pastoral at Christie's in Mayfair. Perhaps the hunched posture of some of her models, their gelled hairdos, the tawny eyeshadow so liberally applied. We've seen a couple of designers yet, who dipped their toes in darker references and came through with luminous, liberating clothes – Marta Jakubowski, Eudon Choi – but in Weiland's 18th century-inspired round-up, the sinister tinge is more implicit, and not quite resolved, lingering. A spooky, saccharine innocence that runs throughout. Among the giant jewelled shell sculptures all around the room, inspired by the surreal costal views of Edward Wadsworth, the girls remind me of the pretty, ominous mermaids in Hans Christian Andersen's original fairy tale.
"the five sisters would twine their arms round each other, and rise to the surface, in a row. They had more beautiful voices than any human being could have; […] and sang sweetly of the delights to be found in the depths of the sea"
Shrimps' collection is ripe with sweet delights. Starting with plush accessories and faux fur coats, for it will be spring but we just may shiver. Bows, nightcaps in silk or organza, high neck collars hemmed with contrasting bias. One particular twofold collar pairs a knitted oyster-like upper layer with black faux fur underneath – uncanny, yet gracefully feminine. The palette ranges from salmon and foam, to pale corals and algae greens. But it's in the details, as always, that Shrimps especially shines. On square, flat, dainty handbags, we find embroideries the likes of a female face with a bloom in her hair or a beaded strawberry with eyes and mouth. The organza is also embroidered, white on white, with the simplified contours of rows and rows of little women. The standout print though comes on silk: two young girls, one in pigtails and underwear, holding what looks like a small bucket, and right next her older sister, carrying a doll as well as a pitchfork.
Later,
Silvia