And so it begins: I have always felt that much of 1960's thinking began in the 1890's Chelsea of Oscar Wilde and his Pre-Raphaelite neighbours, with nods back even further to the Romantics of the 18th Century.
A brilliant 3-D evocation of the Sgt.  Pepper's Lonely Hearts Club Band album cover, by Peter Blake and Jann Haworth.  I used to pore over my parent's copy of this as a child, looking out for starlets and movie idols.
'I was born with a plastic spoon in my mouth.'  What a killer line.
Twiggy was declared the face of 1966.  A working class girl from Neasden with her Vidal Sassoon hair, redefined a more egalitarian idea of beauty.  Was brilliant to see a hairdresser recreating her hair, live at the show.
Pop design, with nods to Warhol, Courreges and the space age consumerism.
Sensory overload with a wall of images, surround sound and mirrors with quotes.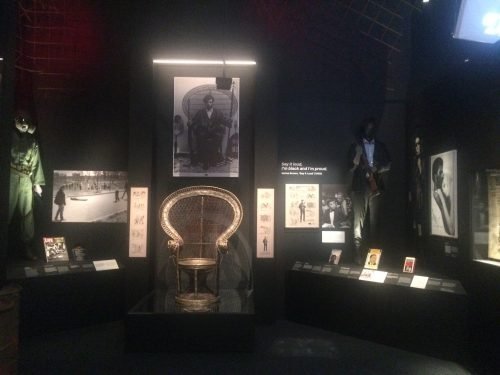 Black Power.
The outfit from Barbarella worn by Jane Fonda.            Black Power poster.
Women's Rights: I always loved that poster of the pregnant man.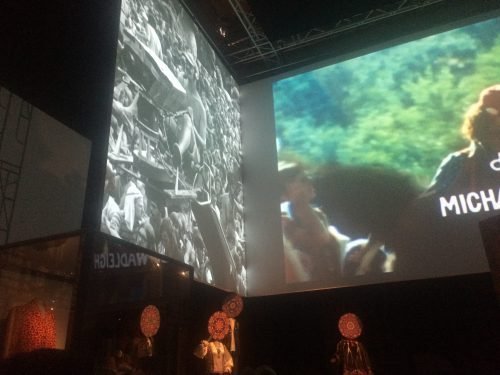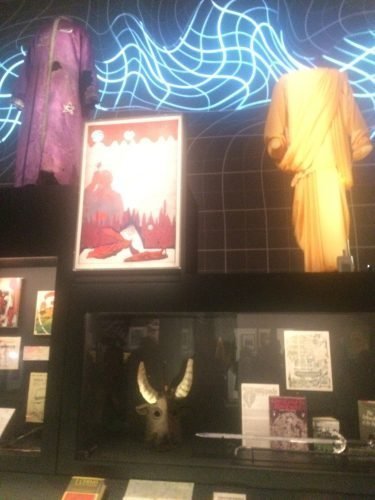 Mysticism, magic and questing became a huge part of this exploration.  As my friend Karim's Dad Craig Sams, explains in the opening montage of video footage by 1960's survivors and thrivers; his first forays into healthy living, started with LSD and led him to macrobiotics.  From that, he went on to start Whole Foods, Green and Black, and in the process established the early footholds of change in Notting Hill, Ibiza and now Hastings.
Can you pass the Acid Test?
Did you ever daydream of getting on the Ken Kesey bus, destination Further?
Did you fight for equal rights and dream of a better, more free and liberated world?
The new major exhibition at The V & A looks at epoch changing era of 1966 – 1970, via multi-media, again working with Sennheiser, who were involved in the brilliant David Bowie Is show, to create challenging and diverse multilayered soundtracks to each space, sometimes overloading within each room, to really emphasise the sensory implosion of this newly modern time.
The exhibition covers the early idealism, which challenged the existing power structures, via art, design, fashion, artefacts, performance and of course music.
We are led through each creative and social revolution: art, music, commerce, black power, feminism, the 1968 riots, the youthquake, travel, drugs, mysticism, magic, rebellion, communes, healthy living and counterculture.  It's all there!
All the time listening into snippets, music, moments and quotes from the time.
Walking into a 360 room with footage from Jimi Hendrix playing at Woodstock, of gorgeous 1960's characters arriving on their bikes and in cadillacs to that festival which changed all festivals.  Who could have known that they were creating a legend?  Under the footage screens, there are clothes, artefacts and memorabilia, a fantastic archive of who, what, when.
It ends with that lonely desert motorbike ride from Easy Rider: a film so unsettling, as you think these gorgeous free spirits will ride away into the sunset, only to be randomly killed for daring to be free.  I have always looked back at this era, one I am too young to have been a part of, via Ken Kesey, Timothy Leary, Tom Wolfe, and a trip to India aged 19 where I met an early love from San Francisco.   A living metaphor for those multiple references: of what is means to want more, of Beat turned Haight Ashbury  and destination Further.  Now, in quieter times, I love to visit museums, The V & A, always being my happy place: one of beauty, culture and flying dreams.    If you get the chance to visit this exhibition, it is on from Saturday 10th September 2016 – 26th February 2017.  I really do recommend it.
Tamara Cincik