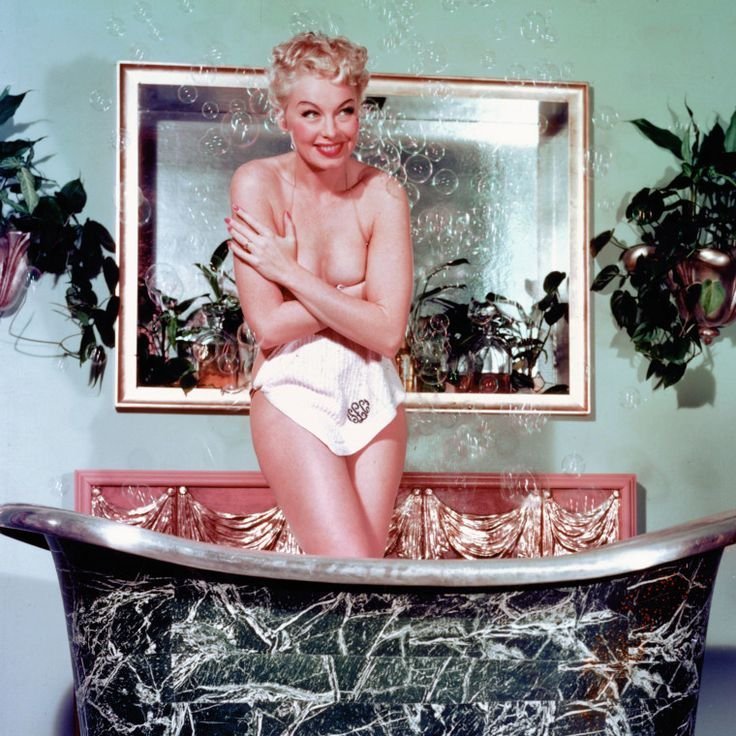 Above: 1–3. Lili St. Cyr and her bathtubs 4. Publisher Jason Binn, David Rockefeller Jr, Susan Rockefeller, Tony Bennett, Leslie and Robert Zemeckis 5. Leslie shares some stories from her new book
Dear Shaded Viewers,
A few nights ago, Kelly Cutrone of People's Revolution invited me to an intimate soirée at the Upper East Side home of Susan and David Rockefeller, Jr. Guests, including Amy Fine Collins, Tony Bennett, Cameron Silver, Jason Binn and Joe Coleman, were there to celebrate the publication of Goddess of Love Incarnate: The Life of Stripteuse Lili St. Cyr by Leslie Zemeckis.
"God bless Lili St. Cyr!" as Susan Sarandon famously sang in The Rocky Horror Picture Show, the 470-page tome chronicles the life of, as Mike Wallace put it, the "highest paid stripteaser in America." St. Cyr was the first stripper to work in the swanky nightclubs on Sunset Boulevard. The first stripper in Las Vegas! She was on top of her game for over 30 years. Award-winning documentary filmmaker and writer Leslie Zemeckis spent years researching this book, restoring Lili to her rightful place in American history.
We toasted the spirit of St. Cyr during a party that was a giddy swirl of burlesque anecdotes from Leslie and guests (there was a woman present who had seen Lili perform decades ago in New Orleans), film industry chatter, Chinese lawyer intrigue, global mummy gossip (between Joe Coleman and I), and a dizzying array of toothsome hors d'oeuvres and fine wines.
We all received copies of the book at the party. I can't wait to dive in and it'll be the perfect poolside read at my cousin's house in Bermuda next month. Stripping is something that was a big part of my life back in the '90s. I had a lot of girlfriends, many of whom performed at the legendary club Jackie 60, who danced at Billy's Topless over in Chelsea, where I often hung out with Bruce LaBruce and various dyke friends.
"Don't act like fags or the bouncer will make you kiss the sidewalk!" LaBruce and I were chided by a certain stripper friend of ours. It didn't stop us from cruising the horny guys in the restroom. Warm, fuzzy, g-string memories. Dolls hopped up on dolls and amusingly themed routines, inspired by everything from punk to Peggy Lee. And then, of course, there were all those nights that Michael Schmidt dragged me off to The Gaiety in Times Square for full-frontal male nudity, avec hardons in the second act. The audience was full of raincoat-wearing perverts. (Mine was by Helmut Lang.)
It just isn't a party until Tony shows up. Mr. Bennett strikes a pose with Leslie and Robert Zemeckis.


Lady-in-red alert! Moi and the gorgeous Shruti Ganguly. No, your eyes are not deceiving you, dolls—that IS a Picasso behind us.
Baby faces all around: Leslie, Kelly Cutrone and the toddler who crashed the party.
Artist Joe Coleman, David Rockefeller Jr., Susan Rockefeller, Robert and Leslie Zemeckis, literary agent Eileen Cope and Kelly Cutrone.
Whitney Ward, Joe and Leslie.
Jungle red nails and storied jewels: Leslie was wearing a ring that once belonged to Mae West. Legendary Hollywood!
I always keep my friend Camille Paglia abreast of my party hopping via email and she had this to say when I sent her this shot of the Picasso hanging over the fireplace:
"The Rockefellers were of course in the forefront of the American acceptance of modernist art–it started with Abby Rockefeller, and her son Nelson (governor when I was in college) was a big advocate of abstract art also.  I've often remarked how impossible it would be today to imagine a Republican collector of avant-garde art!!"
During the party, Leslie shared some stories about Lili's life that appear in her book. St. Cyr often did stage shows which were delightful voyeuristic experiences for the male audiences. Vignettes would include her getting undressed and dressed in her "apartment" or "dressing room," acting as if no one was watching.
Thank you for reading.
Love,
Glenn Belverio