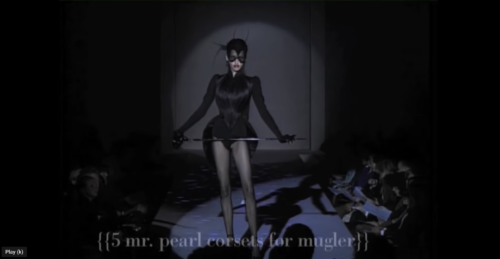 Dear Shaded Viewers,
Like the rest of you I am saddened by the loss of a fashion genius. I was fortunate enough to attend most of his shows in the 90's via the publications I was working for be in JOYCE Ma, Elle.com or Vogue.fr and they were spectacular as everyone knows. I am happy that before he died he was celebrated with the immersive exhibition that started out in Montreal but finally made it to Paris. Above is a short film that I made on my dear friend Mr. Pearl. A short byte from Thierry Mugler's show is inserted in the doc on Mr. P. Mr. Pearl made many of the incredible corsets that featured in the Mugler collections. Above is one of my favourite collections the Insect one.
The last time I saw Manfred was November 5th at Paradis Latin, it was an evening celebrating Manfred and a film made of a magazine shoot with Kim Kardashian in his collection. I went with my friend Leticia Dare and when I was ready to leave she insisted I say goodbye to Manfred, I am shy and did not want to disturb him at his table but finally I agreed and I remember him saying…"You are a star girl, good on you, stay in there." I  I walked away with a smile and was happy that Leticia forced me to go over to him. RIP – a true genius.
Later,
Diane