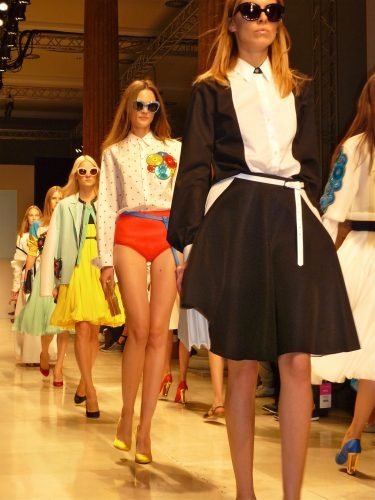 Above: Looks from this year's winner, L72.
Dear Shaded Viewers,
Recently, in Rome, I attended the 11th edition of Who Is On Next, the fashion scouting project dedicated to the talents of Made in Italy fashion, created and organized by AltaRoma in collaboration with Vogue Italia. This authoritative platform serves as a means of promotion for young, up-and-coming designers who showcase their creations before a prestigious jury of industry experts.
This year, the jury included such luminaries as Suzy Menkes, Daniela Agnelli (the fashion director of Telegraph magazine), Alex Fury (fashion editor for The Independent), Colleen Sherin (senior fashion director at Saks Fifth Avenue) and, of course, Franca Sozzani.
The winner in this year's clothing category was British designer Lee Wood, of the English brand L72. These were clothes for the '90s raver girl who married rich and is now traveling the world on her husband's yacht.
Inspired by the primary colors of Legos (red, yellow and blue), Mr. Wood wanted to remember that childhood moment when he sat in front of a pile of the plastic blocks and began building. His process for designing this collection followed the same rhythm.
After 16 years of working alongside Donatella Versace, Mr. Wood decided to give life to his own personal aesthetic by presenting a "pre-launch" of his brand during Milan Fashion Week. His clothes speak of democracy and sensuality, a balance that enhances the silhouette while embracing a utilitarian charm.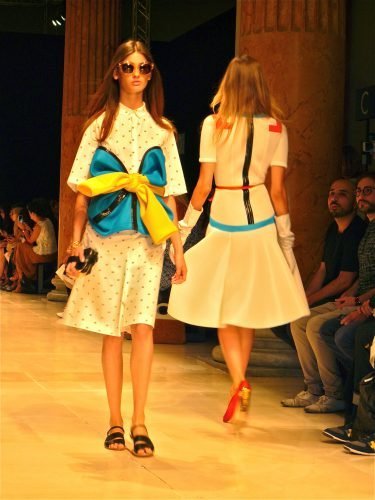 Luca Sciascia was born in Turin in 1976 and started his career in the theater. He studied at the Accademia delle Belle Arti in Florence and the Istituto Europeo di Design in Milan. Pop culture, psychedelia and a sense of humor characterize the collection he showed at Who Is On Next.
I was mad for the shoes of finalist Catherine De' Medici 1533 (above) which are inspired by their aristocratic namesake. Catherine de' Medici was reportedly the first woman in fashion history to wear high heels, on the occasion of her marriage with Henry II of France. The designer of this collection, Francesca Pisano, hails from Turin and learned craftsmanship from her dressmaker grandmother.
Lolita Lorenzo, one of this year's winners in the accessories category, designed these geometric hard-candy confections. The Kenyan-American artist and designer was born in Nairobi and moved to Canada as a teen. Now based in Paris, her brand is inspired by the rich, vibrant colors and graphic prints found in many of the textile markets across West Africa.
The core essence of the Lolita Lorenzo brand is to create opportunities for women in the developing world. The brand currently works with women in rural Nigeria to create some of the fabrics used in the bags. They employ an ancient art form practiced by enterprising Yoruba women, who craft textiles designs using Dutch wax, Adiré and Aso Oké.
Love,
Glenn Belverio