Dear Shaded Viewers and Diane,
Spring is natural time of rebirth in the northern hemisphere. Much like the new shoots of flora that spring to life, fashion schools also display the fresh new arsenals of their graduates. Arnhem's Institute of The Arts, ArtEZ Fashion Design Dept., sent their specimens to out to show their newest work – and it hardly looked like the work of bachelors! The meticulous and polished production, combined with the stunning venue (the national heritage site Province House Arnhem) resulted in an experience that belonged more to an international agenda than a regional gathering.
Under the umbrella ArtEZ MODESHOWS, first and second year students work was exhibited by video. This served, as a welcome appetizer to the main course, where twenty-one BA graduates produced one of the best shows seen in the largest province of the Netherlands. The professional display left the audience optimistic and hungry for more.
Please enjoy our highlights !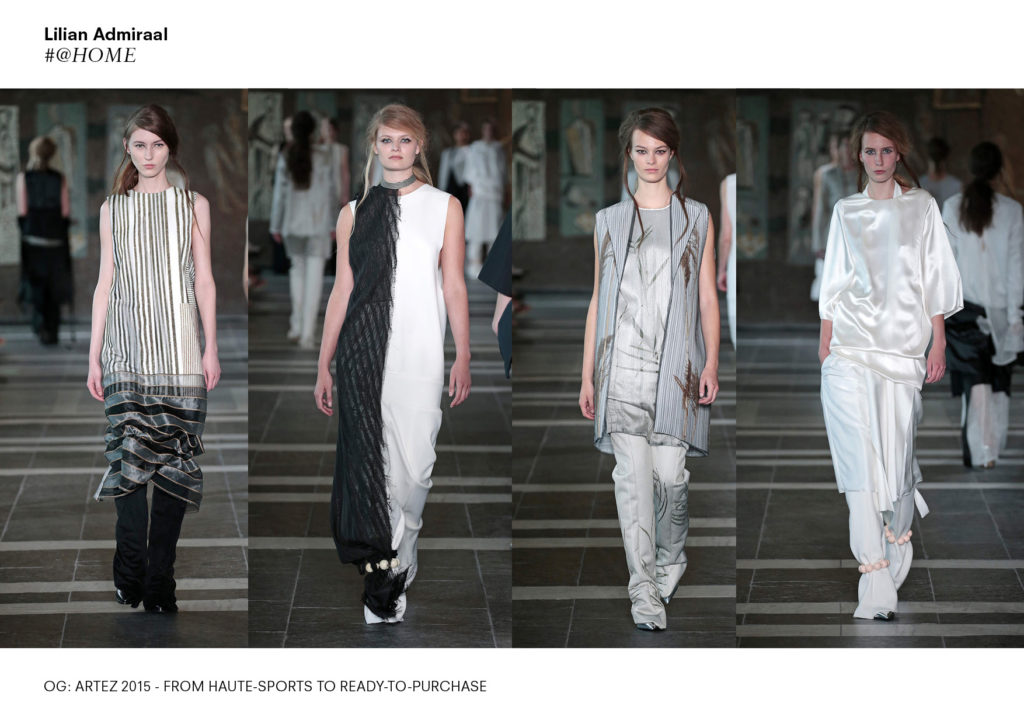 Lilian Admiraal: Lilian Admiraal's use of fabrics communicated that richness of interiors without becoming domestic. Different high-tech textures (often curtains) combined with fragile natural prints on flair pants (with real plants sealed within!) delivered to the profiles of her targeted women: soft and fluid, or contrasting head-to-toe structure. A sporting influence was inserted with subtlety every now and then, suggestive of free women unbothered that their white corduroy pant might brush against the floor. Influenced by the work of American architectural photographer Julius Shulman (1910-2009), Admiraal's northern vision on sloppy women's garments was worthy of female admiration.
Kristan Kuijf: In the right hands, garments can become living organic structures that invoke the dearest of memories. The honored female muse behind Kristan Kuijf's purity is sadly gone today, but the designer here makes sure that "Hilde" is not forgotten. When asked about the prints, Kuijf said: "I took voice recordings and played them onto water and other media to record the movement/ripples. This enabled me to create imagery that was like a fingerprint of her voice". The excellent printing techniques capture memories on lightweight foam and synthetic felt in conversation with silks, cottons, and cashmeres. Emotions are back into the BA trends.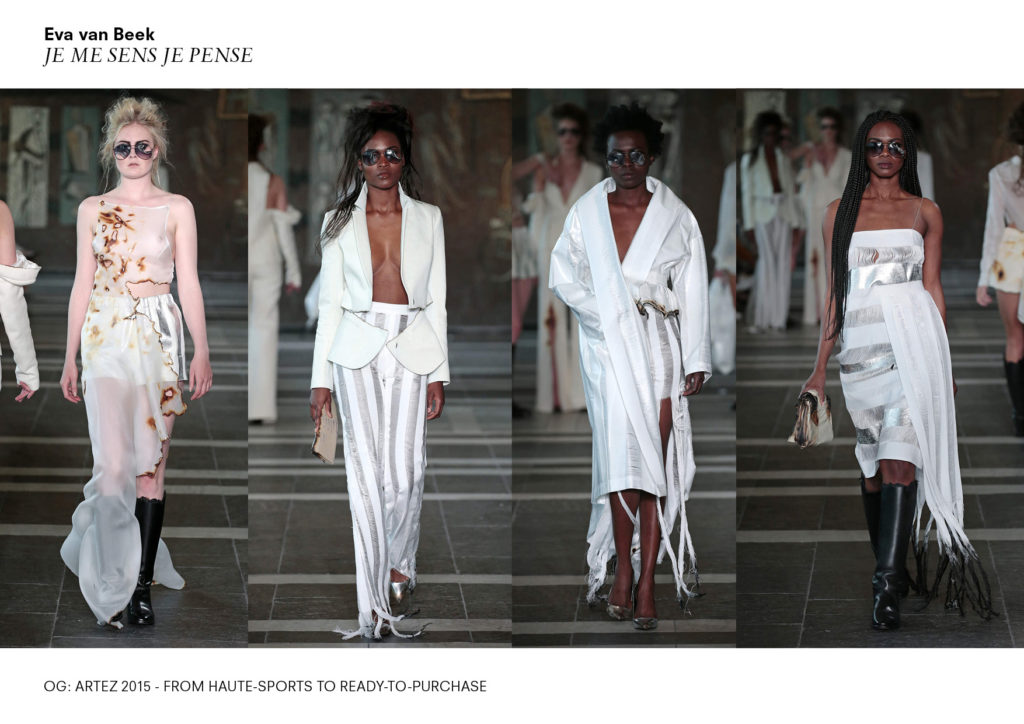 Eva van Beek: Here, the violence and fire of women's temperaments trims and decorates fabrics. The "T.Ford" 90's school of sexy influences was subjected to rough finishing, evoking that moment when fire destroyed Eva van Beek's apartment in Paris (while having her internship at J.Galliano). The smoke was still in the air, unavoidable… such an experience remains ingrained in one's mind and forces the rebuilding of objects and ideas that were once turned to ashes. Running away from the fire made van Beek reconsider the value of handcrafted material and their timeless value. Her work speaks of a more conscious world, and one where women are capable of starting again from scratch.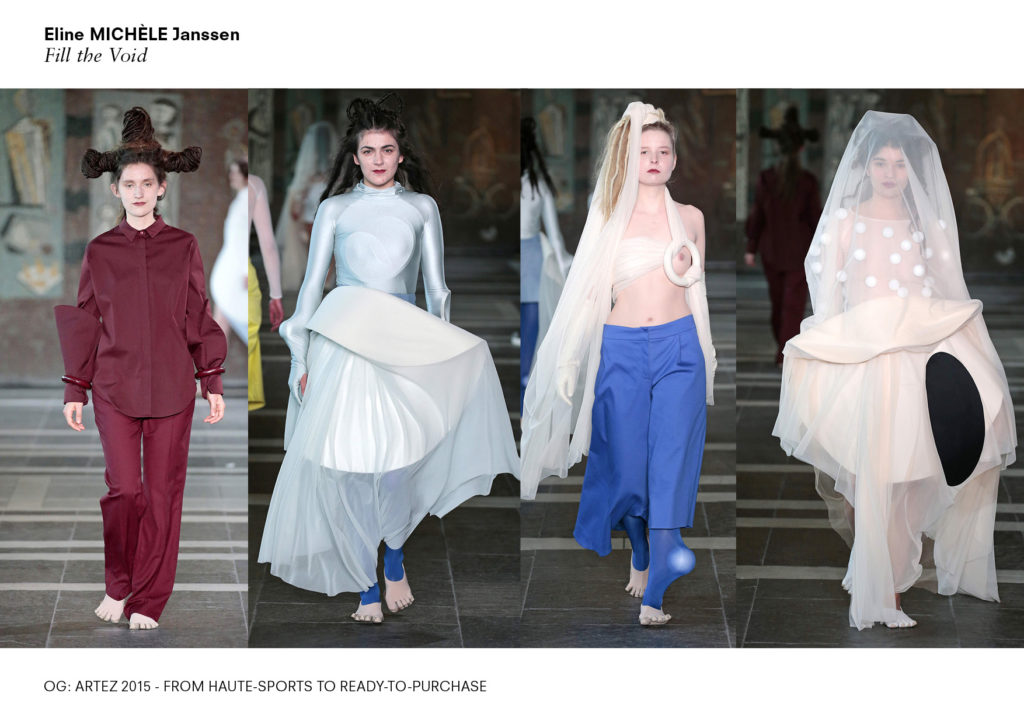 Eline MICHÈLE Janssen: Eline MICHÈLE Janssen's graduation looks are pure geometry and physics; they are ergonomics we all want to see again. By leaving behind the body's contours, Janssen aggressively shapes controversial women whose intentions are not to provoke, but make you think. A theoretician like her Suprematism icon, Kazimir Severinovich Malevich (1878 –1935), would have approved of this work. The nudity here had nothing to do with explicit exposure – it was the body shaping new origins in fashion with curves that demanded analysis. Calculations and solutions unwound the problematic aspects of today: do we need so much? Digging into the origins of fashion, using felt and elastic fabrics, the designer fused garments and bodies into one solid form – often, deserving applause.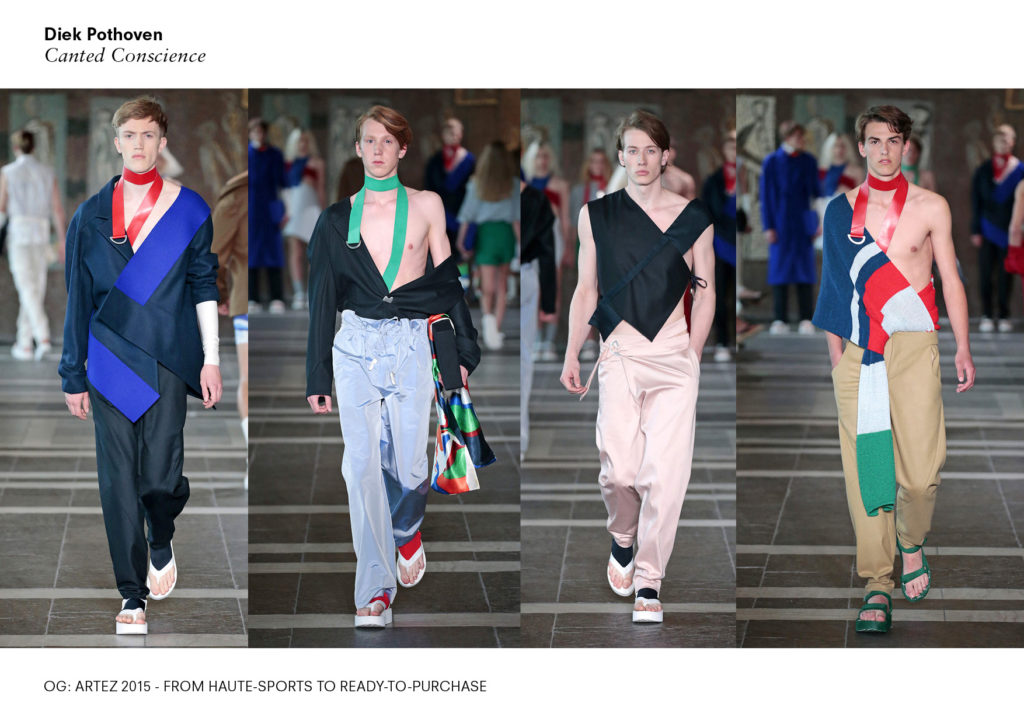 Diek Pothoven: It felt like a Resort show taking place in Paris or London, but it was Arnhem (NL). The maturity surrounding Diek Pothoven's designs for "her and him" was ambitiously controlled down to the most minimal of details. It was more than attractive ready-to-wear, it transported us to ready-to-purchase! Any retailer would have been excited to select the basics, the specials, and even the key looks from this collection. The key looks were spectacular, and emphasized a graphic window lead with butter cashmeres, paper silks and prints. It was a tailored and complete story on fashion design, with shoes, clutches, scarfs and necklaces reconstructing classics and camouflaging them in a magically invisible way. If garments are supposed to emphasize beauty, the knitted polo with a bare shoulder showed us what's beyond that: free style. Considering the shortage on Dutch menswear designers on international arenas, Pothoven's graduation shows certainly represent what the future may have in store!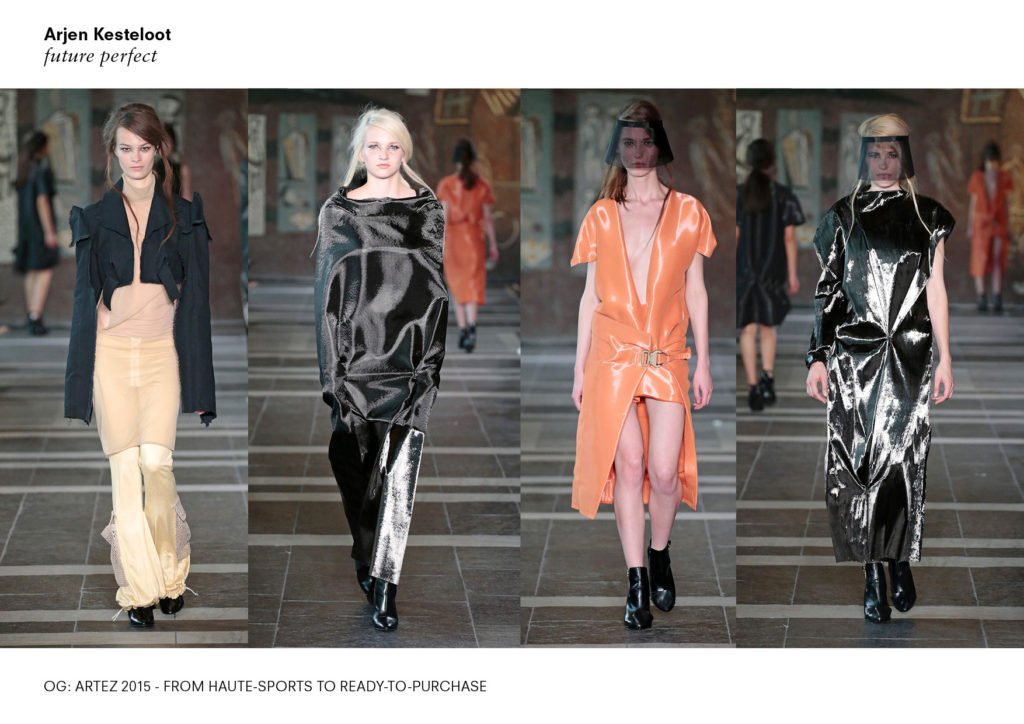 Arjen Kesteloot: Innovation brought Arjen Kesteloot to navigate the constant and hypothetical struggle: "What's new?" Often in fashion, technical materials developed for scientific research (like the spacesuit) unnoticeably become part of the contemporary property. Kesteloot managed to integrate this into his work, tearing apart different layers of a spacesuit for example, while never reaching levels of vulgarity. The female body was always a consideration, with clean refined lines resulting in a collection, which was sexy and wearable. It was a statement: "I AM NOT VULGAR, YOU ARE JUST A PU_SY"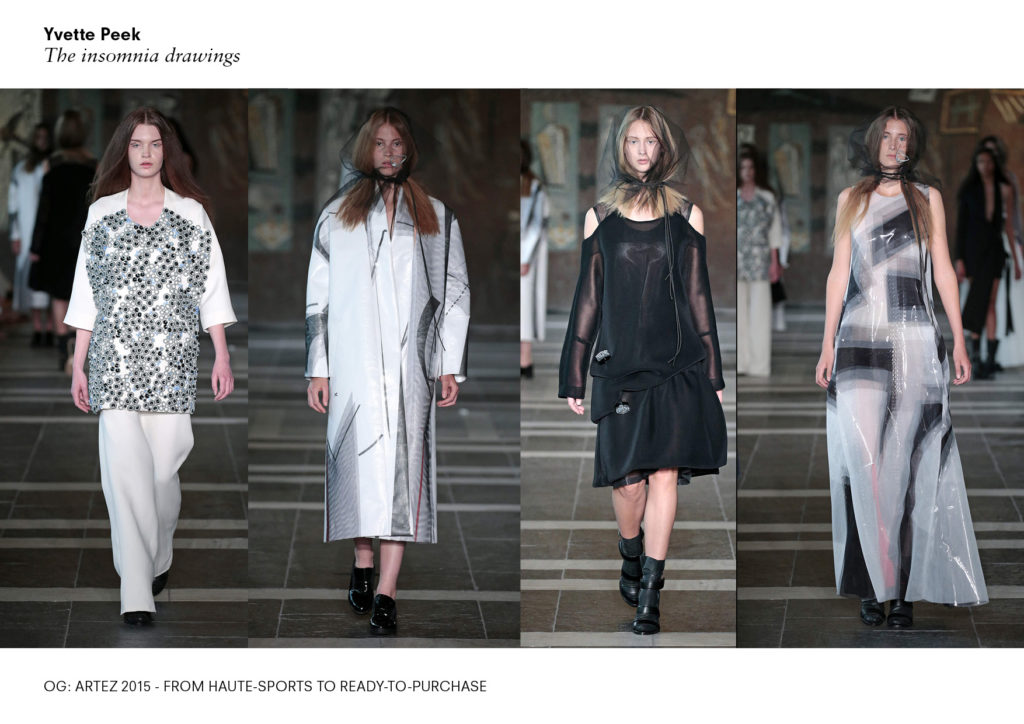 Yvette Peek: The gorgeous charming loner, the rambling vagabond who shares their tales… this is what was invoked in Yvette Peek's collection. Her work, which was influenced by Louise Bourgeois Confessional Art (drawings), spoke of that moment when one is dreaming on autopilot, the subconscious filled with illusions devoid of a time or place. Maybe they came from the magical space between waking and sleeping, but one thing that are for sure – here; they were always attached to elegance. Irregularities on the garments were typical symptoms of that insomnia and its creative trance, all of which can be stunningly forgiven. There were no visible spiders as you might have expected when thinking of Bourgeois – maybe they were underneath the model's hairdos that were kept calm with tulles!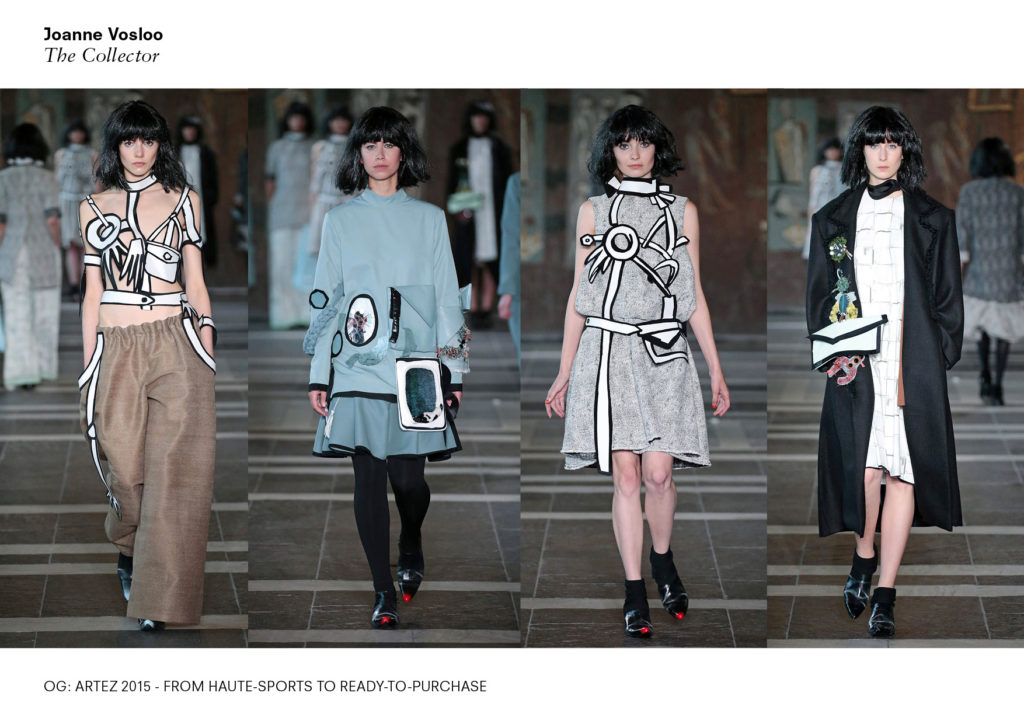 Joanne Vosloo: Beautiful disconnected harmony… coordinated chaos… South African born Joanne Vosloo did not spare attitude when sending a woman with magic hands down the runway. That doll-loca-look (with handcrafted hands) isn't accidental – Vosloo took inspiration from the awkward enchantment of a dollhouse, and clashed it graphically with the madness of the electric devices we own today. No one would be shocked to see one of Vosloo's females holding an ice cream while licking a window… better said while listening to Window Licker by Aphex Twin!
Best,
Marcelo Horacio Maquieira Piriz.
ArtEZ Fashion Design – @artezfashiondesignarnhem
Artworks © Ulises Chamorro
Photos © Peter Stigter