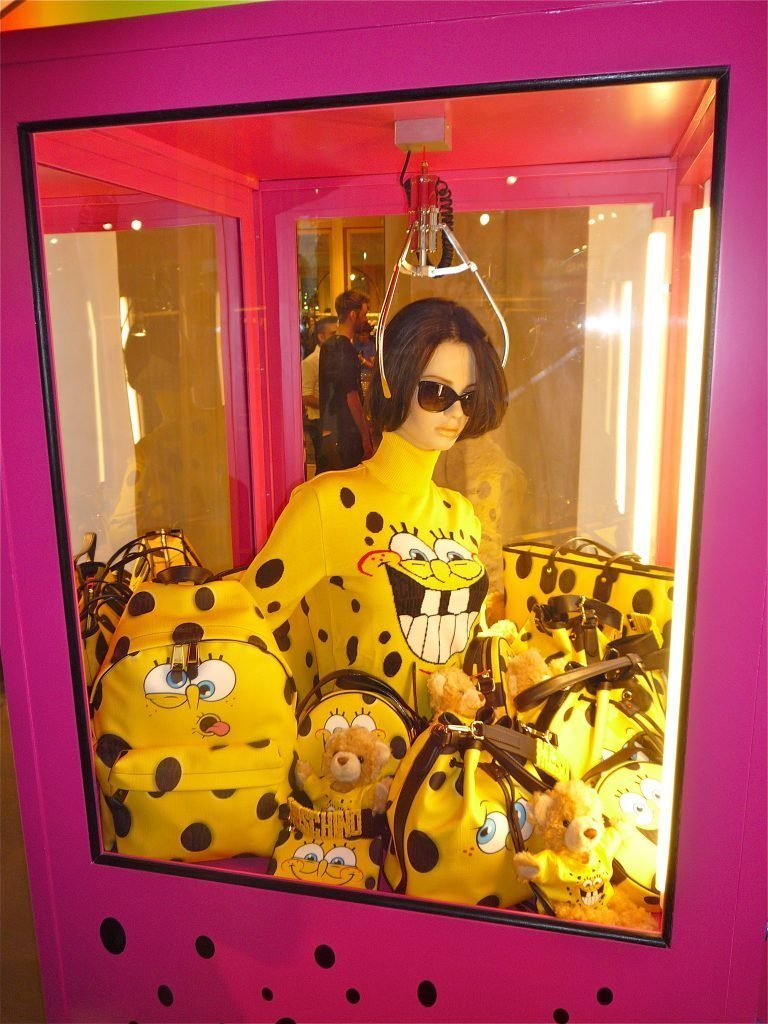 Dear Shaded Viewers,
Last month in Rome, during AltaRoma, I attended a lighthearted soiree at the upbeat Moschino boutique on via del Babuino. Although I have been following all the new Jeremy Scott designs for the brand via social media, this was my first chance to see the merch up close and personal. (I have a Jeremy Scott for Longchamp bag that Kelly Cutrone, Jeremy's publicist, gave me in 2010. It's decorated with a black-and-grey trompe l'oeil print of tire tracks. I always travel with it. Jeremy won't mind me saying that I love it because it reminds me of '80s Stephen Sprouse.) Could there be a more perfect designer for Moschino than Jeremy Scott? No one else has that sense of humor that has been a trademark of the brand since it was founded in 1983 by Franco Moschino. (RIP)
I always loved the way Franco ruffled feathers by spoofing the excesses of high fashion.
Spongebob cookies were served, along with some delicous prosciutto finger sandwiches.
Yes, dolls, that's me in the mirror with my metallic Pierre Hardy sneakers. With all that gold everywhere, the party needed some silver.
Weekend in Bedrock, here she comes!
Photophobia fabulosity: designer Sergio Zambone. I wrote an article about him for DUTCH back in the day.
My gift as I was leaving the party. What's not to love about an anthropomorphic fudgsicle iPhone case?
Dreamy dusk light near the Piazza di Spagna after the party.
Later that night I had a delicious dinner (burrata and pasta alla gricia) with my dear friend Consuelo Aranyi, press officer for AltaRoma (me and her, above), a gentleman friend of hers and Paola Balzano. We walked Consuelo home and then I flew back to my hotel, powered by my magic sneakers. (Actually, I see that I am wearing a different shirt–the one I bought in Paris with Rebecca Voight–than the one from the party, so this must have been a different night!)
Baci, baci,
Glenn Belverio