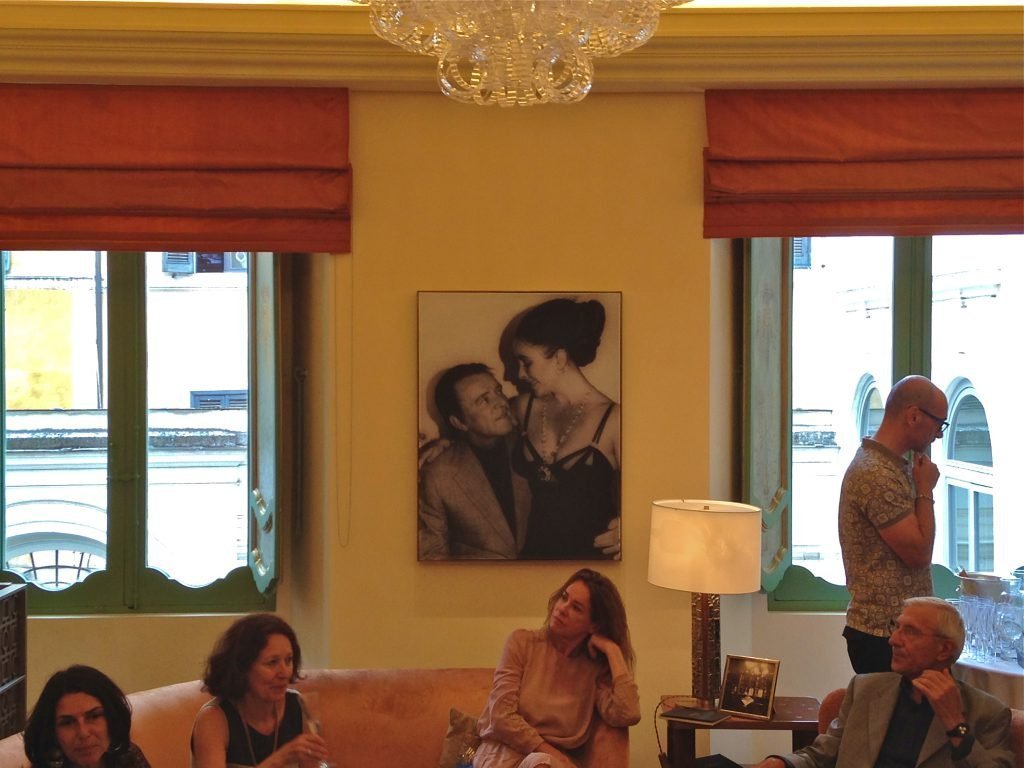 Above, photo 2: Ari Seth Cohen of Advanced Style, Diane & Conseulo Aranyi, Press Officer for AltaRoma at the Bulgari brunch; photo 3: the bar at the Bulgari party at the ancient Horsti Sallustiani
Dear Shaded Viewers,
Sorry for the lag in my missives on AltaRoma, but New York is a tough town and I've been shaking my money maker while stealing some precious moments to post these. Let's have a look back at the splendid, and rather exclusive, brunch that was held in a private salon at the Bulgari boutique on via dei Condotti, the bustling luxury shopping street just a pink diamond's throw from the Piazza di Spagna. In one room an exhibit of vintage Bulgari jewels was on display, while in the other a toothsome spread of haute delicacies was laid out, complete with non-stop bubbly and, my favorite, succo di arance rosse, as the furious love of Elizabeth Taylor and Richard Burton held sway.
Alessio de Navasques & Diane
Some of the vintage gioielli on display.
Mantilla vs. mantilla with a champagne chaser. Diane, Elizabeth and I.
"I introduced Elizabeth to beer; she introduced me to Bulgari." – Richard Burton
Because it just isn't a party without Sissy Goforth got-up in kabuki garb & Bulgari baubles. #Boom
Sorry, dolls: Not for sale.
After the brunch, Diane made a new friend on the street. I believe our new acquaintance is modeling the latest Moschino design by Jeremy Scott.
That evening, we attended a lavish fête for Isabella Ferrari's book "Forma/Luce" presented by Bulgari at the Gardens of Sallust, which were developed by the Roman historian Sallust in the 1st century B.C. (One of my favorite scenes in La Grande Bellezza is when Isabella Ferrari's shallow rich character passes through the Piazza Navona with Jeb and mentions that she once saw the piazza covered in snow. "And what did that look like?" Jeb asks hopefully, yearning perhaps for an insightful, poetic response. "Bianco!" is all she has to say.)
At one Fellini-esque point, after too many glasses of champagne, I was trying to find the powder room and I ran into this Catholic official. He was lurking in a stone archway and I'm pretty sure he was swinging a Bulgari-bejeweled thurible but I didn't take a photo because I was just too absorbed in the moment. So, a week later a sleuthing journo friend of mine unearthed this photo of him from the internet: Padre Simeon Katsinas.
French chanteuse Loane, of the newly formed band along with Diego Buongiorno called Birds of Leonis, was sporting a head-turning bee brooch from the couture show of LuigiMaria Borbone.
After the party, me, Diane, Ari Seth Cohen of Advanced Style, Robb Young and Susan Sabet of Pashion Magazine tucked into a delicious dinner at the fashionable Dal Bolognese on the Piazza del Popolo.
After a sublime plate of cacio e pepe, I indulged in a chilled Mediterranean blue lobster with pink sauce (not pictured) that was the subject of conversation for the rest of the evening (you had to be there) during our long walk home through the wonderfully quiet streets of central Rome. Abbondanza!
Baci, baci, baci,
Glenn Belverio