Dita Von Teese (in custom Jenny Packham), Cointreau Global Ambassador. Beverly Hills Hotel. Photo by Charley Gallay/WireImage
Dear Diane, Dear Shaded Viewers,
Dita Von Teese is more than a burlesque dancer, she is a performance artist as intelligent, talented, and rigorous in her work as any fine artist I have seen in the best galleries or museums. Dita is also quite the savvy businesswoman.
Dita incorporates the formal ballet training of her small town youth into her performances. She is naturally elegant, feminine, and graceful. Sitting inches away from her on a loveseat at the historic Beverly Hills Hotel, her posture is as perfect as her milky white skin. Ever the artist and creative collaborator, when I inquired about her performance makeup, she replied "I do my own hair and makeup and I am working on a step-by-step beauty book with Rose Apodaca." Dita told me unusual beauties such as Maria Callas and Marlene Dietrich inspire her.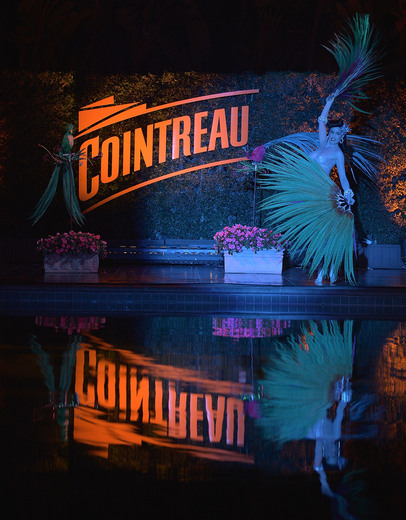 Feathers! Beverly Hills Hotel. Photo by Charley Gallay/WireImage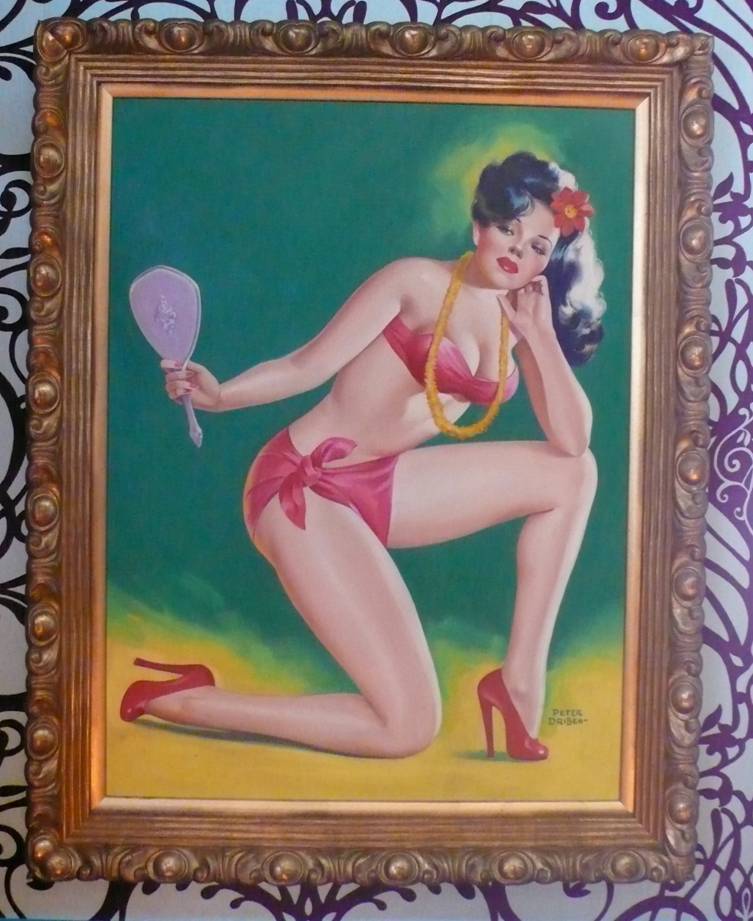 Peter Driben – American – "Admiring Myself," Titler magazine cover Nov. 1946. Photo: Dita Von Teese. Complete inspiration from then to now is apparent.
Surrounding her life with inspiration and an admiration for historical glamour, Dita collects beautiful mid-century pin-up paintings. She educated me about artists such as Frenchman Jean-Gabriel Domergue as well as Zoe Mozert, one of the few female pin-up artists of the day, and an American no less. Dita says she has picked up these works everywhere from the famous Paris flea market to Heritage Auctions. The images here are some of her recent collection additions, as seen on the walls of her Los Angeles home. As far as contemporary art goes, Dita told me "I'm more interested in the art of haute couture by artists such as Gaultier."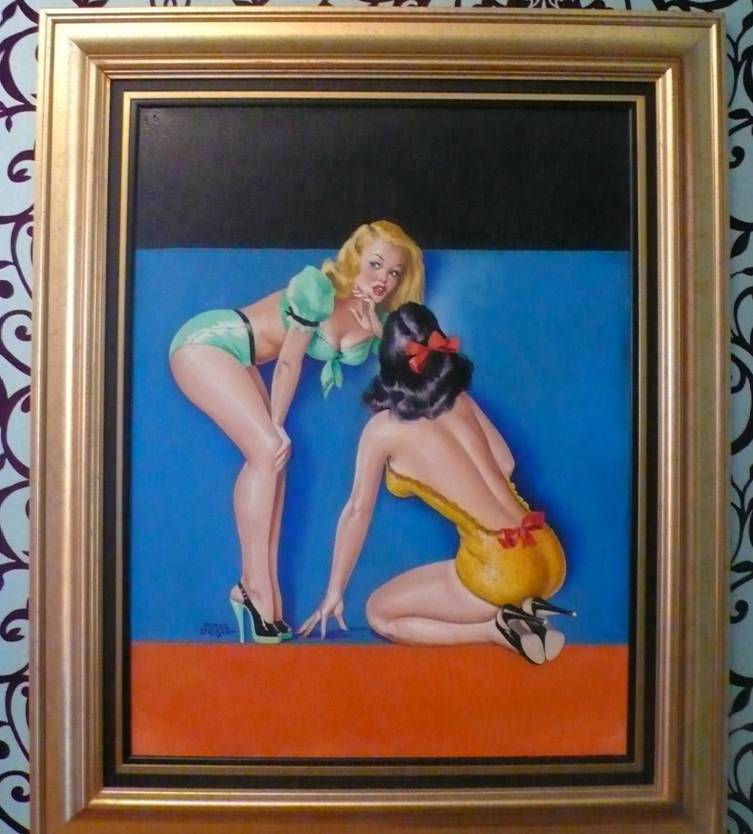 Peter Driben – American – "The Secret Whisper" magazine cover Sept. 1949. Photo: Dita Von Teese.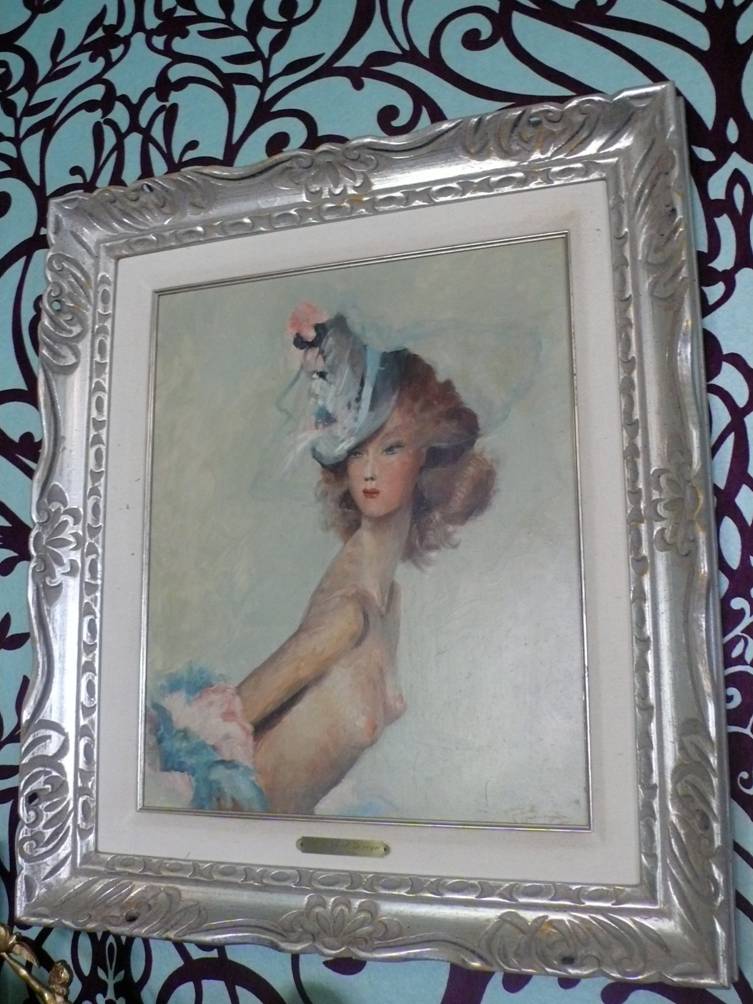 Jean-Gabriel Domergue – French-"Nu Avec un Chapeau Blue" Circa 1955. Photo: Dita Von Teese.
Cointreau could not have chosen a more perfect brand ambassador. I was fortunate to see Dita's dynamic Cointreau Poolside Soirees debut performance at the legendary Beverly Hills Hotel, after the lively Aqualiliies impressed the crowd with their glamorous synchronized swimming routines and Frank Sinatra style crooner Luca Ellis eased us into the evening. Dita's performance (which she assured me that with so much of the work of the costume and choreography, she will do again elsewhere) paid homage to Margarita Sames, the bon vivant Dallas socialite known for her lavish entertaining, while also taking inspiration from the Golden Age of Hollywood. Dita of course mesmerized the crowd (which included Natalie Portman and Benjamin Millepied, Mary-Louise Parker, Marisa Tomei, fashion designer Jeremy Scott, and MOCA director Jeffrey Deitch) with her moves while dressed in a dazzling custom-made costume designed by British designer Jenny Packham. Dita's costume layers included Packam-designed undergarments. To accessorize, Catherine D'Lish created massive iridescent pheasant-feathered fans. Dita wore jewelry by Michael Schmidt and shoes by Christian Louboutin. Everything in her ensemble was embellished with Swarovski crystals.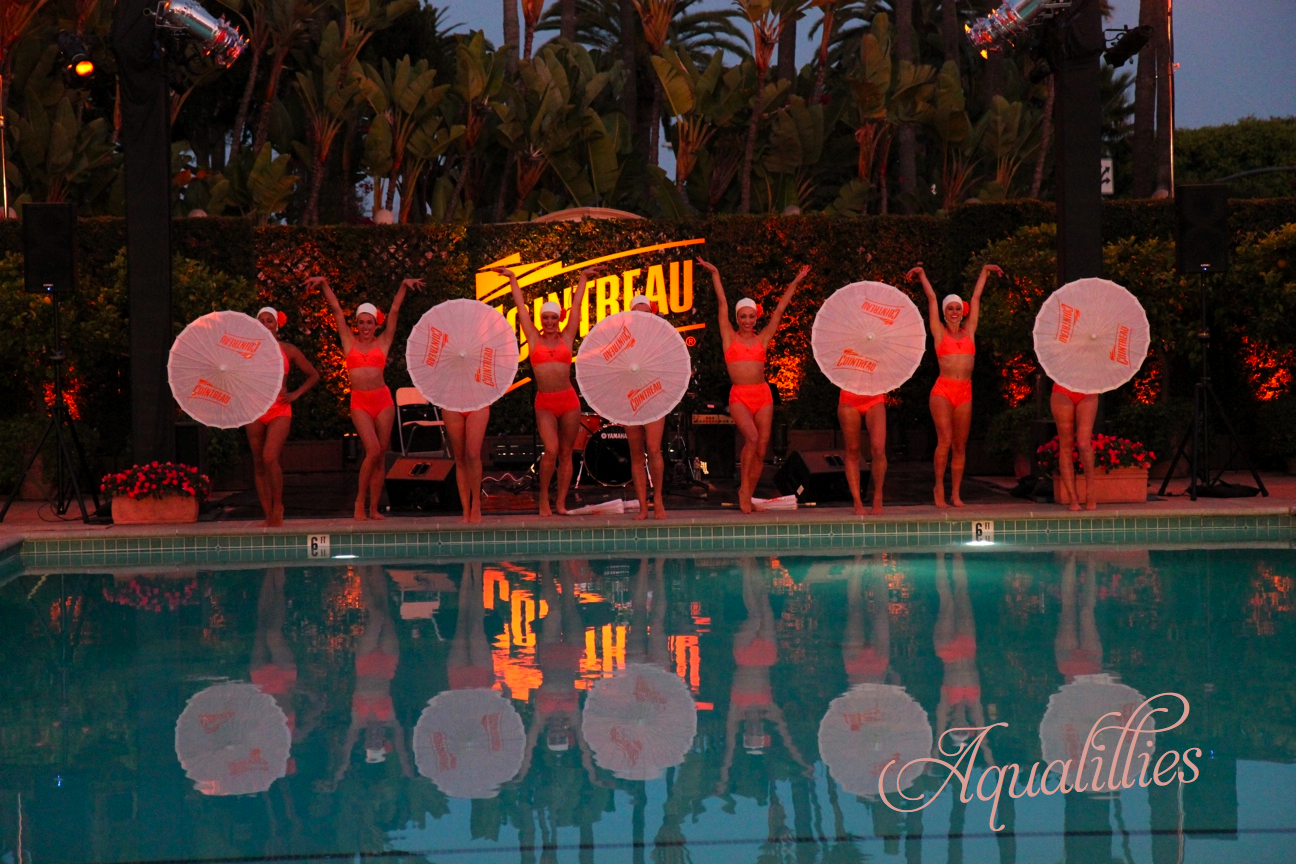 The Aqualilies. Beverly Hills Hotel. Photo by Charley Gallay/WireImage
The Cointreau summertime series in conjunction with the Beverly Hills Hotel's 100th Anniversary has generously benefited Project Angel Food, a Los Angeles-based charitable organization that cooks and delivers free nutritious meals prepared with love to men, women and children affected by life-threatening illnesses. www.angelfood.org
Tonight (Friday, August 24) is the closing event of the series (6PM-8PM), and I know everyone who goes will have a great time enjoying the Aqualilies and Luca Ellis. The Cointreau poolside series marks the first time that the historic property has opened their poolside and cabanas to the public! If you cannot make it tonight, I also suggest lunch, dinner, or drinks anytime at the famous Polo Lounge, one of my very favorite places in Los Angeles to escape to a more refined world.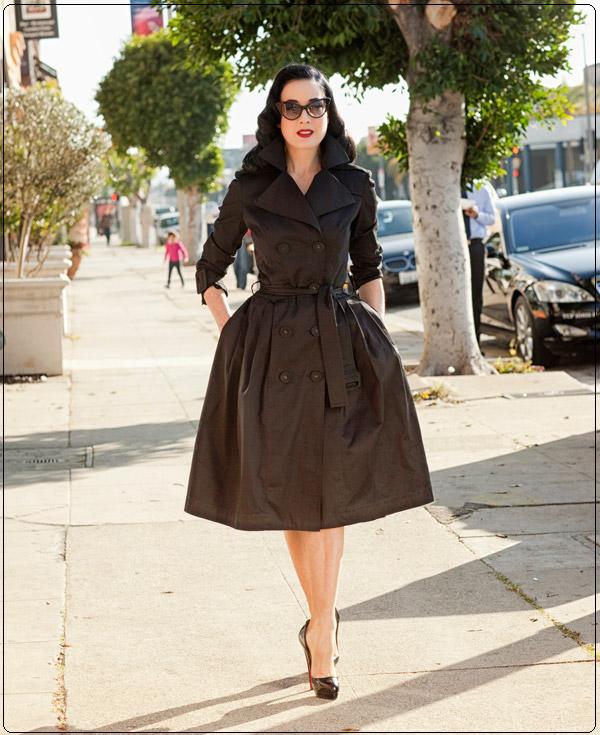 Dita Von Teese in her signature collection's 1950s-style tulle-lined black trench coat. Photo: Gabor Ekecs
On that note, in her ever-expanding creative empire, Dita has designed a five-piece vintage-inspired capsule collection of clothing that makes its debut at Decades, and is available world-wide for pre-order now. www.shopdecadesinc.com/ditavonteese
To keep up with Dita, she has an active Facebook page: www.facebook.com/DitaVonTeese or you can see all of her projects and performance schedules at dita.net. Cointreau and Dita: www.cointreau.com
More on the 100th Anniversary  of the beautiful Beverly Hills Hotel: www.beverlyhillshotel.com
Follow Jessica Robin Trent on Twitter: www.twitter.com/jessicatrentpr