Above: Jose Castro gave major moda in Madrid
Dear Shaded Viewers,
After a 2-week holiday in Paris, where I lunched with Diane & Michele Lamy and visited the Xavier Veilhan exposition at Versailles, I jumped on a pond hopper and headed over to Madrid for Cibeles Fashion Week. This was a big season for Cibeles–their 50th edition–celebrating 25 years of runway shows in Spain's saucy capital. It was one of the most well-organized and festive fashion weeks I've attended, with top-notch production, warm Spanish hospitality, carefully crafted cocktails & fashion that was rarely boring.
We loved the painted-on, trompe l'oeil pieces (and the models) at TCN.
Cocktail time! The Kissing Room served up complimentary Grey Goose concoctions (each after-show drink was inspired by the designers' themes) to all the beautiful booze hounds. The alcohol also served the purpose of exterminating any swine flu viruses that might have been passed on during the frenzy of cheek kissing.
Getting kicky in the Kissing Room
Gwyneth Paltrow showed up at Cibeles to support her friend Adolfo Dominguez at his show. I love the TV show where Gwyneth travels–and eats her way–through Spain with food writer Mark Bittman of the New York Times, so it was fun seeing her in Madrid. (Photo: WireImage)
JOSE CASTRO
Jose Castro dazzled us with a collection that was one of the best of the week (apparently L'Oreal agreed as they gave him the Designer of the Season award on the last day of shows). Some of Castro's girls looked like they had stepped out of a Patrick Nagel print with hairdos from a Jean Paul Goude video. This was '80s style done the way I love and remember it, with jutting, bitchy shoulder pads, unapologetic primary colors and prints ripped from Missing Persons album cover graphics. But Castro was at his most inventive when he went beyond '80s flash with more ingenious pieces: a vest covered with sunglass lenses became a plastic version of scaly medieval armor; a dress and skirt adorned with the plastic sensors that stores attach to clothing were a sassy commentary on shoplifting.
DAVIDELFIN
Madrid hotshot Davidelfin (who also showed at NY Fashion Week) unleashed a collection that combined Ziggy Stardust hair with hospital scrubby chicness at a mobile phone store where he had designed the interior. The looks marched through various areas of the space, including down a dramatically lit staircase, and out onto the street where hundreds of looky-loo hoi polloi had been attracted like moths to the glittery fashionistas on the other side of the windows.
Above: On the outside looking in at Davidelfin
A ginger-ized Davidelfin model sidles up to the non-stop Champagne bar at the show's after party. It was impossible to finish your glass of bubbly at this soiree as there was always a server who would magically appear by your side to refill your flute. One imagines that is what Heaven will be like.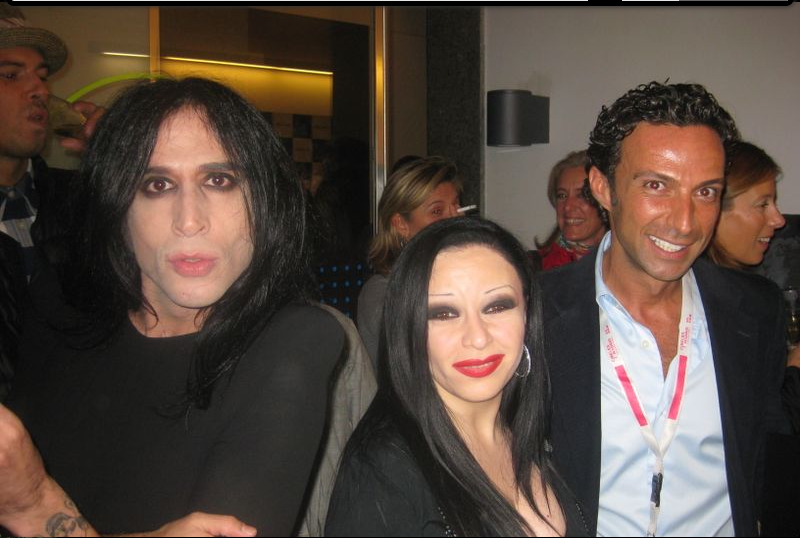 The party attracted Madrid's hippest, from the groovy-ghoulie pale to the Ibiza tanned: Nancys Rubias lead singer Mario Vaquerizo, his wife Alaska (Fangoria singer and one of Spain's leading gay icons), and Cibeles press officer Rafael Verano.
Javier Giner in zeitgeisty t-shirt with one of his many rock star friends. We love her Russ Meyer-esque hair. It's not so zeitgeisty which makes it all the more exciting.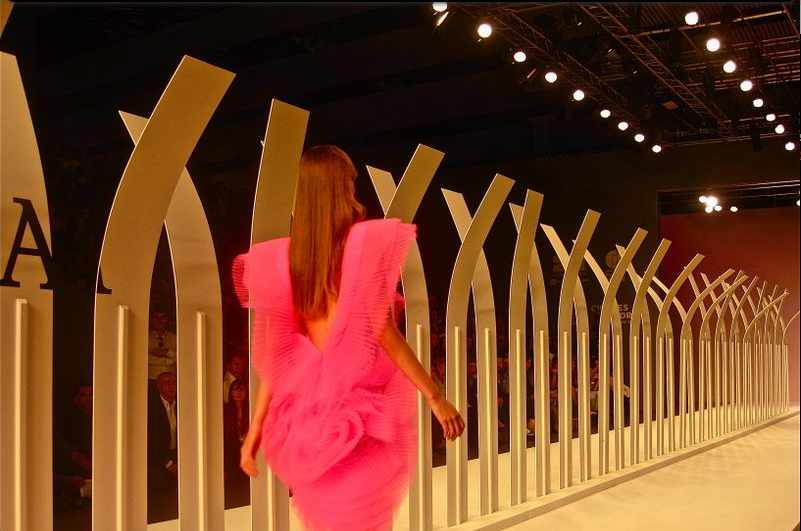 Pink, from bubblegum to shocking, was a big trend in Madrid. Here, a look from Amaya Arzuaga.
I always try to stay one step ahead of the trends…
The cocktails continued to coordinate with the colors of the clothes. We fueled up before Maria Escote's midnight off-site show and Madrid's White Night in which museums and bars stay open all night until 7am. Kind of makes the 11pm end time for Fashion's Night Out seem kind of lame, yeah?
MARIA ESCOTE
Maria Escote served up good, trashy fun at Palacio de Santa Barbara which, if my Grey Goose-addled memory serves me, is a former bordello. (The extremely sticky floors in all the rooms makes me think I'm right). Escote's collection reminded me a bit of early '80s Betsey Johnson/Trash & Vaudeville and combined with Yello on the show's soundtrack, made me feel like I was back at Danceteria or Limelight.
After the show we swung by a bar called Oui on Marques de Santa Ana to catch a DJ gig and impromptu go-go performance by Marietta (above) a former publicist for Cibeles. She and her husband continued the night's Danceteria-like vibe with '80s US & Brit new wave tunes and their Spanish cover versions.
Anh Tuan of Hintmag.com was under the sway of Marietta's magic.
After Oui, the White Night bar hopping continued…
Out at the bars, of course we ran into one of Europe's myriad Obamaniacs.
Anh Tuan's friend Filippo, who moved from Modena to Madrid 10 years ago, took us to Tuni Dos, the city's venerated piano bar, at around 4 or 5am. The only way I can describe Tuni Dos is that it's like a heterosexual version of Marie's Crisis or the upstairs at The Monster in New York. Apparently this is where the real Madrileños go to sing old-timey tunes around the loooong piano, have an early breakfast of beer and french fries, or collapse in an abject heap of public drunkenness on one of the time-worn velveteen banquettes. I attempted all three so I would fit it. Coming here for White Night was pretty irrelevant: Tuni Dos is open until 7am EVERY NIGHT. Why go home and sleep when you can sing along to the Spanish version of "Maybe This Time" or "Rose's Turn" at 6am?
Back at the shows the next day (after 3 hours of sleep), I ran into an ill-advised Freddie Mercury imitator.
Backstage at Antonio Alvarado
Some of us were a bit perplexed by the unhinged kookiness of Alvarado's collection….
…and the kookiness continued with the collection's signature cocktail: Grey Goose with creme de menthe and pureed Oreo cookies.
ANA LOCKING
Ana Locking held us in thrall with her daring looks for men: negligee-sheer tops & rompers, sheer short-shorts and blazer that looked like they were cut from condom latex, and head-to-toe hot pink. Will this finally end the tyranny of Abercrombie & Fitch blandness?
After the show we went out for a late dinner of pulpo (octopus), ham & chicken croquettes (my favorite), ox tail, veal meatballs and, of course, pig's blood cooked with eggs….all washed down with some excellent Rioja.
We wanted to go to Madrid's version of Studio but a hologram of Steve Rubell wouldn't let us in. So we hightailed it over to The Cock instead (sorry, no pictures–celebs go there so no photos allowed).
Stay tuned for Part 2.
Love,