Dear Shaded Viewers,
I've recently returned from a whirlwind tour of Italy—Rome, Palermo, Naples, Rome—to visit friends, eat, eat, eat and to attend the EDIT Napoli design fair for some scouting and reporting. Unlike design fairs held in sterile convention centers, EDIT Napoli has a mission to promote the historic beauty of Naples, and to take attendees to corners of the city we otherwise would not have sought out.
This year's edition was staged in the show-stopping Archivio di Stato di Napoli—Naples' State Archives—which are housed in the cloisters of the Church of Saints Severino and Sossio. The building is home to more than 50,000 linear meters of book and document shelving containing the history of southern Italy from the 10th century to today.
The Archives building is also home to gorgeous frescoes and paintings—including recently discovered biblical depictions by Greek painter Belisario Corenzio—which, along with the stately tomes, served as delightful juxtapositions to the contemporary design objects that were on display.
From Les First's luxury lighting collection, this lamp depicts Ermes, "the messenger of the gods, symbol of change and whirling energy, shaped in vibrant ceramic—to create a new mythology of light."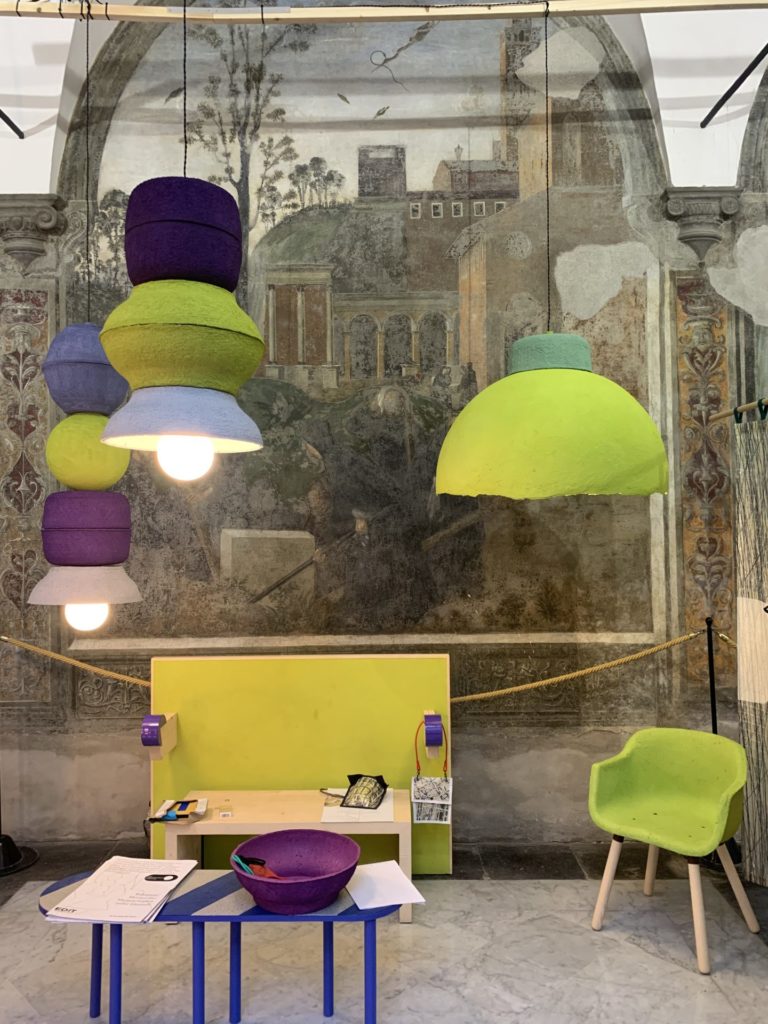 Lecce-based brand No Smoking the Future unveiled their new furniture, lighting and home decor collection, with a shift toward brighter, pop colors. (When I spoke to the founders, they told me that when we met at EDIT Napoli last year, I suggested they lean more into chartreuse—I'm not sure I remember that, but makes sense. And the designs are beautiful!)
No Smoking the Future crafts high-quality, eco-friendly furniture by upcycling paper waste from print shops. They obtain the paper from Cradle-to-Cradle®-certified print jobs, ensuring that both the paper and the inks will not have a negative impact on the biosphere.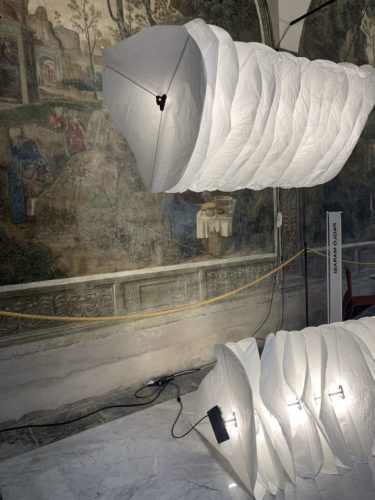 Paolo Marasi unveiled his new light-as-a-feather paper lighting sculptures.
Wavy and mesmerizing, this cotton and viscose knit tablecloth is from Berlin-based brand BOI.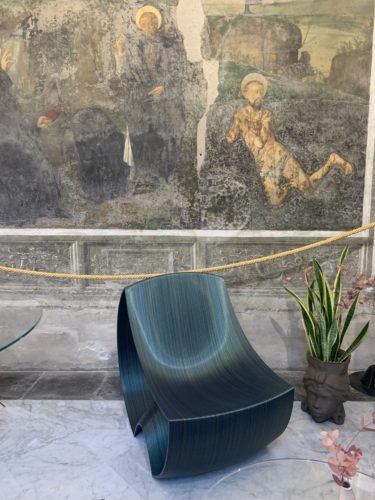 Mediterranea is a brand based in the city-commune of Cava de' Tirreni in Italy's Campania region. This Capri chair designed by Medaarch is 3D-printed from PLA, a type of renewable polyester made from fermented plant starch derived from corn and sugar beet pulp. The dreamy colors of the chair are inspired by the waters of the Bay of Naples.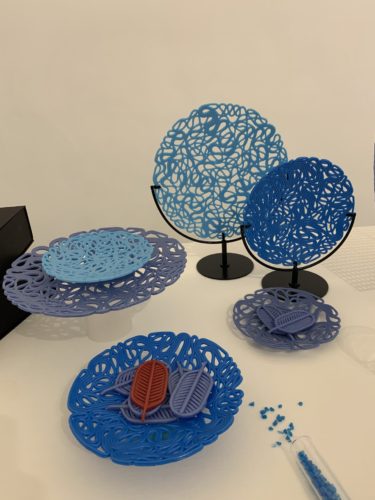 rehub is a Venice-based brand that produces tabletop designs out of waste from Murano glass factories. The waste is turned into a paste that can be 3D-printed at room temperature.
After printing, each object is meticulously finished by hand. "Our sustainable and one-of-a-kind products show how millennia-old craft can spark disruptive innovation."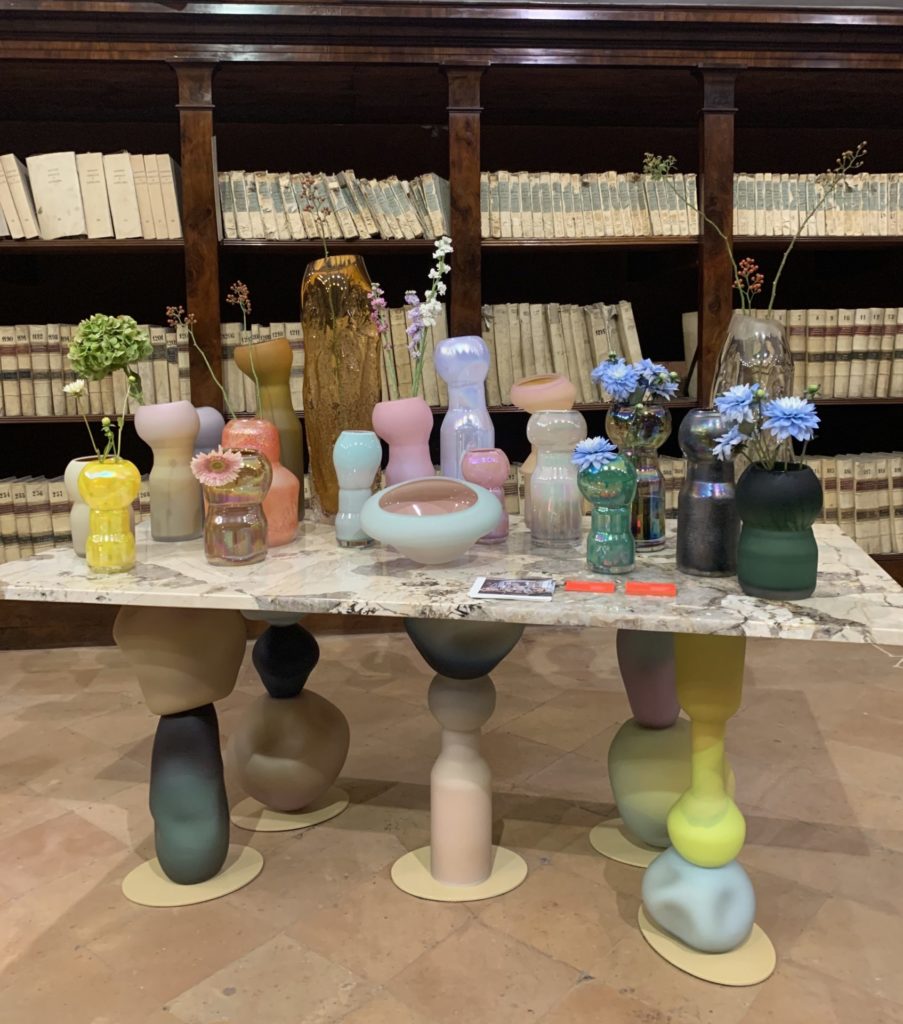 Hailing from the Czech Republic, David Valner Studio creates amorphous, pearlescent tabletop objects of desire. David grew up in a glassmaker family, feeling and watching the physical and metaphorical fires of creation.
At the center of his current approach to glass stands respect for the material as an originally free and fluid mass. Endlessly inspired by nature, Valner creates collections of objects in which each item is an original—and defects are embraced as deeply meaningful and inspirational testimonies to artisan glass making as opposed to mass production.
Alessi's Il Tornitore Matto project is a collection of tabletop objects conceived by a diverse group of designers, including Pierre Charpin, Federico Angi, Naoto Fukasawa, Giulio Iacchetti and Michele De Lucchi.
The delightful artist and designer Allegra Hicks staged a site-specific project called LUCIELLE. The project pays homage to Santa Luciella, the patron saint of eyes (in the church dedicated to her), with ceramic designs made in Capodimonte—including a plate inspired by the recent earthquakes near Naples.
Allegra, who hails originally from Turin, divides her time between London and Naples, with studios in both cities. She is greatly inspired by the city of Naples, especially its religious culture. I interviewed her in the church to find out more about this beautiful project: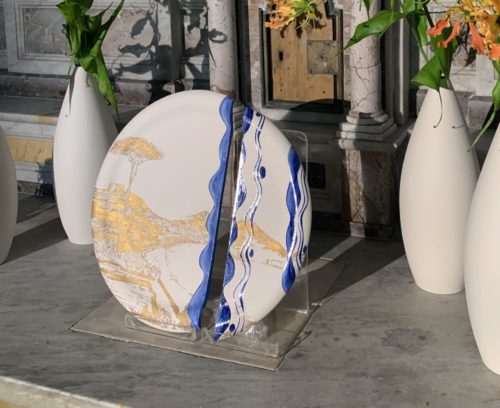 The earthquake-inspired plate.
This holiday season, why don't you ditch that humdrum nativity scene and opt for this festive Purgatory diorama instead? A topless nun, a beefy bishop and semi-repentant sinners shake their groove things, cradled in flames. Joyful tidings!
Our around-town EDIT Napoli tour began with a bus ride down to the Bay of Naples. I took this photo of the iconic view during a press breakfast on the terrace of the fabled Palazzo Donn'Anna, one floor below the apartment of formidable art dealer Lia Rumma.
Stock photo
A little background: The original building of the Palazzo Donn'Anna on this site was probably built by one Dragonetto Bonifacio in the early 15th century. It changed hands a number of times and finally was inherited in 1630 by the woman whose name it now bears, Anna Carafa, Duchess of Stigliano. She had the building redone in the 1640s.
Part of the building is in ruins (above), but most of it is currently used as a residence (Lia Rumma, Napoli football player Dries Mertens). The view you see in the photo above was completely encased in metal scaffolding on the day of our visit—which must have been a bummer to the tourists who were paying for a beach experience with a view.
The reason for our visit was to view "The Cobalt House," a project for La Prairie conceived by Dutch designer Sabine Marcelis.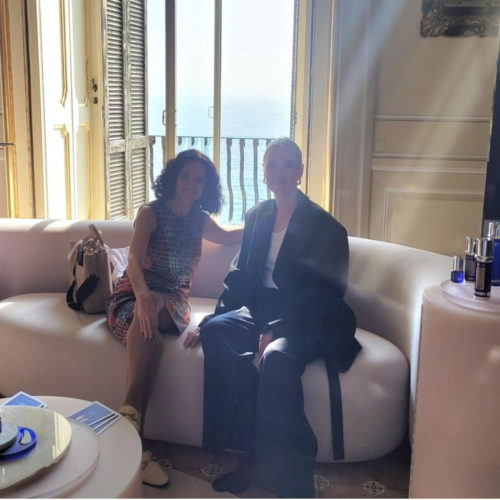 The project included Marcelis's furniture, with shapes meant to mimic the motion of La Prairie cream being finger-swooped from its jar. Marcelis (right) chats with Elle Decor Spain editor Ana Eugenia Rodriguez. (Photo: Instagram @anushki_rodri)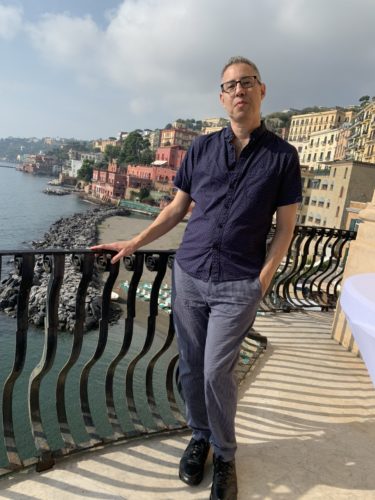 I couldn't resist posing on the Palazzo Donn'Anna's terrace.
Photo: Eller Studio
In the afternoon, our tour took us to the Church of Santa Maria La Nova (aka "the Dracula church" – more on that later) for a delightful lunch and Francesco Meda and David Lopez Quincoces' installation "A matter of perspectives by Ranieri."
Ranieri is a brand that produces home surfaces—kitchen counters, bathroom walls, patio floors—made from colored lava stone procured from the area of Mount Vesuvius. Why lava?
"From its origins in fire, lava is imbued with inimitable qualities: surfaces flecked with minerals, apertures, metallic shards and matte fragments,with a variety of shades, colors, textures, and mineral compositions intrinsic to its natural richness.
Its distinctive birth renders lava resistant and versatile, allowing it a greater range of technical possibilities than marble or ceramic, making it the ideal material for a wide variety of applications and claddings."
Ranieri has innovated new techniques that enable lava stone to convey its singular volcanic characteristics, using novel cuts and color applications, and exalting the material's mineral-flecked and elementally varied composition.
The location of the installation is home to a tomb that some allege is the final resting place of Vlad the Impaler. In Marius Kociejowski's excellent book The Serpent Coiled in Naples, the Polish poet and memoirist debunks the legend, which was concocted in 2014: "The tomb had everything going for it—the image of a dragon, a couple of sphinxes, an inscription in some indecipherable language, and a mysterious heat radiating from the stone. Word of the discovery quickly spread throughout the world and it is not without a little national pride that it can be announced the first newspaper in England to pick up the story was the august Daily Mail.
[So-called] scholars staked their reputations on proving this was indeed [Vlad the Impaler's] tomb, which would have been news to its occupant Matteo Ferrillo, Count of Muro. The best we can say is that the closest Dracula ever got to Naples was through the budding genius of Bram Stoker who was not unfamiliar with the place, having visited his parents there in 1875."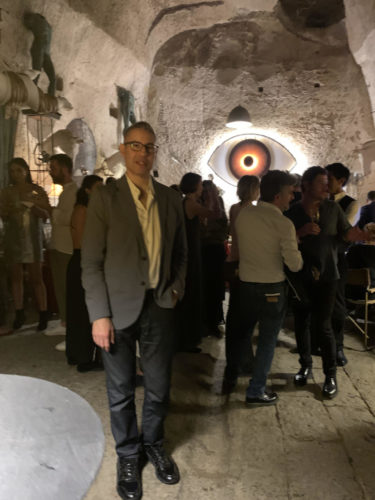 Moi arriving at the EDIT Napoli dinner
That evening we were all invited to a dinner party at the rough-hewn studio of artist Michele Iodice, up in Capodimonte. At once hallucinatory and convivial, the party felt a bit like Elio Petri's The 10th Victim relocated to a cave.
The wine was served fast and furious and I was worried there would be a stampede once the food brought out to the round table at the center of the rather cramped room. But the guests moved quickly in a ballet-like rhythm around the table, which was laden with Brobdingnagian-sized pots of pasta, mammoth platters of ruby-red tomatoes and a cauldron of sautéed friarielli, my favorite local Neapolitan bitter green.
I balanced my plate on my lap squeezed onto a bench beneath the room's all-seeing eye and during the feasting frenzy, a woman squirted her mozzarella di bufala all over my leg. And that was before we descended into the dungeon dance floor. Oh Mary, don't ask!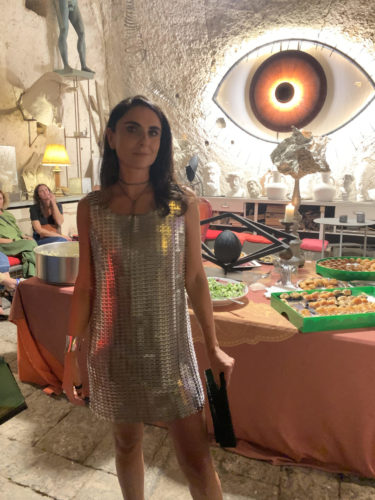 Channeling Barbarella, this reveler was wearing a metal dress created by the artist of this studio.
Thank you for reading. You can follow me on Instagram @glennbelverio
Love,
Glenn Belverio