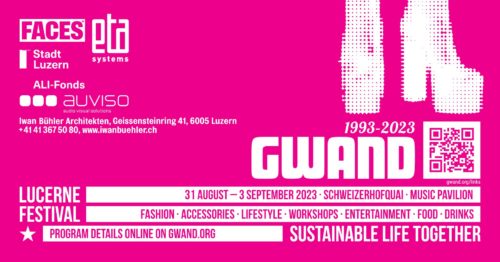 Dear Shaded Viewers,
The 14th GWAND Festival is back in Luzern, turning the scenic Music Pavilion square into a hub for all things sustainable from August 31 to September 3. It's a not-to-be-missed event for anyone keen on green living and mindful consumer choices.
Local architect Iwan Bühler has been instrumental in inviting startups and socially conscious brands to the festival. He's rallied sponsors to pay the booth fees, making it easier for up-and-coming names to get in front of festival-goers. The "Support a Sustainable Label" initiative has already attracted nine sponsors from Central Switzerland, giving these small-scale brands a much-needed platform.
Expect to see a broad array of responsibly produced goods—from clever bag fastenings and plastic-free alternatives to ethically made children's clothing and accessories. The products are sourced globally, featuring items made from innovative, sustainable materials like pineapple leather and vegan wool.
This year, in partnership with the Lucerne University of Applied Sciences and Arts, young designer Giulio Gallana will display his bachelor's thesis—a highlight of the event. Another exciting collaboration involves London fashion label Vivienne Westwood, who will be donating fabric to a Swiss upcycling designer.
The festival is about more than just shopping; it's an experience. You can join various workshops, meditation sessions, and even clothes painting activities. Parents can take advantage of on-site childcare that includes crafting for kids, making it easier for the whole family to enjoy the festival.
Live music and performances are also on the agenda. Singer Tanja Dankner will debut a special song just for the festival, while acrobatic group "Duo AXN" will be showcasing their jaw-dropping skills daily.
And you won't go hungry or thirsty. The food and drink options are as thoughtfully curated as the rest of the festival, with a focus on organic, vegetarian, vegan, and local offerings.
Breaking with tradition, this year's GWAND Festival will run from Thursday to Sunday, giving you an extra day to explore and enjoy. Check out the continually updated festival program on the GWAND website to plan your visit.
So if you're interested in living more sustainably and want to discover some great eco-friendly brands, the GWAND Festival is the place to be this year. It's a celebration of sustainable living, with something for everyone.
Hashtag: #gwand2023, #slowdesignforfastchange Twitter: https://twitter.com/GWANDSFF
Instagram: https://www.instagram.com/gwandsff
Later,
Diane