"This is one of the best things about living in San Francisco," the woman in the row ahead of me told two of her friends as they were waiting for the film to start, and she was absolutely right. The San Francisco Silent Film Festival (SFSFF) has become legendary for showing excellent prints of classic and newly discovered silent films, always accompanied by live music, and audiences of all ages flock to see them.
Founded by Melissa Chittick and Stephen Salmons in 1996, SFSFF has been delighting and exciting film lovers for over 20 years. And in July of 2023, the tradition was upheld yet again thanks to the vision of Artistic Director Anita Monga and her dedicated associates. Twenty-three exceptional programs were featured over the course of four days, all screened at San Francisco's majestic movie palace the Castro Theatre (which first opened its doors in 1922).
Let me share with you the riches of just four of these programs.
Three Ages – which in September of 2023 will celebrate the centennial of its premiere – was Buster Keaton's first feature, after a string of brilliant short films made between 1920 and 1923. Like most of those two-reelers, Three Ages was co-directed by Keaton and Eddie Cline, and it provides a showcase for Keaton's acrobatic skills, his genius for gag construction, and his endearing if stoic personality. The film is essentially three short movies cut together, in which Buster must win the girl (Margaret Leahy) despite the villainous opposition of Wallace Beery. His struggle unfolds in three historical eras, the stone age, ancient Rome, and the modern era of the 1920s, in a clever parody of D.W. Griffith's epic classic Intolerance. Keaton would achieve even greater heights in his later silent features, most notably Sherlock Jr., The Navigator, Seven Chances, and The General, but Three Ages more than fulfills the promise this unique comedian showed in short films. Whether he's being dragged by a mammoth, competing in a chariot race with a team of dogs pulling his sled, or getting drunk in a swanky restaurant – and literally flipping out when an enormous crab is presented for his dinner – Keaton is incomparable as both clown and filmmaker.
If Buster Keaton remains the pinnacle of all American-born film comedians, then the crown for greatest comedy team in film history must go to Stan Laurel and Oliver Hardy. Both men had worked independently in silent comedy since the teens, but with their teaming in 1927, they created an iconic duo and remained partners for the rest of their careers. A laudable project by Serge Bromberg and Lobster Films has been steadily finding and restoring all their silent shorts, and three of these gems were presented by SFSFF. Flying Elephants, a zany caveman comedy, is one of their earliest efforts. They were still working out their collaboration and so are mostly pitted against each other here. But the laughs are constant, with Stan frolicking like a Neanderthal Nijinsky and Ollie the butt of a goat's repeated belligerence. The Second 100 Years is even funnier, teaming the boys as convicts who struggle to break free. Their first attempt to tunnel out of jail has them emerging through the floor of the Warden's office, but they do get out by disguising themselves as painters – and then whitewashing everything in sight, including shop windows and a parked car (even its engine!), so they can persuade a suspicious cop that they're law-abiding workers. Their attempt to flee the police by diving into a fancy auto results in their being driven back to their prison, where they try to pass themselves off as visiting French dignitaries, only to wind up in their cell again. The Battle of the Century is a laugh riot – quite literally, as the climax is a street-wide brawl where thousands of pies are thrown, the mayhem escalating with ever-more inventive gags and surprises. This slapstick masterpiece, only recently restored, is quintessential Laurel and Hardy and one of a group of classics they made with a master writer/director of comedy, Clyde Bruckman (who also co-scripted Keaton's Three Ages as well as numerous other films with Keaton).
Striking a different note was the feature drama Walk Cheerfully, made in 1930 in Japan by the great Yasujiro Ozu. Embraced internationally for his sound films – a series of intimate and moving family sagas, including such 1950s classics as Tokyo Story and Tokyo Twilight – Ozu began his career in 1927, and in ten years directed the bulk of his output, all silents. Most of these films remain unrecovered, alas, but Walk Cheerfully is a glorious exception, in which a gangster decides to go straight after falling in love with a decent young woman. Their relationship survives an oppressive society, the gangster's nefarious cohorts, and even a prison stint. With the touching natural performances, gently humorous moments, and keen social observations that were hallmarks of Ozu's filmmaking, this little-seen drama is a superb addition to his body of work.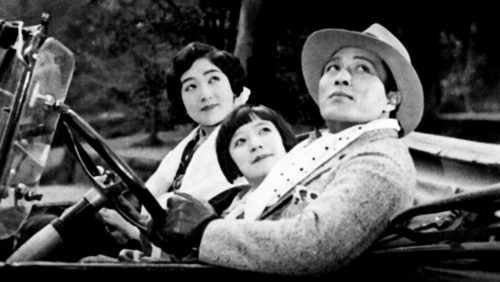 Capping the Festival this year was a feature by the one and only Erich von Stroheim: The Merry Widow (1925), a free reinvention of the Franz Lehár operetta. Although it lacks the ingredients that made Stroheim one of the great filmmakers of his era – uninhibited depictions of debauchery, a genius for converting melodrama into tragedy, and of course his own unique presence as an actor – The Merry Widow is nonetheless an essential part of the Stroheim canon, heightened by his superb eye for composition and detail, as well as his ruthless dissection of the failings and foibles of aristocracy. John Gilbert, by 1925 a big star, gives a superb, nuanced performance as the prince who falls for an American Follies dancer played by Mae Murray. In the end he gets both the crown and the girl, after overcoming the machinations of the royal family. And the audience couldn't have been more pleased!
Which is why I say, the San Francisco Silent Film Festival is one of the best things about living on planet Earth!