Two names in unison on a shared canvas. Two prolific protagonists who reshaped and oppugned the narrative of visual and conceptual art. A true friendship, everlasting, embracing our ideals. The eternal essence of Basquiat and Warhol is now anchored at Fondation Louis Vuitton through a vibrant retrospective – a glance into an explosive and disruptive collaboration. Another round for the culture.
84′ til infinity 
Left, right, nodding in apparent detachment, I know you're silently trying to figure out whether the 10-meter-long canvas, African Mask, will fit your living room. Say no more. 
The fervor arises at the Foundation Louis Vuitton, galvanizing the audience drawn into the magnitude of shapes, trajectories, and symbolism. In contemplation, between 1984 and 1985, Basquiat and Warhol brought to life over 160 paintings initiating a visual conversation: the premise of a singular artistic union – the Tale of two aesthetic pioneers full of energy and contrasts but very much alike.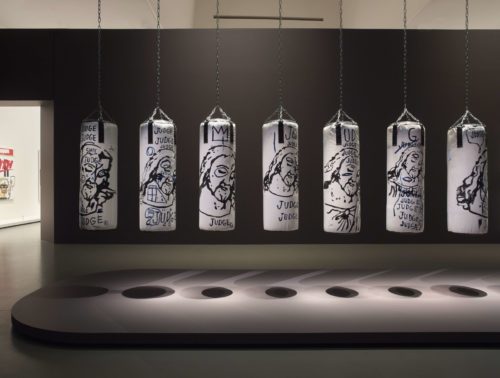 Duality 
"When I say it, then you see, it ain't only in the music

Basquiats, Warhols serving as my muses"
Jay-Z + Kanye West – Illest Motherfucker Alive*
As in a rap battle, Basquiat and Warhol go back and forth – on the canvas – asserting a dialogue of styles and forms, repping for their respective trademarks and embellishing / destructuring the work of the other. Oh, snap. The duo captured the essence of their generation while addressing crucial issues such as consumerism and the integration of the African-American community within the American narrative. As in your wildest dream, the New York downtown art scene of the 1980s is also revived and sublimated through the work of other prominent artists such as Keith Haring, Jenny Holzer, Kenny Scharf, and Michael Halsband. 
The tandem Basquiat x Warhol reflects on a transcendent artistic approach – a friendship redefying and tackling with brio the odds.
*Jay-Z is rumored to be performing tonight at the auditorium of  Fondation Louis Vuitton. Just saying.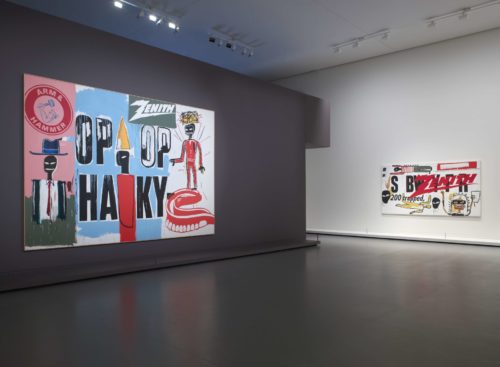 Where at 
Fondation Louis Vuitton 
8 avenue Mahatma Gandhi – Bois de Boulogne – 75116 Paris 16ème