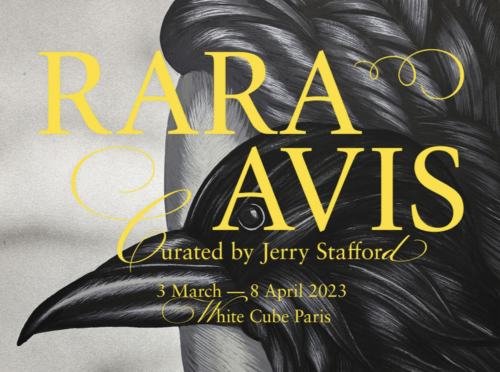 3 March – 8 April 2023
White Cube Paris
White Cube Paris is pleased to present 'Rara avis', a group exhibition curated by Jerry Stafford which brings together antiquities, artefacts and contemporary works of art sharing the subject of birds. Latin for 'rare bird', the exhibition title infers discovery and a sense of the wondrous or exquisite, but also intimates feelings of loss and lament.
The curator's lifelong fascination with ornithology is rooted in personal narrative; from the bird as a private symbol of escape from repression, to the myths of Icarus and Ganymede which coloured his adolescent dreams and fantasies. Taking this as its point of departure, the exhibition explores the avian as messenger and polysemous signifier through selected works spanning different cultures and moments in time.
Exhibited artists: David Altmejd, Michael Armitage, Julie Curtiss, Peter Doig, Tracey Emin, Leonor Fini, Masahisa Fukase, John Gould, Noel Grunwaldt, Iris van Herpen, Gary Hume, Joan Miró, Isamu Noguchi, Eddie Peake, Pablo Picasso, Ugo Rondinone, Pietro Ruffo, Victor Seaward, Raqib Shaw, Kiki Smith, Fred Tomaselli, Nicola Tyson, Nico Vascellari, Danh Vo; and Byzantine, Egyptian and Hellenistic antiquities, as well as artefacts from Nazca, Senufo and Valdivia cultures.
Curator's Statement
'As a child growing up in the London suburb of Bromley, I had a particularly flamboyant uncle who, in the 1960s, settled in the city of Jos, the administrative capital of Plateau State in the Middle Belt of Nigeria, as a curator for the anthropological museum. One Christmas he sent me two volumes of the English ornithologist David A. Bannerman's The Birds of West and Equatorial Africa (1953). Nigeria and its birds became the signifier for me of another world. Birds were, as Claude Lévi-Strauss remarked, 'good to contemplate', and the exquisitely rendered drawings within these pages, like fetishes worshipped in the dark of the night, were a secret portal into another world. In my prepubescent subconscious, such fantasies merged with the mythological figures of Icarus and Ganymede; fantastical males who haunted my dreams, symbols of escape and sexual repression. Like Ganymede I longed to be carried away by a powerful eagle or, like Icarus, to fly close to the sun and its pulsing flame.
As I continued my academic studies I was increasingly drawn to the representation of birds in art; from prehistory, antiquity and animist cultures, the avian signifiers of the Renaissance, and the 17th century Dutch and French masters through to the mystery and metaphysics of the Surrealists as well as modern and contemporary art. The figure of the cosmic divinity Horus, Fabritius' martyred goldfinch, the Zen presence of the crane in oriental art, the polymorphic fantasies of Max Ernst and Leonora Fini or Constantin Brancusi's distillation of avian forms, all of these and many more have inspired and influenced my own sensorial and intellectual perception as I have travelled the world in search of birds.
As a symbolic or mythological figure, the bird has been present in pre social and classical art for centuries, but the exhibition 'Rara avis' also addresses the sociological, ecological and geopolitical resonance of its presence within the work of contemporary artists and our continued fascination with its transgressive magic.
Birds are performance artists, shapeshifters, global ambassadors, messengers between worlds, musical maestros and biological miracles whose often evasive or half glimpsed presence and significance underscores not only our daily lives but also our subconscious wanderings.'
– Jerry Stafford, February 2023