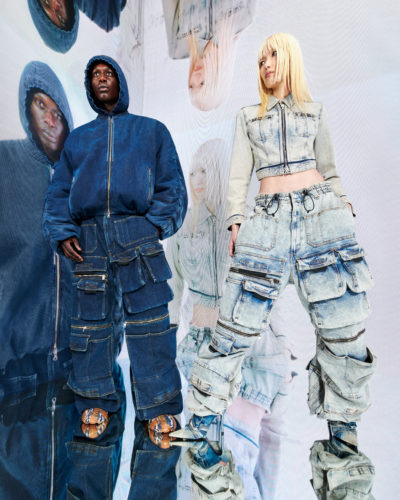 Denim has been the core of Diesel's DNA since 1978. As much as denim is the brand's heritage and identity, it is a category that demands constant innovation, re-evaluation and evolution to stay creative, relevant and future-minded. Diesel Rehab Denim was first introduced in some key pieces shown on the FW22 runway, and a more comprehensive collection is launched for Pre-Spring 2023.
With a circular approach partnering with fabric sustainability specialist Tejidos Royo, Diesel Rehab Denim represents Diesel's most significant achievement to date in terms of sustainability. Incorporating scraps from Diesels own cutting waste into the manufacturing process, each garment is made with 100 percent recycled cotton and recycled elastane from pre-consumer waste blended with Tencel ™ Lyocell with REFIBRA technology. Dry Indigo® Technology is an innovative technique with zero water consumption which drastically reduces also the amount chemicals and energy used in the denim dying process.
The Pre-Spring 2023 range consists of three different washes — Fade Out, Bleach and Shadow, which combines vintage indigo with gray. Men's, women's and all-gender silhouettes include monster cargo pants with a toggled waist, an oversized bomber jacket, zip-up trucker jackets and an asymmetrical A-line skirt. Two styles of jeans include a low-rise straight leg silhouette with deconstructed trompe l'oeil details and raw edges.
Diesel Rehab Denim represents a reimagining of the denim manufacturing processes, reflecting a sense of irreverence and sense of humor in its name and design. Yet it is also an earnest reflection of the brand's values and dedication to promoting better and innovative practices that are more modern, considered and responsible. Diesel Rehab Denim is an ongoing process of learning and evolving to implement the most effective sustainability practices into our denim legacy.
Diesel Rehab denim will be available on diesel.com and selected Diesel stores worldwide starting from February 13th 2023.