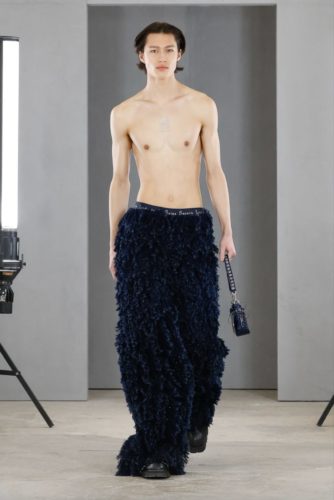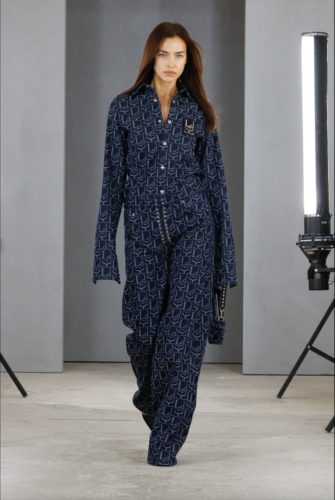 A cult following refers to dedication to some person, idea or work, in this case Ludovic de Saint Sernin – eponymous with sensual, sexy gender fluid designs. Weathering the crisp cold, many guests attended the FW23 collection sporting the range of products, is key to be recognized forthwith: tanks, leather trousers and see through satin shirts.
As guests settled in, excerpts from the track, "Private Show" began to play, marking the start of the designer's next masterpiece.
Reinterpretation of satin shirts, knitwear and mermaid dresses were introduced alongside a string of monogram intensive garments of which denim garments left a strong imprint with its sheer product variety and spectrum of usage. "Yeti" pants, constituted entirely of strands of appropriately sized tassels also caught many glances as well as the crystal  "LDSS" mark on the chests of many models who graced the runway shirtless, the latter which added a subtle charm to looks. 
The spectrum of models were complemented by the addition of details such as shearling cuffs, fringed edgings accompanying larger silhouettes of garments (outerwear) – with impressions towards a diversified audience with reach mind. Which in comparison to previous FW22, left a more substantiality with regards to its functionality over form positioned for colder climates.
Nearing the designer's much anticipated role at Ann Demeulemeester in March, the collection came at no surprise as a foreshadow of what's to come in the seasons ahead.