Dear Shaded Viewers,
Central Naples is a glorious mess, a shambles, a graffiti-strewn medieval village that feels like it's about to collapse with each roar of the motorcycles that are constantly bearing down on you. The cobble stones are huge, black and sinister, slick with mysterious liquids, not small, gray and charming like in other European cities.
Most of the streets in this area are extremely narrow, and some are nearly pitch dark, even on sunny days. You begin to imagine that maybe this is how the layout of Paris looked in the 16th and 17th centuries, before Napoleon III redesigned it.
Naples and its environs are also home to some of the most magnificent treasures recovered from antiquity, as well as some more recent astonishments. (I nearly fainted when I laid eyes on Giuseppe Sanmartino's Veiled Christ, a marble sculpture from 1753, rumored to be the result of alchemic sorcery, that is exhibited in the Capella Sansevero.)
I was inspired to take my autumn vacation in Naples when I received a press release regarding a design fair called EDIT Napoli. Naples seemed like an unlikely city for such an event, so I was intrigued. This October marked the 4th edition of a fair dedicated to "slow design"—the creation of objects that stress quality over quantity.
Even more intriguing was the fair's EDIT CULT program, staged in various site-specific locales around the city. The first one took place at the Istituto di Caselli, a famed pottery school in the middle of Parco di Capodimonte, a vast, surprisingly orderly forest on a high hill north of central Naples.
The event featured the unveiling of a "didactic garden," conceived by Marta Fegiz, and architect and designer Patricia Urquiola's project HYBRIDA—a porcelain collaboration with the students. Patricia was more then happy to discuss this project with me: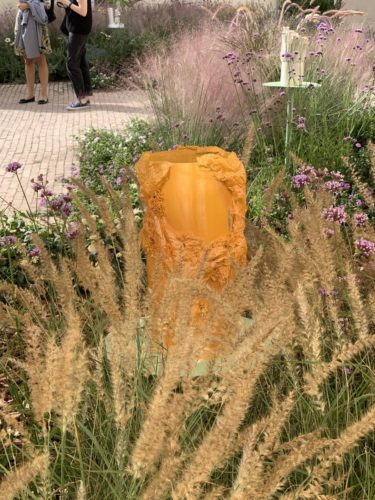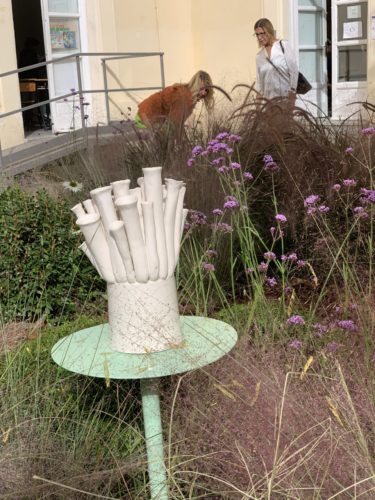 Later on in the day, we were invited to the Chiesa Museo di Santa Luciella for an installation by architect and designer Michele De Lucchi in the church's crypt.


De Lucchi created small, brightly painted wood houses, placed on grave sites in the crypt. For centuries, this underground chamber has been devoted to the popular cult of the pezzentelle—souls of the deceased, whose identities were unknown and who were "adopted" by people who cared for them, both in material and spiritual terms.
De Lucchi's small-scale architectural pieces within this context are meant to bring joy to the space, enlivening it as a home to those abandoned souls.
A few blocks away, we took in another site-specific installation by artist and interior designer Allegra Hicks. Her silk tapestry work DIVINAZIONE was displayed in the back of the small Church dei Santi Filippo e Giacomo. It was fun chatting with her in this atmospheric space:
The main fair of EDIT Napoli was held at the Complesso Monumentale San Domenico Maggiore.
I was over the moon for this postmodern take on a traditional Chinese lacquered cabinet. Designed and produced in Pescara, Italy by Patriarca Edizioni, the Cin Cin Cocktail Cabinet, handmade from painted and lacquered wood, makes a bold statement with graphic patterns, and saturated and pastel colors.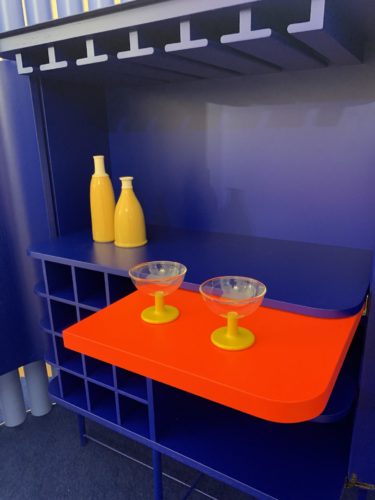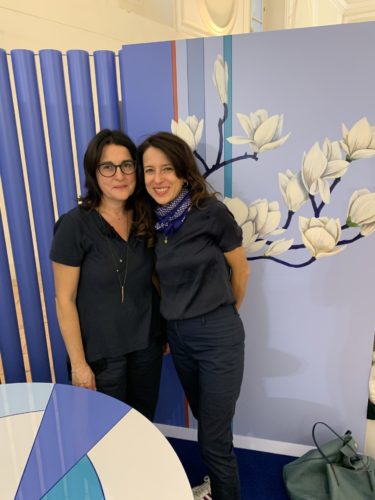 Founded in 1971 by Vincenzo Patriarca, the company grew in 2000 when these sisters, Ilaria and Sara Patriarca, joined the company.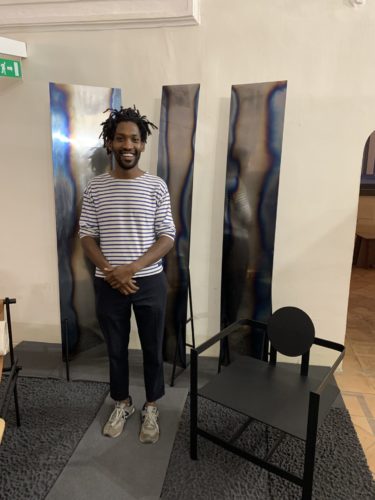 For his brand Atelier Malak, Lyon, France-based designer Malacou Lefebvre imbues his metal room dividers with organic shapes by taking a crème brûlée torch to them. His handmade powder-coated steel Exopod Chair takes its name from its spidery appearance.
Lecce, Italy-based brand No Smoking the Future crafts high-quality, eco-friendly furniture by upcycling paper waste from print shops. They obtain the paper from Cradle-to-Cradle®-certified print jobs, ensuring that both the paper and the inks will not have a negative impact on the biosphere.
Thank you for reading.
Love,
Glenn Belverio