Dear Shaded Viewers,

Alexis Mabille's new Spring Summer 2022 ready-to-wear collection, DANCE MACHINE, is an invitation to party, to dance, to be free.

The 16 long evening dresses in the collection are made of fluid materials and light volumes that glide over the body. So that women can live, move, have fun. And we find similarities in the cuts, materials and shapes of previous collections. For example, Chantilly lace, satin, crepe and a lot of radzimir, this very precious fabric with a semi-shiny aspect. But also in the colors, this collection being colored there is for all the tastes, of the navy blue, emerald green, cock-of-the-rock, sand-color, chestnut…

The photos and video of this collection were taken by Julie Trannoy at Silencio, David Lynch's nightclub, where the after party of the fashion show took place. On a live soundtrack by Emmanuel Caurel we see the models making the fabrics fly, wearing flat gold lamé boots to dance in and just  feel good. One is wearing a long bat sleeve dress in white crepe with  lace made in Lyon with an encrusted heart. The other one,  a long white shirt dress in pleated Chantilly lace with matching lace and organza yoke, transparent, so you could see the underwear matched with its lamé boots. Both models wear caps with an embroidered monogram, which is a big M for Mabille that is surrounded by crystals. The hats like the shoes contribute to the coolness of the wardrobe. They move to the rhythm of the music changing and showing  fluid creations that have been designed with the notion to provide comfort and joy. Finally a twirling bustier-dress in silver radzimir with draped V-neckline appears in matching satin as well as a long raglan sleeved gown in platinum crepe with slits on the shoulders. Another look was a model wearing a Kimono sleeve column dress with cape bustier and a smoking wrap dress.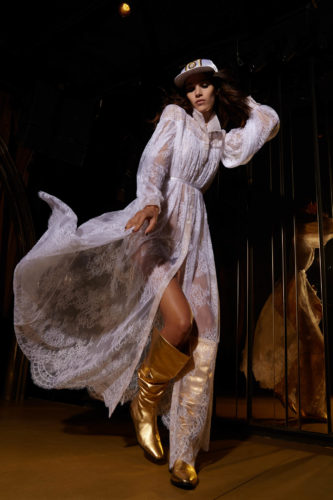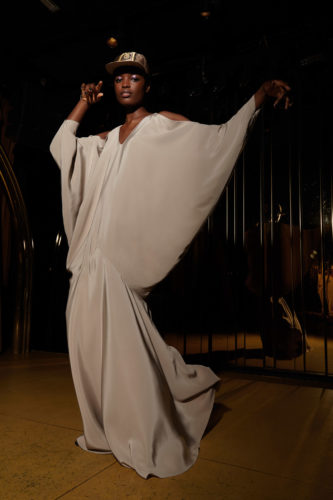 The sleeves fly away, the dance floor mirrors the cuts of the silhouettes, and the models dance on. In the continuity of the previous collection, women want to go out after the the long confinement and Alexis Mabille has created dresses appropriate for cocktails, weddings, looks to celebrate a woman's body and to keep her dancing away the night.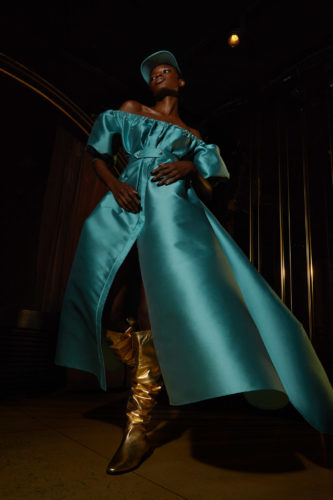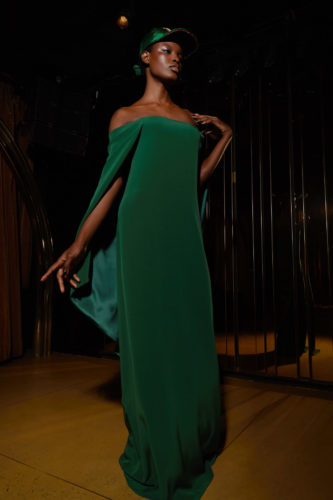 Alexis Mabille's store : Galerie Vivienne – 34 Galerie, 5 Rue de la Banque, 75002 Paris