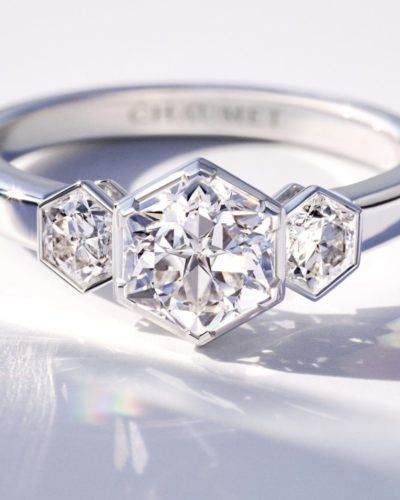 Solitaire set with 3 Empress diamonds in white gold – Chaumet
Chaumet opens a new page in the history of precious stones by presenting a brand new diamond cut: the Empress Cut.

In homage to Empress Josephine de Beauharnais, the first wife of Napoleon Bonaparte, who is a great inspiration of the house, this stone was conceived by the diamond cutters during 3 years in Paris and was for the iconic Bee my love collection. It was inspired by the bee and the beehive motif, the diamond has an exceptional 88 facets which are hand cut one by one giving it a hexagonal shape in reference to the honeycomb. The bee was also the imperial emblem and the doubled number 8 symbolizes eternity and represents the infinite love between the couple.

While an ordinary diamond has 58 facets, this new innovation permits a radiance that has never been seen before. Scientifically, the facets are oriented to capture as many light rays as possible and to reflect them back multiplying their intensity. This optical illusion makes the diamond appear even larger than the carats it contains. The visual impact and the extraordinary brilliance of this new cut has inspired its new pieces, the solitaire set with 3 Empress diamonds in white gold, the pair of earrings in white gold set with two 0.5 carat Empress diamonds as well as the six brilliant-cut diamonds and the pendant in white gold set with two 0.7 carat Empress diamonds and 0.23. The Empress diamond exists in several sizes: 0.25 – 0.50 – 1 – 2 and 3 carats.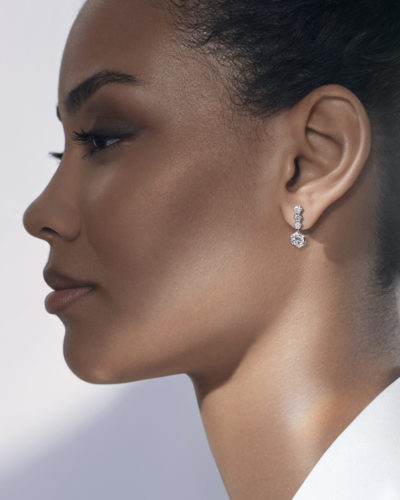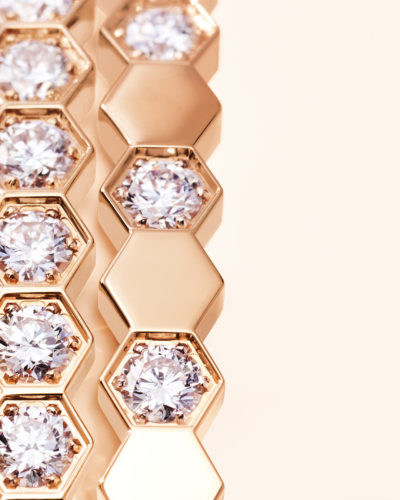 Earrings in white gold set with two 0.5 carat Empress diamonds and six brilliant-cut diamonds – Honeycomb pattern Chaumet

For the bee my love collection is associated with the graphic honeycombs giving sophisticated, elegant and feminine jewellery. This pattern is shaped according to a perfect geometry, the gold captures and diffuses the light on the face and on the edge of each alveolus, which projects solar flashes on the skin. 
A set is composed of a pink gold necklace set with eleven 0.23-carat Empress-cut diamonds, a pair of pink gold earrings set with eight 0.23-carat Empress-cut diamonds each and a pink gold bracelet set with 0.23-carat Empress-cut diamonds.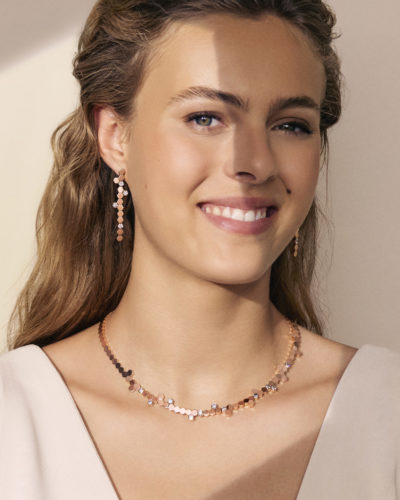 Empress cut set – Chaumet

This novelty will be featured in other Chaumet collections exclusive to the house.
Chaumet's store : 12 Place Vendôme, 75001 Paris.