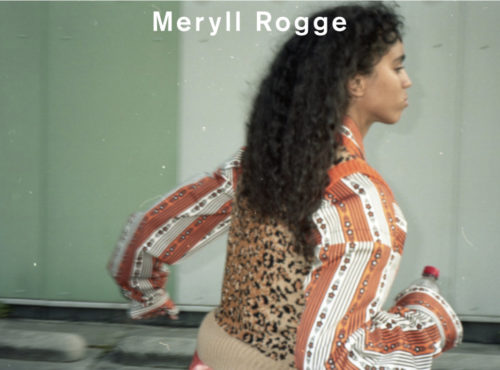 The Belgian designer supported by Marc Jacobs and Dries Van Noten presents her 4th collection SS 2022 ALL TALK by Meryll Rogge, inspired by the vintage and adapted for the fashion girl of today and that therefore adapts to several body types, several women.

Meryll Rogge explained to me her desire to dress people as a matter of course in her life, ever since she was a teenager, and from that state of mind is the origin of this collection that manages to interest people of all ages and body types. For instance, her aunt goes for the nylon quilted bomber in several colors, her little cousin is attracted by the patchwork short vest with embroidery: ALL TALK. She sees herself  as an imaginary character who would have crossed the ages, Meryll Rogge imagines borrowing her husband's fisherman's jacket in which she could hide a lot of things in the large patch pockets, then changing into a blue draped evening gown that would give a glimpse of a leg,  the textile makes us think of a gymnast's outfit, as there is a sportswear side to some of her creations. Rogge's collection is a mix of vintage and menswear. The majority of her clients are a mix of men and women.  Meryll Rogge has managed to create a look for everyone. No children's wear yet, but maybe in the future? However children already would be happy to go and pick from their parents' dressing room. Their eyes would be attracted by all the colours, floral patterns on a tee shirt or on a blouse, sequins on a short dress or by the beaded brooches or by a childish pendant of a yellow duck.



After studying at the Royal Academy of Fine Arts in Antwerp, the designer joined Marc Jacobs' creative team in New York for 7 years, and then was responsible for women's design at Dries Van Noten for 4 years. She says with wonder that she worked for her idols, she understood how fashion works and quickly realised the reality, contrary to what is learned at school. Her dream is to take over an old factory in the north of Spain or Portugal and to make her base there. For the moment, everything is based in Ghent, in an old barn that her family did not use, renovated 20 years ago.

For ALL TALK, Meryll Rogge's boundless creativity goes beyond the story of a single collection to the story of fashion itself. Her collection is marked by recognisable but re-interpreted pieces, for example a tweed jacket is transformed into a top, a cotton menswear shirt is deconstructed, a skirt has the back of a skirt and the front of a shirt.  One can imagine scenes of life when we look at her clothes, almost movie scenes, because we feel that the influences of the designer go beyond the fashion frame. A dress that she mixed with an apron reminds us of the woman in the movies of the 50s, tuned to her interior with the wallpaper pattern of the fabric, or the long black coat with the big red silk collar that could be worn by this same character leaving the theater in the 80s. Meryll Rogge's fashion touches on eclectic styles, is wearable, young and old at the same time, but above all is terribly alive.