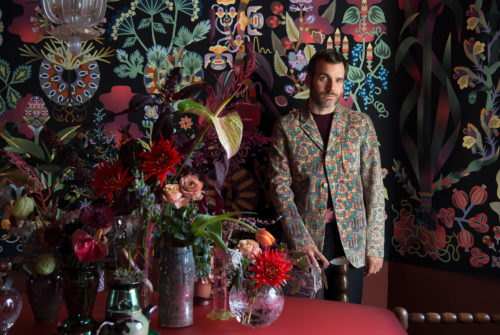 Pierre Marie in front of Ras el Hanout by ©Ambroise Tezenas
Dear Shaded Viewers,
To celebrate the 50th anniversary of the Swedish Institute, and as part of the Swedish Design Movement, dedicated to sustainable design, Pierre Marie, ornamental designer and decorator has been invited to compose a Living room in the image of his universe.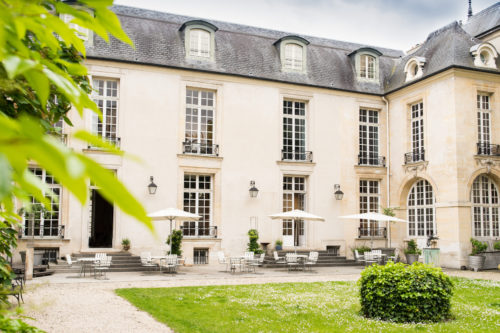 Garden of the Swedish Institute ©Julien Bourgeois
The starting point of this exhibition is his wall tapestry Ras el Hanout of 1m50x3m65, woven in flat stitch in wool and silk. This expression means "store front" in the Moroccan markets where one can find all kinds of spices. Lively and colorful, this fresco made at the Robert Four factory in Aubusson sets the tone of the artist's universe. « These are two skills where drawing and material are at equal strength and come together to create something magnificent. Tapestry has long been used in churches and castles to tell stories. I found it interesting to include it in my work, which has always had a narrative dimension ». This also characterizes the design furniture or decorative arts, pieces between works of art and functional furniture. For once in an exhibition the public is invited to sit, touch, live with this furniture that has been selected from young Swedish designers.
Armchair and footrest Pernilla Bruno Mathsson, beech, leather, linen ©Francis Amiand
You will be able to admire the tapestry in a confident rainbow-colored armchair by Adam Goodrum, to lie down at the corner of the window in a black leather and beech chair by Dux, to escape in the private garden of the institute… a small home out of time recreated the time of an installation. A world that, contrary to what one might think, does not resemble Pierre Marie's 9th arrondissement apartment. The decorator who had a dedicated article in AD magazine in 2018, has decorated his living space using various patterns on the walls or floor, which reminds us more of his creations for the house of Hermes or Diptyque than his choices close to the minimalist Swedish furniture, that is, a living room that is uncluttered, warm and uncluttered. But once again the colors chosen dialogue with the tapestry, the walls painted in blue close to that of Yves Klein, highlight the various yellow, orange, green lights that resonate themselves with the shelf of multicolored threads and that like a circuit brings us back to the main work.
Big talk Adam Goodrum, molded polyothone ©Francis Amiand
Graduate of the Swedish school, Beckmans College of Design, the 36 year old artist chosen to honor the Franco-Swedish friendship, did all the illustrations at the beginning of Diane Pernet's blog and her first film festival You Wear it Well. Having a lot of success now you can also find his work in his gallery Pierre Marie located 21 rue Victor Massé in the 9th district in Paris. In this former antique store you can change the setting after the Swedish Institute by discovering another part of his world in his tapestries, stained glass, lighting, and objects and come out with a head full of patterns. 
Living Room by Pierre Marie from September 03 to October 03, 2021 at the Swedish Institute, 11 rue Payenne, 75003 Paris. Free admission, Wednesday – Sunday, 12:00 – 18:00.
The Pierre Marie Gallery, 21 rue Victor Massé, 75009 Paris, by appointment rdv@pierremariestudio.com.