When I first moved to Paris in 2018, I had one objective in mind: "I have to work for Rick Owens", I wanted to understand how one of the most successful fashion designers of our time made it all work. At that time, they would kindly ask you not to wear Adidas shoes at the shows and showrooms. "ADIDAS" was the "Him, who must not be named" at Rick Owens, their iconic footwear collaboration was over. At the same time, the brand prepared to give birth to their first collaboration with Birkenstock. The approach used to be quite simple, Rick would take the iconic model on the shoes and he would reinterpret them in his own very recognizable textures of that time -Earthy, mostly matte textures-.
The new collaboration seems to be more sophisticated in that sense, an evolution from their very first creations together, it feels much more poetic about this latest release. The color ways remain entirely black, an Owen's all-timer, but in case black isn't enough to define a Birkenstock sandal as a Rick Owens' sandal, you can also find him in the more than usual amount of holes on the belt straps, which also much longer than on classic Birkenstock models. Overall the pieces are sleek, they look smarter than ever.
On a technical note: in this collection the cork and rubber sole is covered in premium Nappa leather. Completely smooth, and embossed with the Rick Owens and BIRKENSTOCK logos.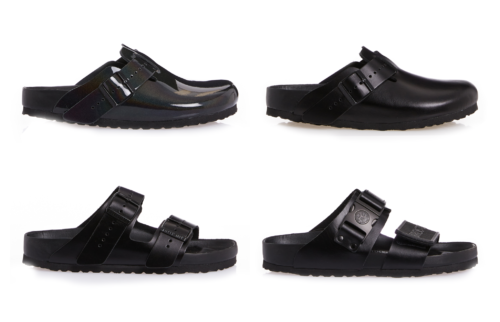 "Rick Owens continues to play a very important role in our collaborations: his unique style is more relevant than ever. We are proud to partner with this independent designer on such a major project," said Birkenstock CEO Oliver Reichert.
The collection will be available from June 4, 2021 on 1774.com and rickowens.eu, in the brands' boutiques and at selected retailers internationally.