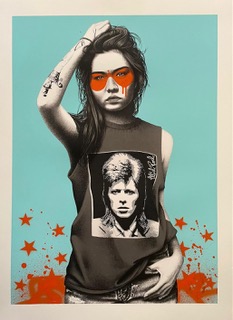 Dear Shaded Viewers,
On March 25th
– The legendary British born, NY based photographer-  
Mick Rock
 (who this year celebrated 51 years so lensing the music industry) will be 
auctioning (online) 
an exclusive shot of iconic singer 
David Bowie – Life on Mars 
for over 240 NHS charities via 
NHS Charities Together
 – in addition to another 2 separate auctions for via and for mens' mental health charity 
CALM (auction end 28th March) 
 Care Internationa
l 
(that works around the globe to save lives, defeat poverty and achieve social justice – 
April 4th).
CALM-  Auction – ends March 28th – Lou Reed
CARE  Auction – ends April 4th- Blondie

This auction is part of a project entitled MIDARO to celebrate his anniversary of 51 years of his career as a photographer, most recently shooting Miley Cyrus.  MIDARO – A collaboration between the legendary rock n' roll photographer Mick and the globally renowned, Cork born, urban aesthetic artist Fin DAC whose street art work can be seen throughout the world including in Mexico- where he is the only artist to have been commissioned by the Frida Khalo Foundation to paint a mural of her.
Above are photographs of an online exhibition and print release.
Using classic imagery by
Mick Rock of David Bowie, Lou Reed, Debbie Harry and Iggy Pop
, Fin has created a series of limited edition prints and original artworks on canvas that will be part of an 
online exhibition
  at 
West-contemporary-editions.com
.
Mick has also personally curated some of his personal favourite images from his archive of the four subjects (Bowie, Reed, Harry and Iggy) which will be made available in 3-5 limited edition sizes per print, and to view at the online exhibition taken by the photographer between 1969 and 1980, plus 4 new unseen art pieces.  This will be a first ever collaboration for the two leaders of their chosen media, combining their decades-long honing of their respective crafts of photography and painting.
HERE
 is a short film about Mick Rock talking about the 
David Bowie Shot
Images  shot by Mick Rock of David and the Final Auction print – Must Run Mick Rock 2021/Midaro and Mick Rock/Fin DAC/Midaro for the Fin changes.
Photos:  Mick Rock Midaro 2021 and Fin DAC/Midaro/Mick Rock 2021 
Copyright credit: Fin DAC/Mick Rock 2021 – MIDARO