Of course, luxury fashion has to be related to art. In the XXI century, the fashion that's not related to art is the fashion of the poor, or of the ones who know less, the less sensible. Not the Gucci client, the Gucci client delights itself from higher forms of taste, higher forms of living. The Gucci user doesn't delight from reality TV, The Gucci user delights itself from the theatre. This is my analysis of Episode 4 of Overture of Something That Never Ended, 'The Theatre'.
This episode is all about making Gucci more high-brow than low. Relating the brand to a certain idea and form of art. What's interesting is the fact that they selected the theatre as that sort of credential because theatre itself is a form of entertainment, and a form of entertainment that requires a less superficial form of concentration and even if fashion is actually trying to equalize itself to such sophistication in this case, the truth is that most people wouldn't look up for fashion in the search of such a sophisticated form of entertainment, I emphasize the fact that I am talking about most people and not deep fashion followers, who would appreciate more experimental things, slower things… Yet, the episode is full of movement and doesn't fail to lose your attention, an incredible achievement, for the reason I mentioned before and because it is the fourth episode of the mini series, so the excitement of the new is gone in a certain way. The episode also communicates a heroic idea towards the main character, Silvia; as a person who is afraid, to confront her fears and succeeds. The classic hero, that who must be admired.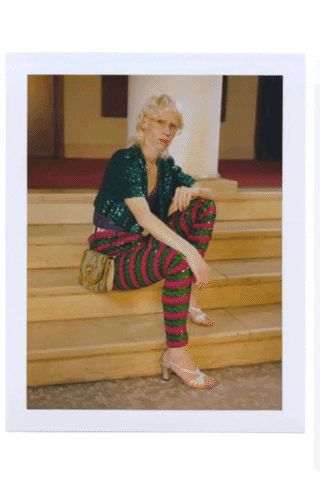 Keeping the loose, entertainment view on this post… It's about time to talk about Silvia. Not about Silvia Calderoni as an actress or performance artist, but Silvia the hero of the Gucci story. It has been four episodes since we got to meet Silvia. She is officially part of our families, she is part of our lives, goddess, character, main character of Overture of Something That Never Ended. I must say, I personally think she is an amazing choice for the main role of the film. There is a softness about her, something that makes you smile and want to give her a hug. You can see through Silvia (especially in this episode) a certain form of fragility that makes you connect with her deeply. That's a home run for a fashion film or fashion at all. Fashion often achieves, in the best of cases, to make people dream about the protagonist of their ads and images, but rarely does fashion achieve to make you feel connected or to identify with their models. In that sense Silvia is again, amazing. Not only is she beautiful and deeply and truly elegant, but she feels real.
YOU CAN WATCH THE EPISODE BELLOW:
MUSIC
M. RAVEL
"BOLÉRO"
SLOVAK RADIO SYMPHONY ORCHESTRA, KENNETH JEAN (CONDUCTOR)
COURTESY OF NAXOS DEUTSCHLAND – WWW.NAXOS.DE
KIM GORDON
"FIFTY SHADES OF GREEN"
WRITTEN BY GORDON, KIM A
PUBLISHED BY: KOBALT MUSIC PUBLISHING WORLDWIDE LTD OBO FORGETFUL SONGS [BMI]
COPYRIGHTS/DISCLAIMER
© COPYRIGHT 2020 GUCCIO GUCCI S.P.A. 2020