In this article I  focus on analyzing 'At The Post Office', the Third episode of the Gucci collection presented in video format and titled "OUVERTURE OF SOMETHING THAT NEVER ENDED". I will only go through the very first scene and try to decode the meanings behind those few seconds.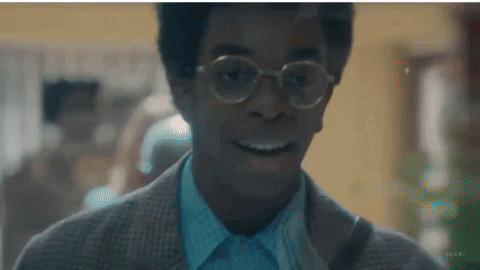 Shoes and Glasses.
The very first minute and seven seconds of the film are completely devoted to the display of the shoes and glasses of the collection. Lots of carry overs and permanent items that for the first time in a main presentation have a full minute of protagonism. The highly commercial act of showing these accessories is of course done with full elegance and almost like a smoke-screen, I didn't even realize this fact until the second time I went through the film, with a more analytical eye.
Of course, as soon as the film is reveled, some points are made very clear: This is not a realistic post office, no old man or young woman, or vice-versa has anything to do with your typical neighbor placing a post card at your nearest post office. The post office is just a stage, an interpretation.  Like Geppetto in the Pinocchio story is just an interpretation of Pygmalion. This little set is a space* of luxury, an Olympus of poetry. Therefore, we don't expect anything to make sense metaphysically, or at least, the reality in the film is not that of a place that sends letters, but a sacred garden where the biggest of pleasures co-exist. The figures of movement and action are merely forms of entertainment. A way, either conscious or not, to make the selling speech elegant. After all, if you are to buy luxury it should not be sold as a vulgar product. No catalog sense to the display of this collection, this is something  more. This is intelligence, creativity, competency, status.
There is a basket ball held by a young blond woman in the scene, it doesn't really matter what the objects are, either a basket ball, a skateboard, a bird in a cage, oversized polo shirts or mini shorts; all the objects belong to one single category: Gucci, and everything that Gucci embodies… intelligence, creativity, competency, status, beauty…
Black, white, old, young, big, skinny, etc. It also doesn't really matter who the models are, models are always meant to be kind of anonymous. In this case, the model selection must participate from the political conversation in trend at the moment, race and ethnicity. Of course, any reasonable human being who desires to positively rise in the social hierarchy has to understand that empathy is also a main attribute to possess and the clothing that such a person would wear cannot fail to misrepresent the subject as ignorant of what it means politically to be someone worth these luxuries.
80's aesthetic sneakers, at some point in the middle of those 67 seconds. A proof that even a grand powerful god such as Gucci must stay true and submissive to mother fashion, after all, let's not forget the equation I introduced in my analysis of episodes 1 and 2. Guccis equals fashion, equals luxury fashion, etc. Because Gucci must make sure it means fashion, they must make themselves belong to the aesthetic movement that statistically we call mode, moda, fashion. Since that's what people are fancying and wearing, it trickles down to fashion to be interpreted by a designer, like Alessandro Michele into a version that  best suits the Gucci customer, mixed or embellished of course, with the codes of the brand.
Then, the opening credits appear…
*Because I said I would focus exclusively on the first scene, I didn't want to go to deep into this subject: nevertheless, it is important to note that the metaphysical space which the post office is meant to describe is not even limited to the perimeters of a building but instead are wide and multi-spatial, as shown in a scene later on when we see a call between a man in the post office and Harry Styles, who don't talk about anything real or clearly defined. Words have no real meaning in this film other than to serve as a way to communicate  the same message after every episode: Fashion. Gucci is fashion.
H. BERLIOZ
"Grande messe des morts, Op. 5, Requiem: Quid sum miser"
Michael Schade (tenor), Toronto Mendelssohn Choir, Toronto Mendelssohn Youth Choir, Elora
Festival Orchestra, Noel Edison (Conductor)
Courtesy of NAXOS Deutschland
"Sogno (Il Cimitero)"
Written and performed by Nino Rota
From the soundtrack "Otto e Mezzo"
© Creazioni Artistiche Musicali C.A.M. S.r.l.
℗ 1963 Creazioni Artistiche Musicali C.A.M. S.r.l.
Courtesy of CAM Sugar
H. BERLIOZ
"Grande messe des morts, Op. 5, Requiem: Rex tremendae"
Michael Schade (tenor), Toronto Mendelssohn Choir, Toronto Mendelssohn Youth Choir, Elora
Festival Orchestra, Noel Edison (Conductor)
Courtesy of NAXOS Deutschland
KIM GORDON
"Fifty Shades Of Green"
Written by Gordon, Kim A
Published by: Kobalt Music Publishing Worldwide Ltd obo Forgetful Songs [BMI]LINKS: