Destination AMA (Responsible Fashion Change Agency) invites you to place your bid between October 12th – 18th 2020, through its online auction to acquire the most badass jacket and make a positive impact in the world!
Over the last three months, Destination AMA, in partnership with the non-profit organization THE Home, has created a global fashion upcycling movement. #UpcycleForTheHome grew its community and has endorsed over 40 new talents, including fashion designers, artists, photographers, and videographers, creating a better future together. Every jacket expresses its singularity and is the result of a meticulous collaboration between a designer and artists. Their creations reflect love and community.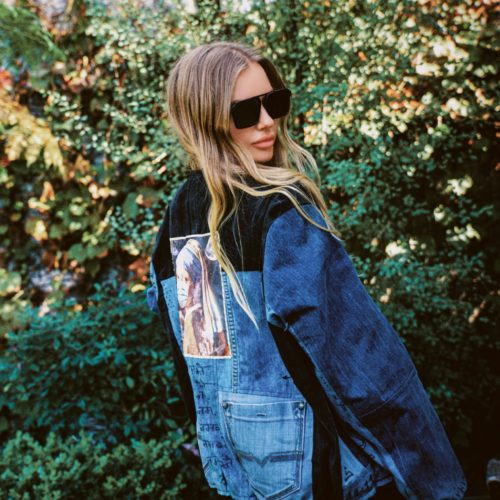 "Through our initiatives, we create a world our kids would be proud to live in, and we offer everyone to take part in creating an equal, circular, and climate-positive world," said Anna Abyzov, the founder of Destination AMA. All proceeds from sales will go to THE Home to support its mission.
What #UpcycleForTheHome Is About
Designers have created upcycled pieces out of materials that already exist, including pre-loved clothes and deadstock materials. As part of "LA Talents Community Collab," artists took upcycled jackets to the next level by adding call-to-action symbols and messages related to social and environmental issues. The creative process and collaboration were documented like an art performance and embedded in QR codes attached to each jacket. As part of "People of LA Community Collab," individuals who have been homeless in the past but found strength and opportunities to return to where they belong, modeled for a photoshoot, and shared their powerful stories through an interview everyone can learn from later at uarehome.org.
Save the date!
 October 12-18 at uarehome.myshopify.com
 Follow @destination.ama and @itsthehome for all the updates regarding the upcoming auction 
Want to learn more about upcycling and responsible fashion? We've got you covered!
Find more about the project on their website
About Destination AMA 
Destination AMA is a responsible fashion change agency helping brands and organizations develop purpose-driven initiatives and implement sustainable business practices.
About THE Home
THE Home, a 501c3 non-profit organization, based in Venice, CA, is creating a network of Regenerative Farms and Permaculture Gardens to serve as healing and educational centers for anyone in need. Being focused on displaced populations, THE Home will provide all the residents with holistic health care and necessary skills to take on future "green" job opportunities.