The current state of fashion week seems to have been an amazing  opportunity for Jeremy Scott's creative mind. The creative director of Moschino is very well known for his approach to fashion with humor and having to reimagine the idea of a fashion show seems to be something that he rather enjoyed. The Spring Summer 2020 collection was presented online as an actual fashion puppet show.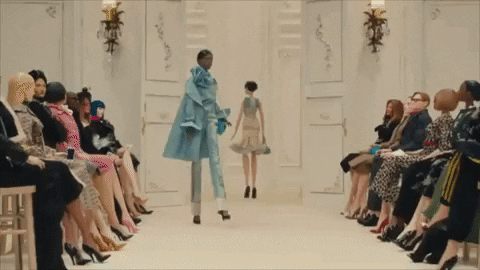 Despite its ludic nature, the collection seems ironically mature, or at least like the most mature collection presented by Jeremy Scott for the Italian house. The inspiration from 50's classic couture is very obvious both in the clothes that the puppets wear as in the stage of the fashion show. There's also a more peaceful aura to the way the collection feels in comparison to the precedent seasons.
The gestures forced on the clothes by having to be crafted for small marionettes is actually beautiful. It creates a whole new visual universe for the fashion show. For sure it's a very cute addition  to the propositions we have seen from designers this season.
The reflection on clothes, how to make clothes, how to present them and how to communicate a fashion message has been more intensive than ever this past few weeks. Hopefully that will be something that will remain with us even after the CO-VID19 situation has eased down.