I gave myself a little break from the fashion month last night, partially because I was invited by my friend plastic artist David Dehaineault to go "watch a movie". I had said yes, without even knowing where or what we were going to watch. I came to the address he gave me; 34 rue Daubenton in the 5th district of Paris. I went in this movie theater called "La Clef" and just once we were seated in the projection room I finally asked, "What are we actually going to watch?".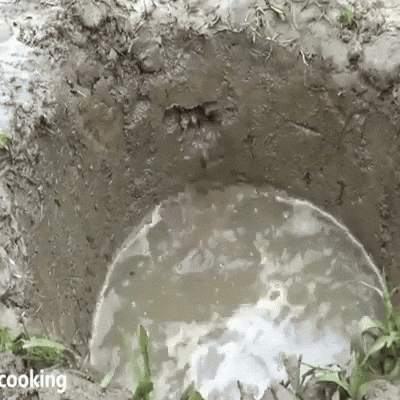 To my surprise, the experience was spectacular! They call it "Food&Film", and it's part of the efforts of La Clef Revival's association and the collective "Les Froufrous de Lilith" to reimagine what a cinematographical projection is, and how it can be redefined. The theme of the night was "Shit". And during approximately 1 hour and a half or two hours, you are exposed to an unbelievably, perfectly curated transition of videos, coming from all times, formats and platforms. There were 3 pauses to eat in the middle of the projection. I will use each of those food pauses to describe the experience:
FOOD PAUSE NUMBER ONE: A PIL TO MAKE YOUR FARTS SMELL GOOD.
The first part of the projection reunited different apperances of shit in the context of protest. The films came from anywhere like South Park, Youtube, documentaries or art films. At some point you encountered a video report where a journalist would speak about a French man who invented a pill to make your farts smell good,which I first thought was a joke or a made up report, next thing is the video of the real man who made this pills followed by the first pause, when you were gifted with one of these mythical pils.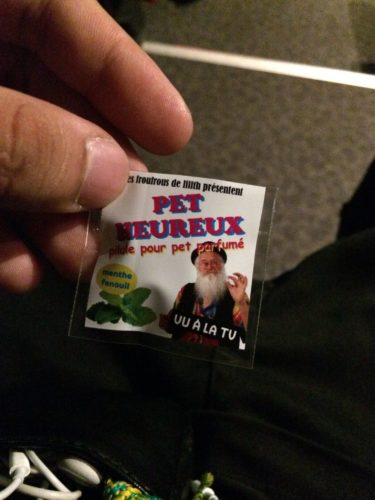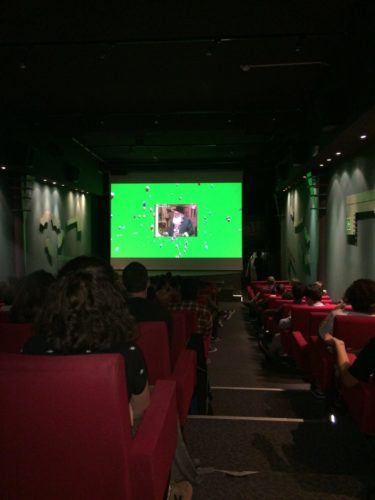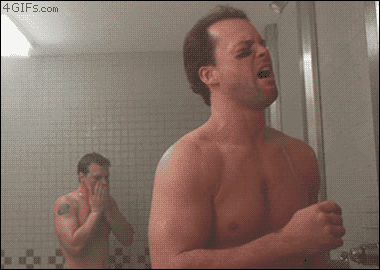 FOOD PAUSE NUMBER TWO:  SOME LEAVE COVERING RICE AND VEGETABLES.
Of course, Two Girl One Cup was part of the curation. It's after all, maybe the most famous film about faeces from our generation. But they also projected extacts from cult films and some video publicity regarding the subject. The second dish distributed was some leave, I Ignore its name, covering a ball of rice and vegetables and spices. Food for the projection was thought by Wanda Rivière.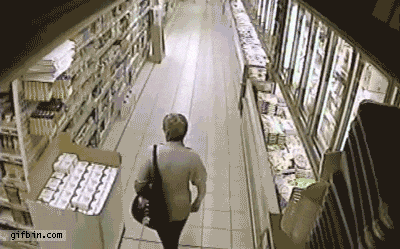 FOOD PAUSE NUMBER THREE: A SHIT LOOKING CHOCOLATE THING.
The final part of the projection was dedicated to "mental shit", and was in part composed by videos from clinicians, psychologists, artists who would discuss the theme, or where you would listen to patients who are actually obsessed with excrement.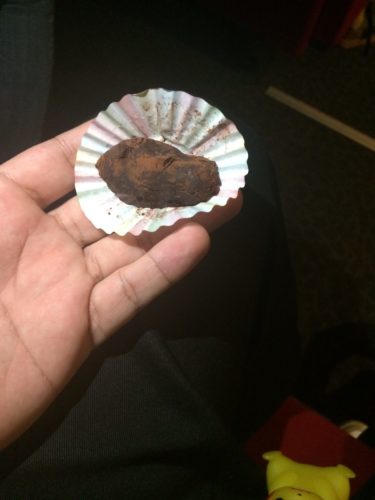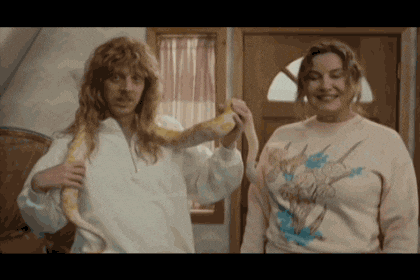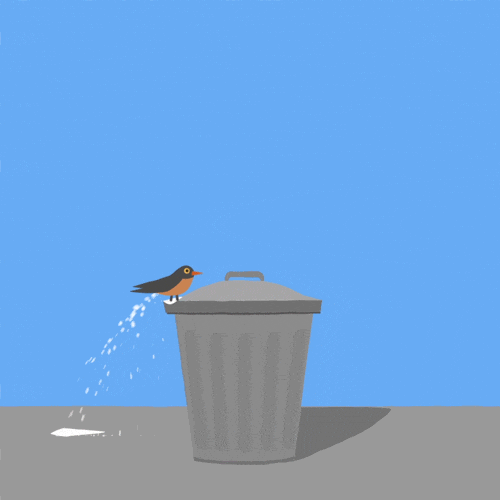 La Clef is a more than a movie theater in the Quartier Latin of Paris, it's a creative force and a movement of passion. The movie theater was actually "closed" in April 2018 by the owner of the building, nevertheless a group of cinephiles and passionates stay strong to prevent the projections to be forced to end by the police. If you happen to be in Paris and you happen to be a cinephile or a passionate soul, you can check their websites bellow to find out more about the cause and their amazing film projections.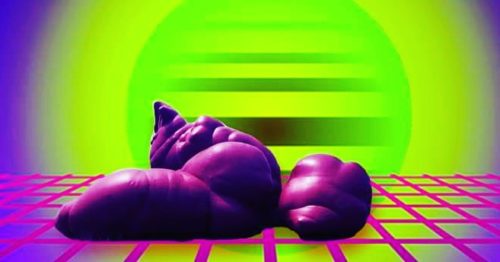 Photo courtesy of Les Froufrous de Lilith.
LINKS:
http://www.lesfroufrousdelilith.com