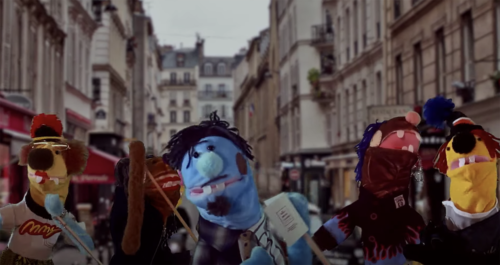 MORE OR LESS 2021 SPRING / SUMMER COLLECTION The items in the new "spray on" series that will be entering the stage were administered, after being sewn up, with spray at a long-established processing plant in Kyoto using a special hand spray on technology that gives a texture as if dyed. The appeal lies in each one being a one-of-a kind item with a unique texture and a feel of artisanship to it.
Unique joining techniques will again be updated this season as well. Examples are blousons, shirts, and cutsews in which "practically 2 items" are joined together front and back complete with sleeves, and pants that appear to have been imbedded into another pair of pants after being dissembled at the leg. MIHARAYASUHIRO's specialty, the restructuring design, has also evolved. Disassembling various shirts and reassembling them, linearly cutting three different types of pants each individually and sewing them up as one pair of pants, and with knit and sweats, fashioning items like cardigans and pullovers by joining sleeves together—designs that show the designer at play.
The brand's originality had also been pursued in the silhouette. Designs in which the sleeves and armholes were moved and placed in a position so that the shoulders slumped over were set here and there with blousons and cardigans in particular. Also utilized is the so-called "resize" technique in which parts are pinched and big parts made smaller. As for sneakers, the new model, BLAKEY, with its original soles will be coming on the scene. Based on the design of basketball shoes of the 1970s and 1980s, we propose a unique sole molded with clay in a modern style. It matches the simple upper design, and while it is a classic, it radiates an original sense of presence. The continuing model PETERSON, HANK, and BAKER have also been additionally processed and updated to match western clothes.
MORE OR LESS People desire perfection and get excited about attaining symmetry, both on the inside and in outward appearance. The more people try to become perfect, the more uninteresting things get, and beauty is unable to be found. I think that, to a greater or lesser degree, something that is warped and crooked is more beautiful. An unreal world. Fashion is after all, an unreliable thing. Illogical. Unequal. My fashion philosophy. It is that fashion is the same as comedy and a puppet show.