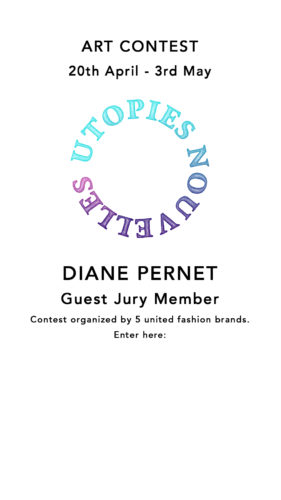 Art Contest 20 April – 3 May UTOPIES Nouvelles – Collaborative and community competition to support the fight against Covid19 on Instagram organized by 5 new fashion labels
Art as a means of communicating our perspectives and new utopias
During the lockdown, we paused everything and took time to think, dream, imagine new possibilities. "New Utopias", it is around this theme that binds us all during the period we are going through, that Mansour Martin, Alexandre Blanc, LATER…, Mossi and Louis Gabriel Nouchi have joined forces and propose to artists, experts or beginners, to participate in an illustration contest on Instagram. Photos, drawings, paintings, graphic creations, texts, video captures… the illustration projects must be submitted to the brands in digital format.
The designers will make up the jury and have also surrounded themselves with artists, experienced designers and fashion experts to choose the winning artwork. The guests of the jury are: Romain Laprade (photographer), Vendredi sur Mer (singer and composer), Diane Pernet, Jenke Ahmed Tailly (creative director, consultant, stylist), Serge Carreira (head of the emerging brands initiative of the Federation of Haute Couture and Fashion), Julien Colombier (artist), Alexandre Barbier (fashion graphist).
Dates to participate from Monday 20th of April to Sunday 3rd of May 2020.
Contest email address for the participants: utopiesnouvelles@gmail.com
More information on the respective Instagram accounts of each brand: @mansourmartin @alexandreblancparis @later_project @mossi_officiel @louisgabrielnouchi
A solidarity t-shirt, made of 100% recycled jersey: all profits to be donated to the fight against Covid-19.
At the end of the competition, a T-shirt featuring the winning art project will be made and put on sale. All profits will be donated to the Fondation de France, which helps carers, researchers and the most vulnerable people in the fight against Covid-19. Made of 100% recycled jersey, it will be available in pre-sale, online, on a common platform relayed by the brands from May onwards.
5 emerging fashion brands together 
Sharing, and being together, in an uncertain context. This is also the message the designers wanted to get across by uniting around the same project to interact with their respective communities and invite creativity. A gathering that was created "by ricochet" on the basis of nice encounters or friendships, and the sharing of common values as professionals between all designers.
1. Collaborative and community contest to support the fight against Covid19 on Instagram
Staying home to protect ourselves and others.
During this particular period, we have put everything on hold.
We have taken the time to think, to dream, to imagine new possibilities for tomorrow.
Our imagination and what we are living create new perspectives: new utopias.
On Instagram, we will propose to the followers of the brands, and their entourage, to create an illustration for a T-shirt.
Theme: New Utopias
It can be: a photo, a drawing, a graphic project, a pattern, a small text, a video capture, a clothing sketch, a plan, a schema…
The founders of each brand, accompanied by a jury of guests, choose the best project.
The winning illustration will be printed on a t-shirt and sold by each brand, with all profits going to the Fondation de France.
2. Participating Brands 
Mansour Martin
Alexandre Blanc Paris
LATER…
Mossi
LGN Louis-Gabriel Nouchi
3. How to enter the contest
Contest email address for the participants: utopiesnouvelles@gmail.com
1/ Realize an artistic project in a high quality format (JPG), theme: NEW UTOPIAS
2/ Post your project on your Instagram account and/or in your Story + tag each brand and your friends + hashtags: #UtopiesNouvelles #ARTcontest
3/ Follow all the brands' account
4/ Send your project to: utopiesnouvelles@gmail.com JPG format + fist name and surname or nickname, city and instagram account
5/ 100% original and personal project, no reproduction.
6/ Do not include photos or images of recognizable people.
4. Shortlist and prize
Each brand and invited jury members will choose together the best art project.
5. Invited Jury members
Romain Laprade – Photographer
Jenke Ahmed Tailly – Creative Director, consultant, stylist
Julien Colombier – Artist
Alexandre Barbier – Graphic Designer
Vendredi sur Mer – Singer and Composer Artist 
Serge Carreira – Head of Emerging Brands Initiative chez Fédération de la Haute Couture et de la Mode
Diane Pernet