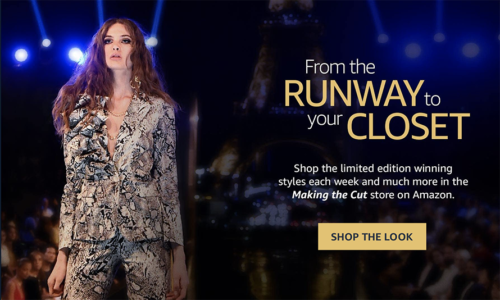 Dear Shaded Viewers,
Back in 2003 I worked on the first fashion reality tv show, Fashion House, Alan Friedman was the force behind the show, which took place in a villa in Rome with guest judges Donatella Versace and Valentino Garavani. Five countries competed against each other followed by their national TV channels. Unfortunately for France, no tv channel was ready for reality tv. That was then and Making the Cut is now.  I must admit I never watched more than one or two episodes of Project Runway but I did watch Next in Fashion, probably because a friend, Angel Chen, was in the competition.
The contestants are overjoyed to find the judging panel includes fashion icons such as Naomi Campbell and Carine Roitfeld. The show is hosted by Tim Gunn and Heidi Klum and fortunately the filming took place before COVID 19,  the series was filmed in July during Paris couture. For now we have no idea of what the future of fashion catwalks will be.
You are already pretty familiar with the format but there are rather big changes and not just the million dollar investment in the winning brand but also the fact that the winner will create a collection that will be sold on Amazon. The winner of each of the competitions gets to have one of their creations sold immediately on Amazon. Also designers are asked to make one runway look and one commercial look that ,if they win the episode's competition, will be sold on Amazon.
Another interesting bit is that the designers do not have to sew their own garments as each end of the day they put together their tech pack with instructions and overnight a seamstress will put it together. The  designers get to travel from New York to Paris and then to Tokyo and who knows where they will go in the future.
This is Amazon's first reality tv show and one with a very ambitious goal. If you are not already subscribed to Amazon Prime there is a chance that this will become your new addiction.