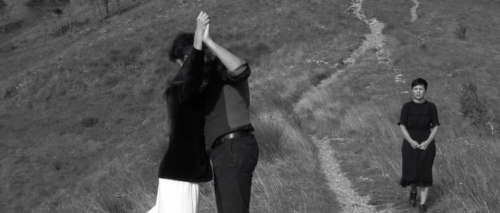 Dear Shaded Viewers,
Su misura
(Italy 2014, 1′ 20")
a film by Augenblick
performer | Alessandra Elettra Badoino, Marina Giardina, Fabio Poggi
camera and editing | Marco Longo
with the support of Officina Letteraria
thanks to Emilia Marasco, Claudio Torlai
Awards:
FIRST PRIZE OF THE JURY and SPECIAL PRIZE – PRODUCTION GRANT at "La danza in 1 minuto" (Turin, Italy, 2014).
BEST FILM at Bucharest International Dance Film Festival (Bucharest, 2015).
CREATION AWARD at Fiver International Screendance Movement (Logroño, Spain, 2016).
BEST FILM at Perth Dance Festival – Screendance Awards (Perth, Scotland, 2016).
BEST SCREEN CHOREOGRAPHY UP TO 5 MINUTES at Dancescreen 2016 (Kingston Upon Thames, UK, 2016).
2nd PLACE at North Portland Unknown Film Festival (Portland, USA, 2016).
Thank you Stefano Gaggero Studio for the link.