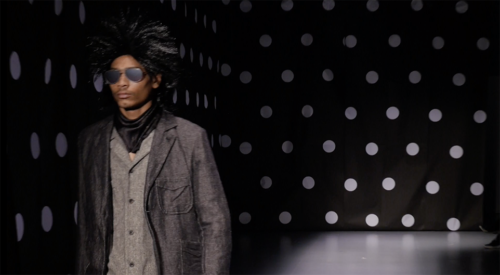 Dear Shaded Viewers,
Geoffrey B. Small's "just another Boston guy" collection show dedicated to the style and art of Ric Ocasek former band leader of the The Cars presented during the AW2020 Paris men's fashion week.
Excerpts from the program notes of the show…
"
L
AST season when I was in Paris for women's week, I heard that Ric Ocasek had died, and I have been in flashback mode ever since. We used to see him and oftentimes Paulina, hanging out in the same nightclubs along Landsdowne Street when I was starting my career in Boston where I grew up. They were cool, quiet and kept to themselves. There was no flash or paparazzi or pr bullshit going on about them whatsoever. We all knew he was making it to the big time with his band, The Cars, and after awhile, their music was everywhere—becoming an emblematic sound of the 1980's. And none of us would swoon or bother them out of respect. He was just another Boston guy. And in that old historical academic city where the American revolution started, we had a code of behaviour that you don't make friends too easily, but when you do it, is for life. You don't just say hi to people walking down the street if you don't know them. You don't convey any impression of being false or phony. So while we knew he was there, we always left him alone. 



……..

But looking back, as Corey Seymour wrote in his obit story in September for Vogue "Think Ric Ocasek didn't touch your life? Think again"- I think we took him for granted. Not only for the music, forget about that. Just ask anyone who was alive then, and play them a few tracks and they will remember how ubiquitous that sound was in their lives. It got so big and so mainstream–I lost interest in it. Forget about how well prepared he was before launching The Cars, he was 35 and had been working on that band for over decade— and how they churned out 4 Platinum albums in just about the same number of years. Forget about the fact that they were all extremely good players, real musicians who played their instruments live, over and over—and wrote their own songs—enough to compile an estimated 100 million dollars for themselves in rights and royalties. 



……..

And forget about the fact that they built their own recording studios in the heart of Boston which not only allowed them to totally control their own music but became a hotbed of production for a whole new generation of other musical artists like Weezer, No Doubt, Suicide, Bad Brains, Guided by Voices, Brazilian Girls, Le Tigre, Bad Religion, the Cribs, D Generation, and Nada Surf. Ocasek and his colleagues Ben Orr, Elliot Easton, Greg Hawkes and David Robinson were total pros, and their enormous success in rock music was no accident at all. Ocasek was a control freak when it came to his art, controlling every aspect including the visual ones. And that is where this collection comes in. It's dedicated to Ric Ocasek's visual work, his look, his style and yes, his art. And it's dedicated to the city at that time that I grew up in and started my own career in. 



.  

……..

Boston was an enigma then, a staid provincial city with 35 colleges and universities and an architecture that spanned history with modernity that had been spearheaded first by H.H Richardson and subsequently I.M. Pei who practically redesigned the city with his sharp angular lines and geometrical proportions from during the 1970's. Before making his name with the Christian Science center, the Boston Public Library, the John F. Kennedy Center, the all-glass John Hancock tower and then all over the world (including the Louvre's glass pyramid and underground structure), Pei first studied architecture in Boston at Harvard under the direction of Walter Gropius who founded the Bauhaus in the 1920's. As the Nazis rose in power, he left for America and became the chair of the Architecture program at Harvard University where he worked for the rest of his life. 



.  

……..

Richardson, Gropius and Pei were all Boston guys too, and their design influence has been felt around the world. As a young music artist living in the city, it would be hard for Ocasek not to be influenced by their works. So it is not surprising that Ocasek showed a strong adherence to bold graphics, sharp angles and crystal clear proportions in how he dressed, and every aspect of not only the musical side but also the visual side of The Cars from the clothes looks and image of the band and its members, to stage and video sets and album covers. It was done so well that it appeared not to be controlled or calculated. But late in his life, Ocasek began to be recognized as an artist with a series of nationwide gallery exhibitions of his drawings, many of which were sketches or doodles that he had done during his music career, and to anyone viewing them it becomes crystal clear that the imagery of the The Cars in both sound and vision was no accident. And much of it revolved around its leader and his look. And what a look. For me, Ric Ocasek was one of the great dressers of all time. His work with his look needs to be recognized for that alone. The incredibly tall and lean silhouette, sharp shoulders and ink black hair in intriguing shapes with dark glasses often recalling Buddy Holly or Roy Orbison but updated for the new '80's was extraordinary. I know people always talk about Bowie, Lennon, Mick and many others, but Okasek needs to be recognized as well for his style.  



.  

……..

And that is a Boston thing too. There was a style movement going on there at that time. Murray Pearlstein's emporium Louis Boston had a slew of sharp young guys working in the store that would later become big pros at the international brand level including Joseph Abboud, Bernie Gence, Giovanni Contradda, Gary Drinkwater, Randy Iserman, Arthur Jordan and Carmen Micciula. And while this writer never worked in that great store, he did spend a lot of time together with many of them, and all we talked about in those days was the new design, clothing and style that was happening in Europe at that time. We lived it and we breathed it with a passion that would take us beyond the city eventually to where we are today. There were some very creative people at John Dellaria the hair designer just before he moved to an up and coming neighborhood in New York called SoHo, who spearheaded a wild event called Hair Cares to raise money for aids patients in the beauty industry whom I spent time working with as well. So, when I heard the news that Ric Okasek had passed away, it brought back a lot of memories of the city I came from and its relatively unnoticed role in design in the world, and it inspired us to take a look at this far more than just music artist's view on style at a time when the Cold War was coming to an end- and reinterpret it 40 years later for a time when the Cold War seems to have come right back into our lives." — excerpts from the program notes of the show